apartment-bed-bedroom
6 smart furniture solutions for small homes
Sophia Lockhart, July 2018
These furniture tips for small homes and apartments are going to demystify some of the common misconceptions that people often have about arranging them. For starters, it's recommended that you stray away from small pieces of furniture. Adding too many little items will only make the room look cramped and cluttered instead of cosy, which is not what we're aiming for. There are also some classics here that you might not have expected. Therefore, let's take a look and see how much you (don't) know. [caption id="" align="alignnone" width="690"]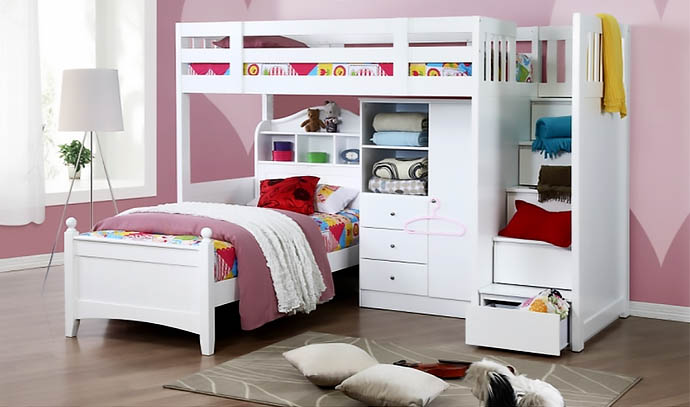 Fantastic Furniture
has a great selection of affordable bunk beds.[/caption]
 1.  Bunk and loft beds
OK, let's start with the bedroom. Even though bunk beds are somewhat of an epitome of small bedrooms, that doesn't mean their only function is saving space. Maximise your storage space with a lift-up queen sized storage bed or select from a range of drawer configurations to keep pillows, blankets, sheets and linen out of sight, yet easily accessible. A customised Australian-made sofa bed is also a great way to make the most of available space, particularly for townhouse or apartment living.
2. Storage sofas
Just because your home is small and you don't have a separate guest room, doesn't mean you shouldn't invite any guests to stay over. Simply invest in buying a nice sofa that can also turn into a bed for your friends and family. Be sure to consider the right sofa bed for you as not all are designed for the same purpose. And since it's the centerpiece of the living room, it's important to choose the perfect one .A sofa bed is what furniture in small homes is all about: duality.
[caption id="" align="alignnone" width="690"]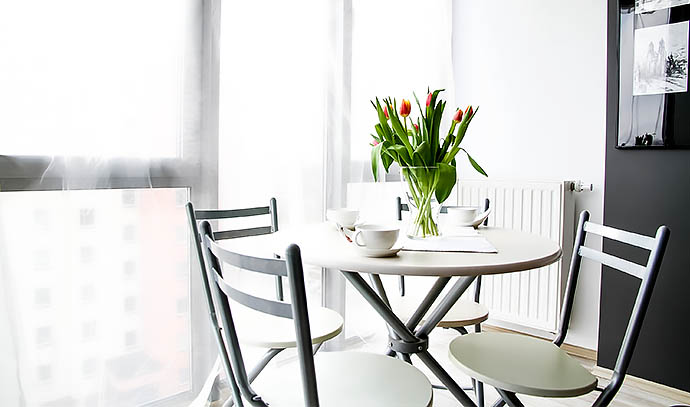 Round tables are good for small spaces and can be slide into the corner when not in use.[/caption]
3.  Compact dining tables
There are many ways around what can make a decent dining table when you're living in a small apartment. As a compact solution, you can purchase a nice bistro-style table with two bar chairs which will attract some looks. Or, you can always go for a glass round table – that one always saves some space and the transparent material aids the feeling of spaciousness.
4.  Space saving wall desk
Even if you're working from home, you don't need too much room. A mounted wall desk is just what you need and you can add some open shelves above it instead of having desk drawers. An undercounter table can serve the same purpose, and be a dining area when it's time for lunch. In addition, a wide enough console can turn into a desk in a matter of seconds.
[caption id="" align="alignnone" width="690"]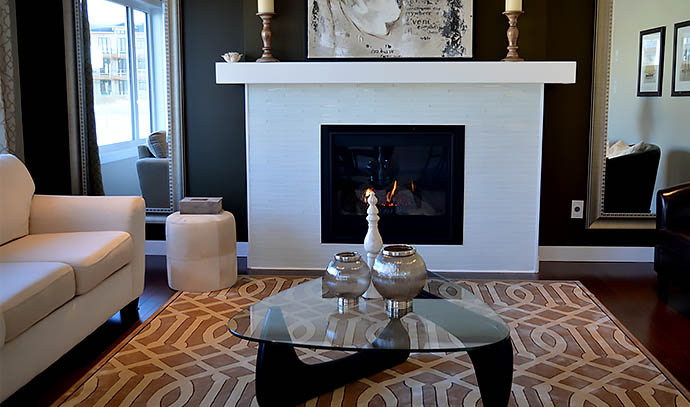 The transparency of glass maintains a feeling of spaciousness.[/caption]
5.  Bigger is sometimes better
This may come as a surprise, but it's actually true. Having a small home is no reason to think that you can't have an oversize, comfortable armchair in it. Actually, it is by adding a larger piece or a pair that you will introduce some diversity into the space. Basically, if the room is filled with small things, you will have a feeling similar to Gulliver in one of his stories, won't you? Moreover, you could think about adding a hammock chair. It's lifted off the floor, hence not taking up floor space and it's certainly modern and playful.
6.  Float furniture
This is one of the techniques that is in sharp contrast to what you may expect when talking about making your abode appear larger than it is. While one would think it is necessary to place the furniture as close to the wall as possible, this is absolutely not true. By creating some space behind the furniture, the room will look more spacious and inviting. It's a simple trick, and you should definitely try it.
Hopefully, we have provided you with some thinking material. These are just some of the most basic things you can do, but they will have an amazing effect on you and your guests once you implement them. Start by pushing your sofa a bit closer to the coffee table, and go from there!­­­
Back to top