tru-bilt-fabrications-colorbond-steel-roof
50 years and 5 fascinating facts about Colorbond
Veda Dante, November 2016
Ever since the first coil of Colorbond steel rolled off the production line at Port Kembla, Wollongong in 1966, this humble material has become a staple of the building industry. Rigorously tested under extreme conditions, it's known for being resistant to corrosion, termites and fire; strong and durable; competitively priced; quick to install; and easy to clean. To celebrate 50 years of this iconic Australian building material, its manufacturer,
BlueScope Steel
, shares five fascinating facts:
Roughly six million tonnes of Colorbond steel have been produced since 1966
Initially available in six colours, the range now includes 22
Nearly half of all new homes in Australia have roofs made from Colorbond
More than nine out of 10 new homes built in Australia include products made from Colorbond, including roofs, fences, walls, gutters and fascia, water tanks, sheds, cubby houses, carports and letterboxes
Over 80 per cent of all Australian gutters and fascias are made from Colorbond steel
[caption id="attachment_6375" align="aligncenter" width="690"]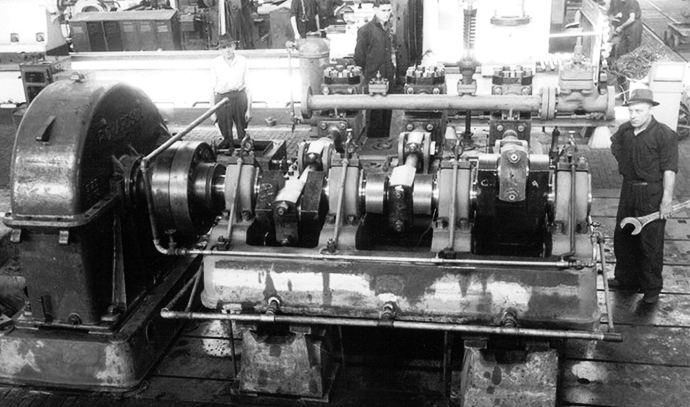 Colorbond was first manufactured in Australia in 1966. Image via
BlueScope Steel
[/caption]
The best for fire protection
Over the past few years, this trusted building material has undergone its biggest evolution in more than 20 years. Not only will you find a bigger colour palette inspired by the Australian landscape – like Mangrove, Wallaby, Paperbark and Gully - but also new coating technologies that make it more resistant to corrosion when drilled, cut or scratched, thereby prolonging its lifespan. Whether you live, or are planning to build in a bushfire prone area, or simply want to increase the bushfire protection afforded to your home, using Colorbond may help protect your property. According to this
CSIRO investigation
, "of the different materials tested, pre-painted and metallic coated sheet steel fencing (in this case made from Colorbond) performed best under all exposure conditions and in particular when faced with a 30 minute flame immersion test used to simulate potential effects of an adjacent house fire, which is common during bushfire events." [caption id="attachment_6376" align="aligncenter" width="690"]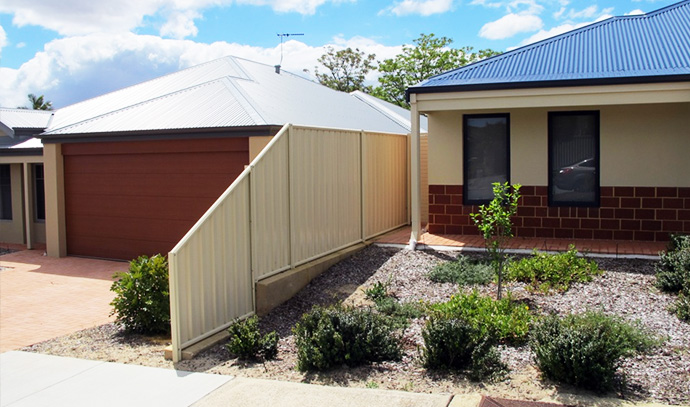 Colorbond's modular system is quick and easy to install, leaving little waste. Image courtesy
Secure-A-Fence
[/caption] While Colorbond might be best associated with roofing, it's become a popular choice for fencing for property owners who want a quick, affordable and reliable system. Perth-based
Secure-A-Fence
has put together five compelling reasons to choose Colorbond for your next fencing project:
Durability and ease of maintenance
It's designed and built to last. Made from pre-painted steel means it won't rot, rust, warp or splinter, so it's the perfect choice when it comes to withstanding the tough Australian weather conditions. Colorbond is also termite-proof, so you don't have to go through the expense and hassle of having to apply toxic chemicals. Plus it won't burn, so it's always bushfire ready. Cleaning is easy too. Simply hose it down occasionally to get rid of any accumulated dust or grime and make sure the bottom of the fence is clear of soil or fallen leaves.
Modular and flexible
Colorbond's modular design means it's quick and easy to install, resulting in minimal waste. What's more, the fence can be easily installed on sites where there are slopes and undulations. Panels of differing heights can be stepped or sloped to follow different gradients or they can be cut on site to follow the contours. Some fencing manufacturers can also produce custom-measured sloping panels to meet a customer's individual needs.
Design benefits
When it comes to aesthetics, Colorbond ticks all the boxes. The large range of 14 colours means there's a fence to suit any decor style and scheme - from earthy brown to rich red, the colour palette is as varied as the Australian landscape. Best of all, the steel fences are pre-painted and designed to stand the test of time - whatever the weather. It's also a versatile fencing option and with added decorative finishing features like lattice, slats, pickets and post caps, it's possible to create a fence as individual as you are. What's more, the fence is designed in such a way that there's no 'good' or 'bad' side. It looks good - no matter which side of the fence you're on.
Cost-effective
Colorbond fencing is competitively priced however the real value lies in its longevity. It's also quicker and easier to install than many other types of fences, doesn't require painting and requires virtually no maintenance, which all add up to a very cost-effective fencing solution.
Secure and private
The smooth seamless finish and absence of any vertical gaps or slits means unwanted visitors can't get a foothold on the fence - nor can they peek through - so it's a very good choice for improving security and privacy at any property. Top image via
Tru-Bilt Fabrications
Back to top