interior-decoration-appliance-modern-kitchen-splashback
Mix it up: Five unique kitchen splashback ideas
Katie Adema, April 2016
Since making a fashionable comeback a decade ago, it looks like splashbacks are here to stay in the Aussie kitchen.
Not only do splashbacks save your walls from water damage, but they can also provide a fantastic accent to your kitchen's aesthetics, no matter the style.
From laminated graphic prints to full wall mosaics, here are a few more creative ways you can use splashbacks in your kitchen:
Textured splashbacks
One of the easiest ways to introduce visual interest in your kitchen is to bring in some textured splashbacks. This can be in the form of raised tiles, carved stone or natural stone with weathering. Even visual textures such as fabric laminated behind glass, metallic, or laminated geometric patterns can be just as effective as a tactile texture.
LED downlighting
If you already have splashbacks and just want to jazz things up a little, have a look into installing some downlighting that accentuates the existing feature. Teamed with glass or mirror splashbacks, or even a bright coloured tile, the effect of a downlight can be mesmerising – this look is especially suitable for those who love to entertain and gather guests in and around the kitchen area.
Mosaic tiling
These little tiles present big opportunity for you to be creative with your splashbacks – so play with colours, patterns and textures, or create an image for a truly unique look. Stretch the splashback up the entire wall for wow factor, or stop a few inches above the benchtop for a more subtle effect. Mosaic tiling is very flexible when it comes to design - it can be applied in kitchens of all styles, you just need to choose the right colours and patterns to suit.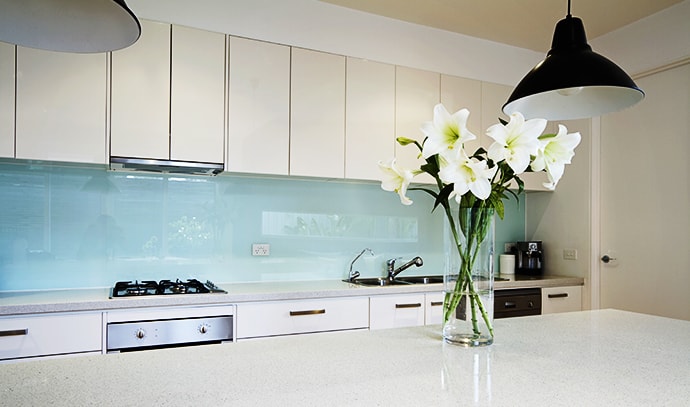 Wood, cobblestone, or wine corks
For those who like to be eco-friendly, bringing in some recycled material for use in your kitchen splashbacks can pay off greatly in the aesthetic department. Old wood cut into long tile sized pieces, cobblestones laid on their sides and stacked skywards, or even the tops of wine corks made into a feature wall are all options for the open minded. These looks are a great fit for a more industrial style kitchen, or a very neutral kitchen that needs one interesting feature to give it a visual lift.
Living wall tiles
If you want to be truly out there with your splashback design, why not give living wall tiles a go? These tiles are embedded in your wall, and contain a small 'pocket' where small plants can be grown. With these, you can clean the air in the kitchen and grow herbs in a very convenient location, if you fancy yourself a bit of a green thumb. The greenery can also give a fantastic visual effect, and could even influence your family to make healthier choices in the kitchen!
Back to top