freedom-kitchens-white-kitchen-design-modern
5 tips to get a designer look kitchen on a budget
Phyllis, July 2015
The kitchen is the hub of the home. It's also the most expensive room to work on whether you're renovating or building a new one. Most of us don't have the luxury of an endless budget, but there are several ways to achieve a high-end look without the high price.
Freedom Kitchens
has
five tips
to help you get the look for less. [Tweet "The kitchen is the hub of the home."]
1.   Be Inspired
Browse magazines, showrooms and home design blogs and sites like Pinterest to gather inspiration. Take note of the kitchens that catch your eye and what it is that you like most about the design. Start a list of what you think are the "must haves" versus the "nice to haves".
2.   Cabinetry Solutions 
Bespoke, high-end kitchens will feature custom cabinets, but you can achieve a similar look at a fraction of the cost. For example, Freedom Kitchens offers flexibility with its extensive range of door styles, colours and finishes and will create a kitchen to suit any style. Stick to cabinets rather than drawers. This is much more cost effective and will leave some extra cash to spend on other luxuries within the kitchen.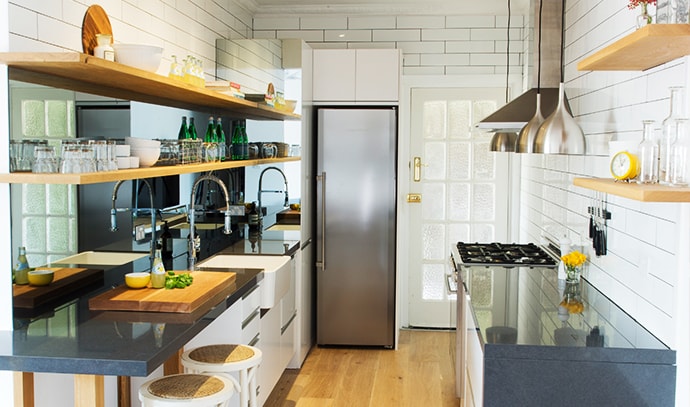 3.   On The Surface
How you use your kitchen will determine the benchtop you use. Avid entertainers may place more emphasis on achieving an aesthetic centrepiece, while an investor may see value in choosing a more economical yet hard-wearing surface.
The most common benchtop styles are:
Solid Surface – allows for a seamless finish and is hygienic, non-porous, and resistant to stains and heat. It comes in many different colours and is available in matte, semi-gloss and high-gloss finishes.
CaesarStone – is a durable stone benchtop. It has the look of natural stone and is highly resistant to staining. Quartz surfacing is low maintenance, non-porous and very hygienic.
Laminate – is a durable and economical alternative available in a wide range of colours, finishes and textures, many of which replicate the stone colours and timber tops available on the market today.
Get a designer look by combining two contrasting benchtop colours, materials, heights or thicknesses. The variation will pique interest whist providing the opportunity to include that feature top if it's on your must have luxury list!
4.   Customise with Colour
Create visual interest and make your kitchen look bespoke by adding some colour. While a white kitchen is safe and timeless, play around with a few colour combinations on Freedom Kitchens' Kitchen Customiser and see how swapping sections of white cabinetry to black, woodgrain or a bright coloured will take your kitchen from white to wow. Interesting pendant lighting or decorative tiled splashbacks will bring in colour, letting your personality and style shine through.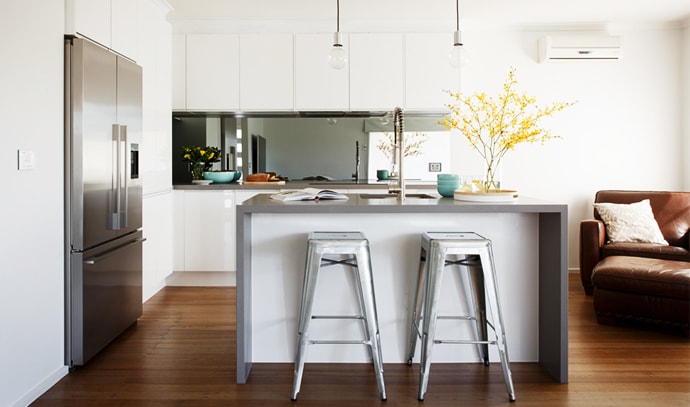 5.   Get Professional Help
It's easy to be tempted with extras during the kitchen design process, so work with a professional designer to set and manage the budget. They can help determine areas to invest and where to cutback. They will help you create the most efficient and spacious layout, as well as offering economical ways to replicate any coveted luxury looks.
To view the latest product range and kitchen displays, visit your local Freedom Kitchens showroom. For a free, in-home kitchen design appointment, visit
freedomkitchens.com.au
or call
1800 113 733.
Find more inspiration on our Pinterest Kitchens board, 
pinterest.com/HomeloansLtd
.
Images courtesy of Freedom Kitchens
Back to top