home-front-deck-green-lawn-sunny-day
5 fabulous tips to get the deck in top shape
Phyllis, October 2015
Christmas is just around the corner, and that means it's time to get ready to entertain friends and relatives not only during the "silly season" but through the summer months beyond. The deck is the perfect place to entertain, whether it's an intimate dinner for a few friends or a massive bash for the entire neighbourhood. After all, timber decks are attractive, hard-wearing and generally large to host a cast of, if not thousands, then certainly many dozens. Outdoor decks create new living areas and when included in a covered alfresco with the addition of café blinds, can be enjoyed year-round. And they're perfect for tidying up underutilised garden areas and add value to established homes.
[caption id="attachment_2964" align="alignleft" width="690"]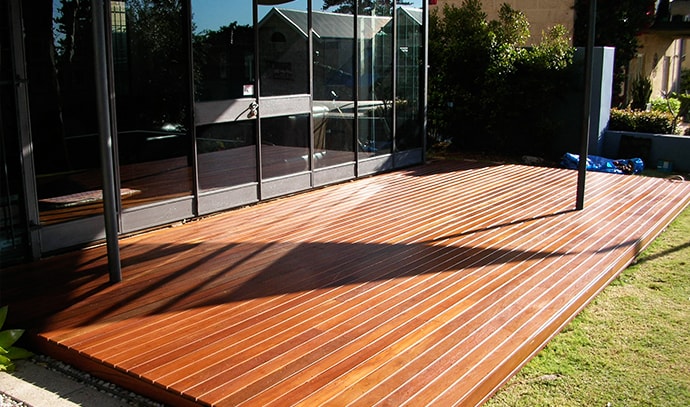 Image courtesy of Totally Floored
[/caption]
Quality materials get the best results
"A timber deck should provide years of enjoyment," says decking expert Stewart Brown, owner of Totally Floored. "If the deck has been built using the correct materials and good building practices then it will last almost indefinitely if properly maintained. "I only ever use hardwoods, treated timbers and non-corrosive fixtures and fittings to commercial standards to ensure longevity and little maintenance." The trouble is that the winter damp and cold can leave timber surfaces looking a bit manky to say the least. And nothing will kill the festive mood faster than Nanna slipping on some moss and breaking her hip! Stewart says a well-constructed deck needed minimal maintenance, however all timber decking benefited from seasonal oiling to prolong life. Decks can be coated with any premium-grade natural oil and Stewart recommends coating at least twice a year, before and after winter to ensure your decking stands up to the weather and maintains its resilience. [caption id="attachment_2963" align="alignleft" width="690"]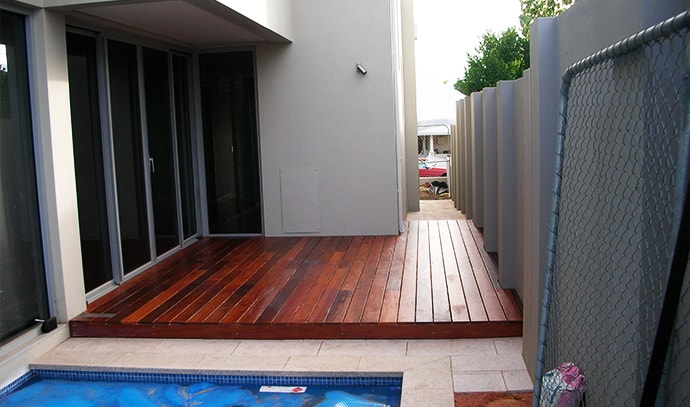 Image courtesy of Totally Floored
[/caption]
Get set to party
However, there are a few simple steps that will get the deck ready for the party season in no time flat. First gather your tools. You'll need a garden hose or pressure washer. (Check out the latest offerings from Briggs & Stratton. They make pressure washing a breeze.) You'll also need to head to the hardware store for a stiff bristled broom and a deck & wood cleaner such as Sikkens Cetol BLX-Pro. Grab a bottle of washing up detergent from under the sink and you're ready to get started. If you've got a pressure washer, now's the time to plug it in and get ready to blast away the grime. "There's something very satisfying about blasting your dirty surfaces clean with a powerful pressure washer," says Grant Buck from Briggs & Stratton. "It's quite therapeutic watching the dirt and grime dissolve in seconds on your mossy, mouldy pavers, driveway, windows, exterior walls - you name it. The beauty of a pressure washer is that it has so many uses around the home – it can even be used to wash your car or boat and works a treat restoring wooden fences and decks."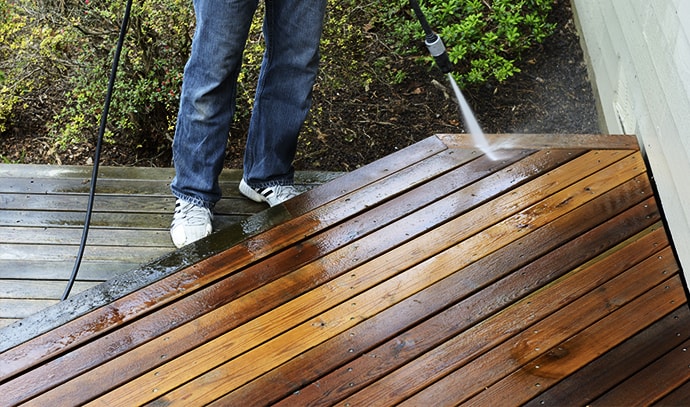 A pressure washer delivers up to 75 times more power than an ordinary garden hose, while using up to 80 per cent less water. You can easily blast away built-up mould, mildew, dirt and grime to restore surfaces to like-new condition in a fraction of the time it would normally take. "The trick is to adjust the spray according to what you need to clean. A wider spray is less intense, but for areas with stubborn stains, a narrower spray will effectively blast it clean. You can also move the spray gun closer for stronger cleaning or stand back a bit to reduce the pressure," Grant says. Durable materials such as concrete and masonry can withstand higher psi (pounds per square inch), however softer, more delicate surfaces such as timber and painted surfaces may be damaged by a high impact psi. For more delicate areas, it is recommended to add a cleaning detergent and make multiple passes with a wider spray over heavily soiled areas. Grant says that the engine plays a pivotal role in the performance and user experience over the life of a pressure washer. [caption id="attachment_2962" align="alignleft" width="690"]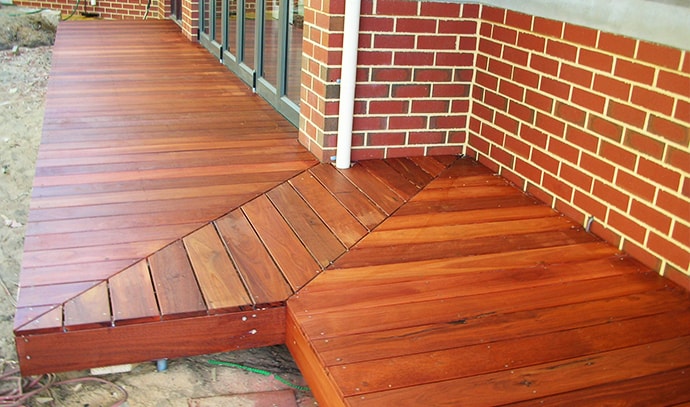 Image courtesy of Totally Floored
[/caption] "People don't often consider the engine when buying a pressure washer, but actually, as the key component, the quality of the engine will determine the life span, durability and reliability of the end product," Grant says. "Briggs & Stratton engines are easy to start, powerful, meet or exceed environmental standards, and are backed by an experienced spare parts network worldwide for peace of mind."
Briggs & Stratton
's pressure washers also feature large wheels which are all-terrain and puncture free. "Plus you can pull the pressure washer behind you quite easily, which ensures they're both practical and easy to use," Grant adds..
The finishing touch
When it comes to putting on a new finish coat to protect the timber from all the wear and tear of summer's heat and foot traffic, Cabot's Water Based Decking Stain is one option worth considering. It can transform the look of dull, plain treated pine and worn timbers enabling you to quickly and easily create a new look for your outdoor living area. Cabot's has developed a water-based formula to rejuvenate and enhance exterior timber with colour that lasts longer than traditional solvent based timber stains. Be inspired by sumptuous shades of
Jarrah
,
Merbau
,
October Brown
and
Redwood
this season and transform your tired timber decking into that stylish outdoor entertaining area you'll be proud to show off all summer. It can also be recoated after three hours. (By the way, I have no relationship with Cabots, but my husband and I have used it over years of renovating and building and we're always very happy with the results.) [caption id="attachment_2965" align="alignleft" width="690"]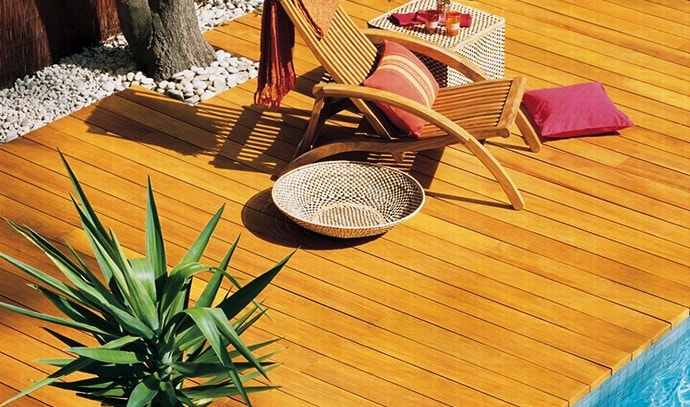 Image courtesy of Cabots
[/caption]
The nitty gritty of getting rid of the grotty 
Clean the entire deck using the garden hose or pressure washer. Ensure that all dirt, grime, moss and fungus is removed. Start with a wide spray pattern and hold the nozzle about a metre from the surface. Move closer until the desired effect is achieved. Keep the nozzle in motion, spraying at a steady speed with long, even strokes. To avoid stripes, maintain a consistent distance between the nozzle and the cleaning surface. Use pressure washer cleaning detergents when cleaning heavily soiled or stained surfaces. Consider using brush attachments or a turbo nozzle to help remove stubborn dirt, grime and stains.
Use the broom dipped in a bucket of soapy water (and some elbow grease) to scrub the surface thoroughly.
Rinse off the deck using the hose or pressure washer, ensuring all the suds are completely removed.
Allow the surface to dry thoroughly, then apply two coats of deck and wood cleaner, again using the stiff bristled broom. This will brighten and revitalise grey and weathered timber. Sikkens Cetol BLX-Pro is a gel that makes application easier and less messy. Make sure you apply the gel in the direction of the timber's grain.
Recoat the surface with two coats of the decking oil of your choice using a decking applicator and voila!
Back to top