baby-boy-lying-timber-wood-floor
5 best eco-friendly flooring options
Katie Adema, March 2016
When creating your dream home, there are many decisions to make and a lot of things to consider – what purpose each room will serve, what practical elements need to be included, how the materials in each space work together, how expensive these materials are and what the environmental cost is. Then there's the aesthetic side of things thrown in on top of it all. We are going to make one choice a little simpler for you –here we have whittled down five flooring choices that are eco-friendly and low maintenance so you can create a home that is constructed with as little harm to the environment as possible. The concept of "eco-friendly flooring" has to be looked at in a number of ways – how sustainable it is to produce, whether it produces/requires toxic by-products to be maintained, the energy mass and thermal mass, and whether it is biodegradable or not. Here are the top five choices in the market:
1.   Bamboo
This flooring material is being praised as the most sustainable choice of late because bamboo is a fast growing renewable resource compared to timber and plastic flooring.
With low embodied energy, low maintenance, and cheaper price to produce and buy, bamboo flooring is an easy choice for you and has a low environmental impact.
Other benefits of this kind of flooring include the durability, water resistance, antibacterial qualities and the ease with which it is installed.
However, before you buy, ensure the floorboards have not been finished with toxic glues that emit VOCs, as this obviously impacts on the level of eco-friendliness.
2.   Recycled materials
Choosing "pre-loved" materials to create your home is as eco-friendly as you can get – especially if it is recycled timber, tiles or bamboo planks. There has been a surge in demand for recycled building materials as more and more Australians choose to lower their environmental impact, as well as reducing the cost of construction for themselves.
Search for second-hand flooring materials online using sites such as urbansalvage.com.au, ironwood.com.au, timberzoo.com.au, fremantletimbertraders.com.au and even Gumtree!
You can also keep an eye out for materials being sold as local buildings are demolished.
3.   Timber
Navigating the wide range of timber flooring that is available to find an eco-friendly option can be very difficult because of the range of false claims made by manufacturers. Your best bet is to ask the supplier for proper certification on all materials.
As a rough guide, sustainable timber choices include rubberwood, New Guinea teak, FSC-plantation eucalypt and bamboo, Ecotimber, taun hardwood and any timbers that are FSC certified, while Burmese teak, African mahogany, merbau, ramin and meranti are timbers that have a large environmental impact.
Always do your research before choosing timber flooring to make sure it is sustainably sourced, and that it is made completely from materials that are FSC-certified rather than layered with components that are cheaper to produce and less eco-friendly.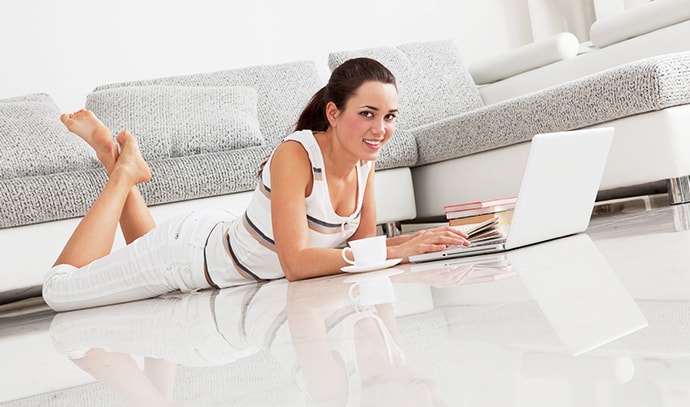 [Tweet "Do your #research before choosing #timber #flooring to make sure it is sustainably sourced."]
4.   Ceramic tiles or polished stone
These two material choices have a number of eco-friendly points in common – they have good thermal mass, low toxicity, are easy to clean and are highly durable.
One thing to keep in mind when choosing stone or ceramic tile flooring is the local environmental impacts of quarries. You can, however, lower the impact of your choice by selecting stone that has been locally sourced so the environmental cost of transportation isn't also added into the equation.
Stone and ceramic tiling also have higher embodied energy, which means it requires a great deal of energy to produce – so if you do go with this choice of flooring, avoid adding carpet on top, as this again increases the total embodied energy of your flooring.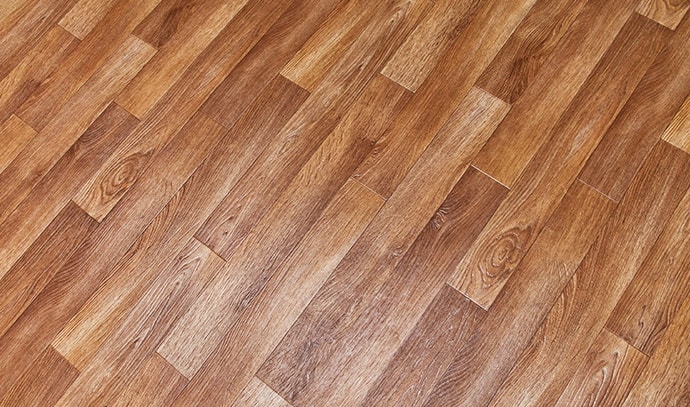 [Tweet "The best thing about this #linoleum #flooring is its 100% #biodegradable."]
5.   Linoleum, rubber or cork 
Linoleum made from natural materials like dried and milled flax seeds mixed with other plant material, pine resins, wood flour, or ground cork, are particularly eco-friendly.
The best thing about this flooring choice is that it is 100% biodegradable – it also has low toxicity, is durable, easy to clean and has low embodied energy.
However, there are some less eco-friendly aspects to this type of flooring, including the possibility that some rubber, cork and wood fibre floors contain petroleum-based materials, and the fact they are not recyclable.
Some linoleum, rubber or cork floors are imported to Australia – which increases their environmental footprint by a great degree.
Back to top