ecosmart-fire-vision-terryhills-center-moving-fireplace-white-box
5 cool room dividers
Veda Dante, August 2016
Our love affair with open-plan living, especially when it comes to breaking the barriers between where we cook, eat and relax, is still a coveted interior design style among renovators and new homebuyers. Shirking separate rooms in favour of free flowing, communal spaces not only look light and feel airy but also influence the way we interact with our surroundings and the people we live with.
Above image courtesy of
EcoSmart Fire
While one wide, exposed space gives you the illusion of more room to entertain, open-plan living can have its downsides. They can be expensive to heat and cool, and trying to watch TV while your flat mate is cooking up a storm in the kitchen, can be challenging. And if you're slightly OCD like me, the sight of dirty dishes in the middle of your living space means constantly cleaning up after meals should neighbours pop in unexpectedly for a cuppa. One way to ease these visual and acoustic noises, and create a sense of intimacy, is with a room divider.
See-through fireplaces
Double-sided fireplace designs, like
EcoSmart's Vision
bioethanol model pictured above, create a small and subtle room partition, which in this case can be moved around to suit your living space. Cleverly designed with form and function in mind, they not only radiate plenty of heat but also add a sculptural element to the space. The see-through effect allows for unobstructed views of the flame on either side, creating warmth and intimacy in open-plan spaces. The added bonus is that these eco-friendly fireplaces don't need a flue or chimney to operate. This gives you the flexibility to relocate them when you want to redecorate or open up the space again for entertaining purposes. [caption id="attachment_5469" align="alignleft" width="690"]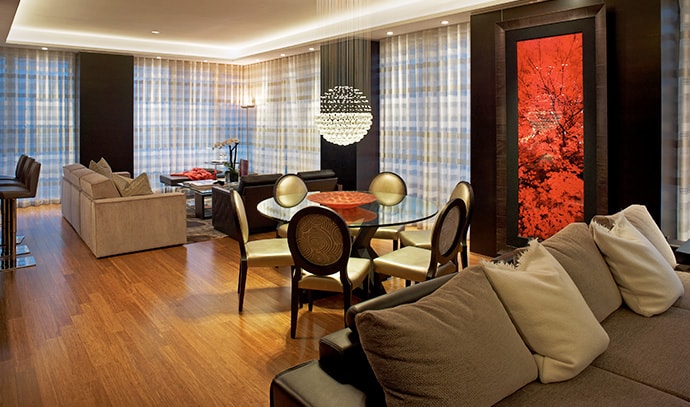 Image courtesy of Decoist
[/caption]
Task-specific lighting
Lighting is a cornerstone of interior design, regardless of whether you're using it for general, task or accent purposes. When it comes to open plan living, think of your lounge, kitchen and dining as separate spaces that require different lighting approaches. And, depending on how large the space is, you might need to group a few of the same style into clusters to make a strong enough impact. Chandeliers and pendant lights, which look great hung over a dining table, island bench or lounge nook, create drama and depth in task-specific living zones. (Opt for dimmers so you can adjust brightness and therefore mood.) If you have particularly high ceilings or vacuous stairwells, consider long hanging pendant or chandeliers. Table lamps also create intimacy, as they direct light closer to ground level. [caption id="attachment_5467" align="alignleft" width="690"]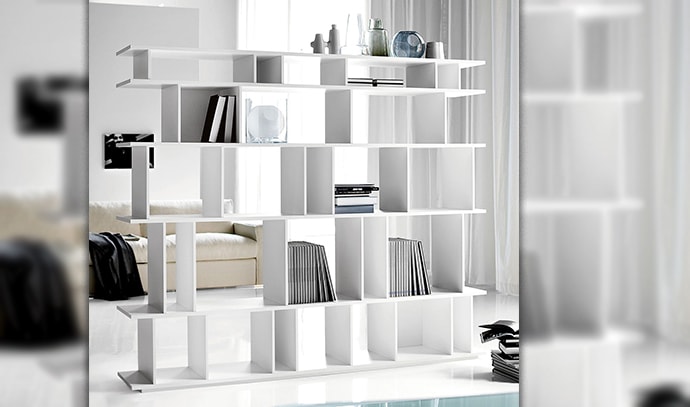 Image courtesy of Fend Home
[/caption]
Double-sided bookshelves
Providing handy access from both sides, double-sided bookshelves provide a functional division without completely sectioning off a space – which is particularly handy when you have low ceilings and want to avoid feeling like you're boxed in. An inexpensive solution, especially if you make it yourself, a bookshelf also increases storage and display space where there might not have been any. Modular designs enable you to adapt the size and shape to the room, providing a space-saving feature that works for tenants and homeowners. [caption id="attachment_5468" align="alignleft" width="690"]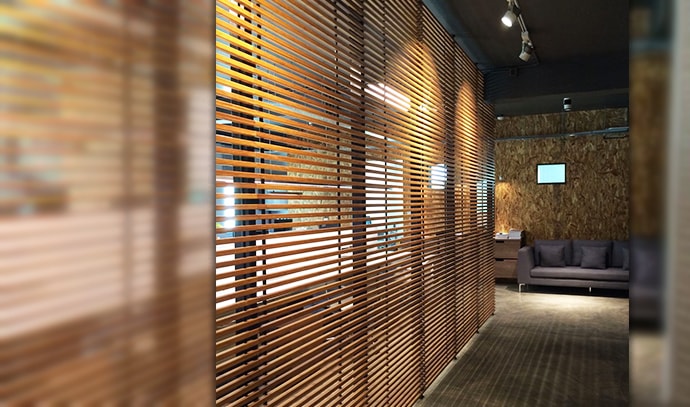 Image courtesy of

House of Bamboo
[/caption]
Bamboo screens
Bamboo, which is a fast growing, natural resource, offers an eco-friendly solution to dividing open-plan rooms. Its strength, durability and earthy properties are appealing attributes in modern architecture, particularly when you're surrounded by stone, steel, plastic and glass. From partial privacy to complete block-out designs, you can now get chic screens that have evolved from the traditional poles you're likely to associate with bamboo. [caption id="attachment_5466" align="alignleft" width="690"]
Image courtesy of Style Park
[/caption]
Green wall
For a divider you can use both indoors and when you're creating an outdoor room, this versatile screening system from the style merchants at Dedon features an asymmetrical weave that simultaneously serves as a trellis for plants and a partition. Sturdy, stable and unobtrusive, it brings an organic oasis in your home with plants intertwined with the stainless steel wire mesh. Not only that, but the plants help improve air quality by absorbing surrounding ozone.
Back to top