trello-office-laptop-management-tools-software-screen
3 management tools for remote workers
Veda Dante, July 2017
Working as a freelance writer for most of my career has meant learning different management tools that allow me to collaborate with clients, co-workers, and bosses. For remote workers and digital nomads, they provide a virtual office where everyone can easily communicate and coordinate with each other. For bosses and business owners, it's less about keeping tabs on staff and more about equipping them with a way to work smarter (not harder) by streamlining the communication and project management processes. Here are three tools I've used at some stage over the past few years. The first two are free while the third one incurs a fee. [embed]https://www.youtube.com/watch?v=sgO63eAi76E[/embed]
Free to use, easy to get started, and sophisticated enough to run your small business, Asana helps teams manage projects from start to finish. It helps by breaking down goals and ideas into actionable tasks, assigning specific jobs to teammates, reminding you when projects are due, and providing a virtual conference room where you can brainstorm ideas and respond to questions. [embed]https://www.youtube.com/watch?v=xky48zyL9iA[/embed]
Akin to an old-school community noticeboard, Trello is basically a bunch of cards attached to a virtual pin-up board ascribed to a series of columns or lists. It's really easy to use in that you drag cards from lists like
To Do
to
Working On
, clearly showing you and everyone else you're working with where each project is at. [embed]https://www.youtube.com/watch?v=nKU-FMzZFF0[/embed]
As someone who relies on
Microsoft Office 365
to collaborate remotely with my co-workers every day, this chat-based workspace released late last year has quickly become an integral part of my daily routine. I'm emailing colleagues less, am able to store files and conversations conveniently in one place, and by customising 'Channels' with a feature called 'Tabs', frequently used documents and applications are quickly accessed.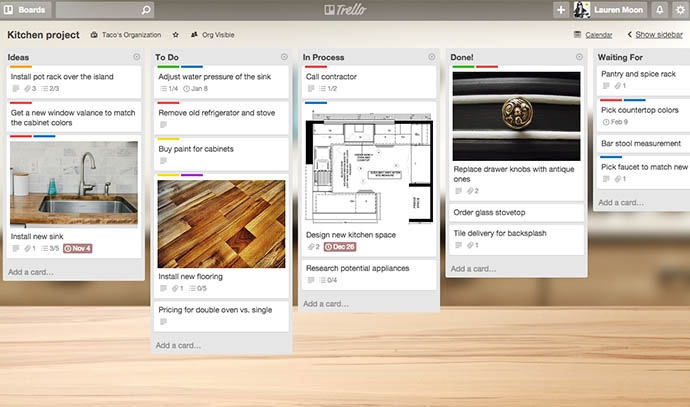 Manage personal projects
Online management tools can also help us better manage personal projects that have a lot of moving parts – be they home renovations, family reunions, destination weddings or shopping lists. For example with Trello, simply create lists for
Ideas
,
To Do
,
In Process
,
Waiting For
, and
Done!
'. This gives you an easily manageable view of the progress for each piece of the renovation puzzle. That way, if the droplights you ordered were cancelled due to lack of stock, perhaps you can now rethink those pendant lights you had your eyes on?
Back to top