crates-pillow-chair-ottoman-food-container
20 cool things to do with crates
Phyllis, July 2015
Anyone who's ever lived in a share house, moved out of home for the first time or bought their first home on the smell of an oily rag has probably experienced the "joy" of creating furniture from crates. So handy, so versatile, so cheap … So uncomfortable! Believe it or not, the humble timber crate has come into its own as a trendy homeware with myriad uses. So for those who haven't been permanently scarred emotionally or physically by previous encounters with crate décor (splinters make a huge impact on the psyche and the bottom) here are
20 fun ideas
to bring them back into your life.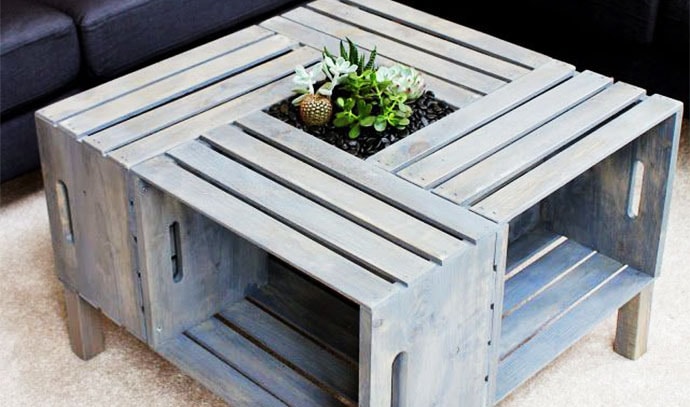 1.   Shelves
Display knick knacks or display items by mounting crates on the wall. Mix things up by placing them at different heights. Make sure you find the wall studs behind the plasterboard and screw into them or you'll find your shelf and its contents could come crashing to the ground.
2.   Planter boxes
If it's a planter box you want, it can be as simple as sitting it on the ground and placing the plants in their original plastic pots inside. Or make it portable by screwing some castors underneath.
3.   Vertical Gardens
These are all the rage at the moment. Simply line a box or boxes with landscaping fabric, staple some chicken wire across the top and plant succulents through the holes. The wire will hold the plants inside when the box is turned on its side and hung on the wall or stacked on top of other similarly planted crates.
4.   Bedside tables
If you love the shabby chic, rustic, French provincial, Hamptons or even the boho style, crates are the perfect answer for a bedside table. Turn it on its end and leave it with a natural finish, use a watered down paint wash or go crazy with a bunch of bright colours.
5.   Coffee tables
The possibilities are endless. Turn four crates on their sides with the open ends facing outwards. Screw them together and add castors or legs on the bottom. You might like to buy a piece of toughened glass from a glazier to place on top.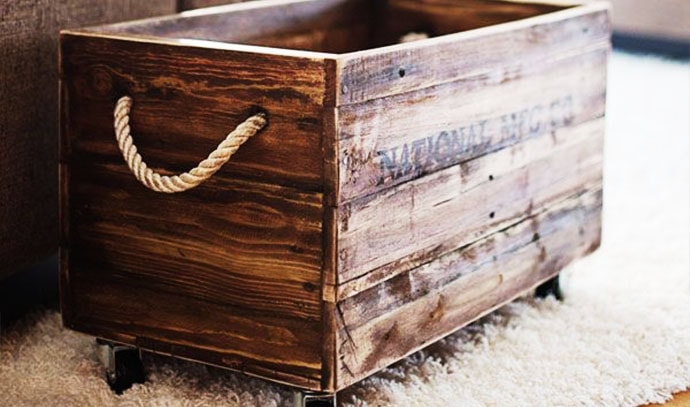 6.   Storage tubs
Great in the living room as a home for stray cushions and throws, in the hall for umbrellas and in the kids' rooms for toys.
7.   Cubby houses
They'd need to be big ones (like apple crates) or substitute pallets. But check out the one on our Pinterest page for inspiration.
8.   Under-bench roll-out drawers
Perfect in the kitchen under the bench, or the workshop, or the home office. Just add castors, fill with stuff and roll it out of site.
9.   Wall units
This is a seriously attractive option for displaying collectibles and even housing the TV. Just make sure everything is screwed together securely and fixed to the wall.
10. Bookshelves
Ditto for bookshelves.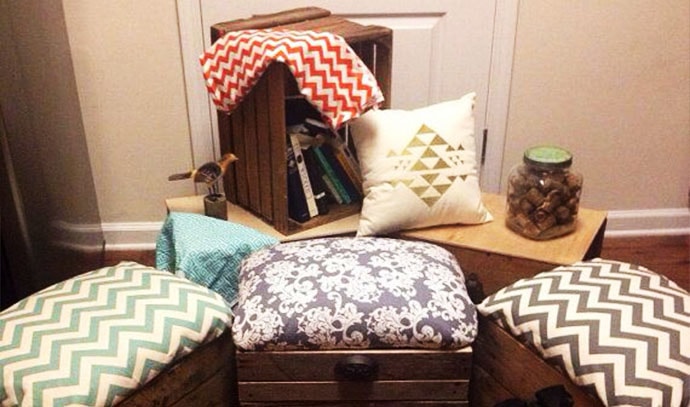 11. Ottomans
There are some very attractive examples of crates that have had a padded lid added to the top, making them a great extra seat as well as storage solution.
12. Mudroom
Turn crates on their sides and put some padding on top and you've got a perfect spot to sit down and remove shoes muddy shoes as well as a place to store them.
13. Laundry storage
No need to put up bland-looking shelves when you can mount some crates on the wall to hold all your accoutrements.
14. Kitchen island
Check out our Pinterest board as there are simply no words to describe how incredible this can look.
15. Bed
Use old timber pallets to build the base then fit crates that can slide in and out of the frame to act as hidden storage.
16. Pantry
That usually useless space under the bottom shelf of a walk-in pantry can house large items that aren't used often (not to mention the spuds and onions) when they're stored in crates on small castors.
17. Pet bed
Make a fun and sturdy bed for your pet by cutting the front off a crate and adding some comfy blankets.
18. Party drinks station
Place a crate on a side table with the coffee cups, pot, sugar and milk or, alternately, wine glasses and bottles of your guests' favourite drop.
19. Party table decorations
Stack crates on their sides on the table and fill with goodies.
20. Spice racks/wine racks
Again, the designs have to be seen to be believed on our Pinterest board.
More inspiration on
Pinterest
: 
pinterest.com/HomeloansLtd
Back to top