mudroom-at-the-laundry-room
10 tips to get the best from your laundry
Phyllis, February 2016
The laundry truly is the Cinderella room of the house: overworked and under appreciated. Yet with a little help from a fairy godmother, this often sad and neglected little space can transform into a metaphorical "princess". It doesn't matter how small, there are several spells you can cast that will have your laundry fit to host your next ball. Glass slippers optional.
1.   Don't suffocate – ventilate
Nothing clears a ballroom like a stuffy atmosphere. Most laundries should have windows and a door leading outside. If possible, install a glass door to maximise the amount of natural light in the room. Keep the windows and door open as you work. Fresh air not gets rid of the smell of laundry chemicals, it allows moist air to escape. The light and fresh air will combine to keep mould and mildew at bay. If you don't have a window or external door, install an extraction fan to do the same job.
2.   Light up your laundry's life
Natural light is best, but for those cloudy days or late nights (Cinderella was still scrubbing and cleaning way after dark) it's important to have good quality, task lighting. This will help you check for stains on clothes, see creases in ironing and just plain stay wake. A bright, cheery room will also help lift your mood and make it a welcoming and inviting space.
3.   Give her a facelift
Or at least, some new makeup in the form of a fresh coat of paint. Remember that dark colours absorb light while bright ones reflect it, so choose a bright cheery hue. For my money, you can't beat white, as it looks fresh and clean – and also bounces light around the space. If you want a splash of colour, accent with matching baskets and accessories or some artworks.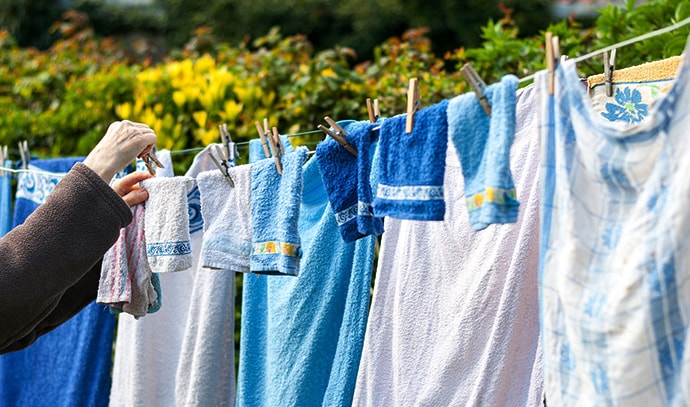 4.   Don't end up a basket case
There are two types of baskets you need laundry: the ones that house the dirty stuff and the ones to take it out to the clothes line and bring it in again for folding. In the case of the dirty baskets (also called hampers) look for large, deep wire versions on castors that you can pull them out from under a bench or inside a cupboard, then roll out of sight again when you're finished washing. If these types of bins are out of the budget, or your laundry simply can't house them, then buy bags that can hang on the back of bedroom doors or have one in the bathroom. When it comes to the ones that take the freshly laundered clothes outside and back again, make sure they're all the same shape and size (and preferably colour). Store them in or on top of a cupboard to eliminate visual clutter.
5.   Good "bones" are essential
As with every makeover, budget will limit what you can do. But if you're going to go the whole hog, then strip the room out and start from scratch with floor to ceiling storage that will house everything from chemicals to cleaning paraphernalia (don't forget a tall broom cupboard) and baskets. If you have a front load washer, consider having a benchtop that runs across the top to give you maximum room for storing anything that may not fit into the cupboards (possibly washing baskets). It will also give you a workspace for folding and sorting.
6.   Don't get "board" by the ironing
The ironing board is one of those large bulky items that it's hard to get away from. We all need them, but boy are they difficult to store. Of course, you can buy an ironing board that folds out from a cupboard when needed, but for those of us who can't afford it, and are too spacially challenged to put it in a cupboard, try mounting the folder board on the back of the back door.
7.   Power through your work
Of course, this can be difficult if you're short on point points. If you're going to gut and rebuild the room then make sure you plan for plenty of sockets. Remember that you need power for the washing machine and dryer as well as the iron and one spare for anything else you may need to use.Even if you're not rebuilding the room, spend a couple of hundred dollars and get an electrician to install an extra double power point where you need it. NEVER, EVER attempt to do this yourself to save money. It could cost you your life. Electricity is silent, invisible and odourless. You'll be dead before you know it's hit you. By the same token, don't try to save money by overloading powerboards. This can also be deadly. Remember that water conducts electricity, so if you must use a powerboard, keep it off the floor and away from all sources of water.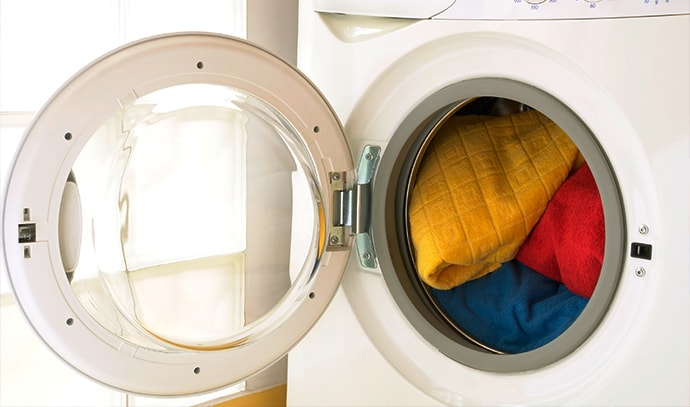 8.   Get hooked on hangers
If space allows, put in a rail for hanging freshly ironed clothes as well as small items that you can dry overnight indoors. If there's not room, get a fabulous ceiling mounted clothes line. There are some seriously gorgeous designs out there. The great thing is that you lower it down to hang clothes or towels, then hoist it out of the way.
9.   Sink into bliss
Don't skimp on size when it comes to the laundry tub. I used to have a laundry nook and to save space I chose to have a half-width tub. Good in theory until I couldn't do anything but the smallest hand washing. Coupled with the fact that it was in the corner, so there was a serious dearth of elbow room, and I found myself using the bathroom vanity or a bucket. The lesson? Buy the widest, deepest sink you can fit into the space and NEVER place it next to the wall.
10. Set the right benchmark
This applies to the quality of material and height. Let's start with height. I'm an average to tallish person, but my sister-in-law has a couple of centimetres on me. So when she built her home recently she had the benchtops in the kitchen and laundry made a bit higher. It cost a bit more, but she no longer ends up with backaches from having to stoop while she does her chores. When it comes to material, the essential thing is to ensure it is impervious to water. This IS a wet area after all. However, since this is a Cinderella makeover, consider a reconstituted stone benchtop that will make you smile every time you walk in the room.
Back to top