the-atlantic-byron-bay-jatana-interiors-floor-bathroom-tiles
10 expert tiling tips
Veda Dante, March 2017
From the reproduction
subway tiles
associated with New York's rail system to the
antique tiles
salvaged from Morocco, Cuba, Rajasthan, the Middle East and Southern Europe, there is certainly no shortage of inspiration for your next renovation project. The right tile can add instant appeal to a kitchen splashback, swimming pool, bathroom floor, foyer or front entrance, especially when the surrounding landscape is taken into consideration. I recently tiled my office and it has completely transformed the space. Not only does the room look bigger but also complements my old timber furniture. Before my office looked slapdash whereas now it has a chic, cohesive appearance. According to tiling expert Sonya Marish from
Jatana Interiors
, there are two distinct trends influencing home DIY projects and commercial fit-outs. "Personally, my clients are either wanting bold patterns and bright colours, or earthy shades such as red and olive," she explains. "Colorways, which brings together more than one colour or design, are also popular right now, as are combinations of navy and white and black and white. As always, it depends on the rest of the style of home." Before we share a few expert tips, let's look at different ways tiles can enhance a space, both indoors and outside. [caption id="attachment_7051" align="alignnone" width="690"]
A cafe owner used tiles to update the look of the barrels and also help preserve them from water and weather damage. Photo of
Jatana Interiors
tiles courtesy of
Schmick Tiling
.[/caption] [caption id="attachment_7009" align="alignnone" width="690"]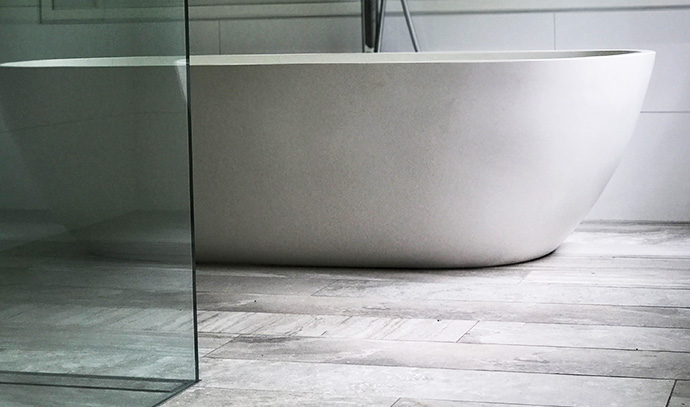 Grey has always been a popular colour with tile manufacturers, especially now with industrial finishes on-trend. Photo courtesy of
Schmick Tiling
.[/caption] [caption id="attachment_7013" align="alignnone" width="690"]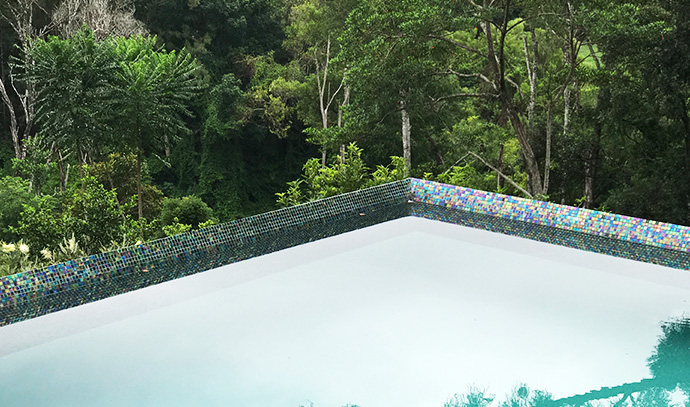 Green mirrored mosaics mimic the glistening pool water while also capturing the colours of the surrounding rainforest canopy. Photo courtesy of
Schmick Tiling
.[/caption] [caption id="attachment_7011" align="alignnone" width="690"]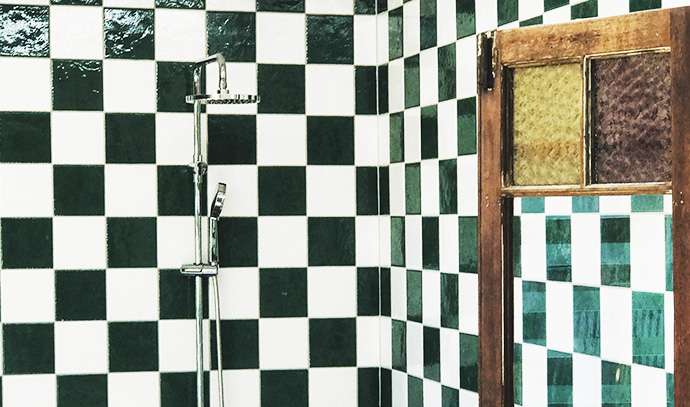 Green and white checkered tiles match the green slate flooring, while also complementing the original French doors. Photo courtesy of
Schmick Tiling
.[/caption] [caption id="attachment_7019" align="alignnone" width="690"]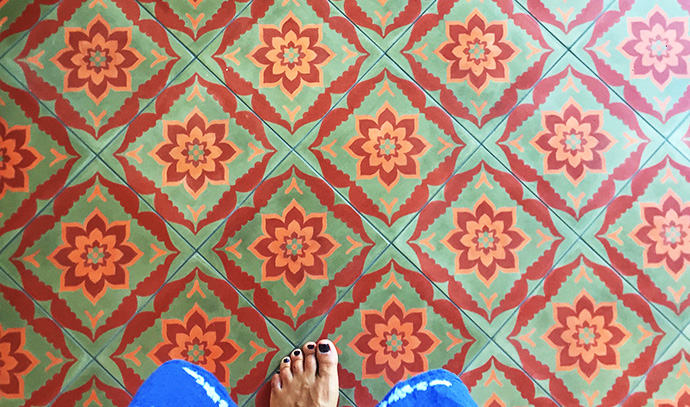 Ask your local tile shop for samples so you can feel what they are like to walk on. Photo of
Jatana Interior
tile installation by
Schmick Tiling
courtesy of
Veda Dante
.[/caption] [caption id="attachment_7021" align="alignnone" width="690"]
This peace sign, which features glow-in-the dark mosaic pieces, was made from leftover swimming pool tiles. Photo courtesy of
Schmick Tiling
.[/caption]
Top 10 Schmick tiling tips
With more than a decade's combined experience, Jamie Jones and Stuart Forsey from
Schmick Tiling and Detailing
mesh creativity, durability and sustainable building practices to create stunning design features (as you can see from the above images). Here are their top 10 tiling tips:
A busy tile deserves a simpler surround. When choosing a patterned or colourful tile, try to highlight it by using soft colours to frame it, or choosing a colour from within the tile as a surround.

It's not just bathrooms or kitchens that a tile can highlight. There are many areas within and around your home that can be enhanced with a tile feature. For example, you can tile the face of steps, the entrance to your home, the transition between doorways, a table, your bath – the list is endless.

Consider tiling a particular area of a floor as opposed to the whole floor.

Combine a tile with other design elements, such as timber, concrete, stone, glass or metal.

Use a tile as a border to draw the eye to something special, like a window that opens to a beautiful view, the front porch, or a mirror you look at everyday.

A perfect tile design is not just the shape, colour or texture but also how it's all put together.

Anything is possible thanks to today's tiles. That wild idea you've always had is most likely a possibility with the new materials and technology.

Try before you buy. Ask your local tile shop for samples of the designs you like. Stand on them to feel what they are like to walk on and group a few together so you can get an idea of what the pattern looks and feels like in your space. Take your time before making the final decision.

A cheap tile to buy will cost you more in the long run. A tile is only as good as it is laid and cheap tiles are not nice to lay!

Finally, we always recommend calling a tiler before outlaying money as they will let you know what is possible and what is not.
As with all renovation projects, combining quality products with professional installation will ensure the final outcome adds value to your property aesthetically and financially. [alert style="alert-lifestyle" dismissible="false"] Do you have any tiling tips? What's the most interesting place you've tiled? We'd love to hear your thoughts! [/alert]
Back to top