woman-cleaning-wearing-gloves-holding-spray-cloth-cleaning-kitchen
10 chemical-free recipes for DIY cleaning products
Veda Dante, April 2018
Last week we talked about the '
green cleaning revolution
' and how easy it is to replace store-bought, chemical-based cleaning products with common ingredients you probably have sitting around in your home already. This time we share 10 simple recipes that you can customise the scent with your own preferred essential oils, keep your house clean and your family safe from harmful toxins and best of all, save a lot of money!
Surface Cleaners
These surface cleaners use common ingredients for scent and added disinfecting ability. While the vinegar and water combination will be immediately effective for cleaning, it should be noted that these cleaning solutions won't reach their full effect until they've steeped for about a week. Combine these cleaners in spray bottles or in jars on your countertop for easy surface cleaning in between cooking and preparing meals.

Rosemary and Lemon Surface Cleaner
2 cups vinegar
2 cups water
Lemon rind
Rosemary sprigs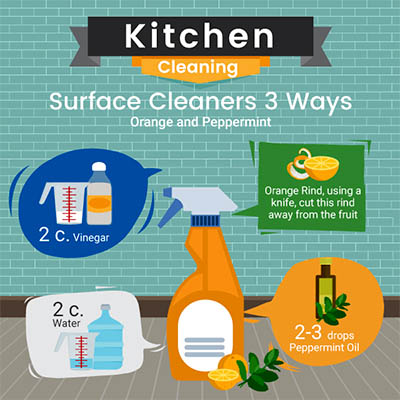 Orange and Peppermint Surface Cleaner
2 cups vinegar
2 cups water
Orange rind
2-3 drops peppermint oil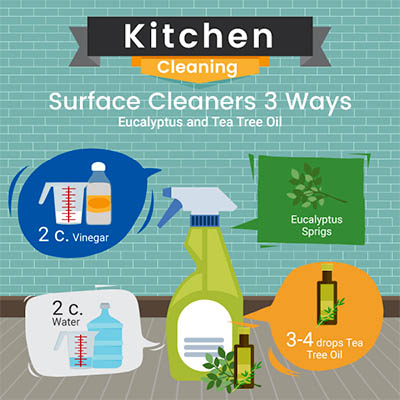 Eucalyptus and Tea Tree Oil
2 cups vinegar
2 cups water
Eucalyptus sprigs
3-4 drops tea tree oil
Dishwasher Soap
When you run a load of dishes, add this to your dishwasher where you would normally use powdered soap. In a jar or plastic container, mix the following ingredients:
1 cup borax
1 cup washings soda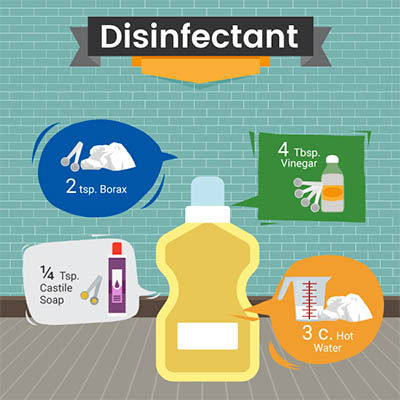 Disinfectant
A disinfectant will destroy bacteria in the area where it's sprayed. Disinfecting kills good bacteria as well as bad bacteria and disinfecting too frequently over a long period of time can rob your immune system of the chance to inoculate itself against common bacteria, making you more susceptible to infections. However, infrequent disinfecting can be helpful to household health, like when you or the kids have been sick.
2 teaspoons borax
4 tablespoons vinegar
¼ teaspoon castile soap
3 cups hot water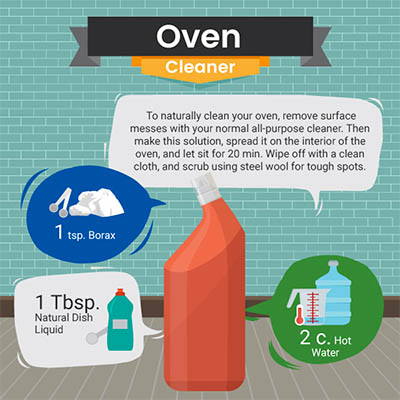 Oven and Microwave Cleaner
Chemical oven cleaners can be among the most dangerous and corrosive of the chemical cleaning agents. To naturally clean your oven or microwave, remove surface messes with your normal all-purpose cleaner. Make this solution, spread it on the interior of the oven, and let sit for 20 minutes. Wipe it off with a clean cloth and scrub using steel wool for tough spots.
2 cups hot water
1 tablespoons natural dish liquid
1 teaspoons borax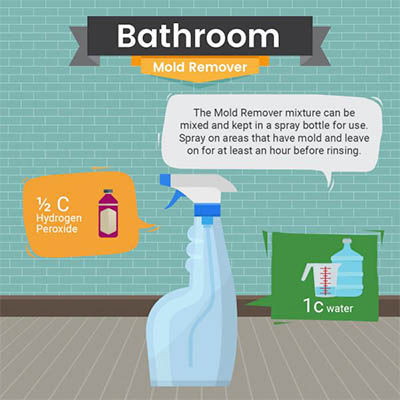 Bathroom Cleaner
Bathroom mold can grow in tile grout, in the drain, and on the walls of poorly ventilated bathrooms. Mold is a common problem, but it can also be a health concern. As a preventative measure, make sure that you've done everything you can to keep your bathroom as ventilated as possible, including turning on the fan or opening a window during and after showering. The mold remover mixture can be mixed and kept in a spray bottle for use. Spray on areas that have mold and leave on for at least an hour before rinsing.
½ cup hydrogen peroxide
1 cup water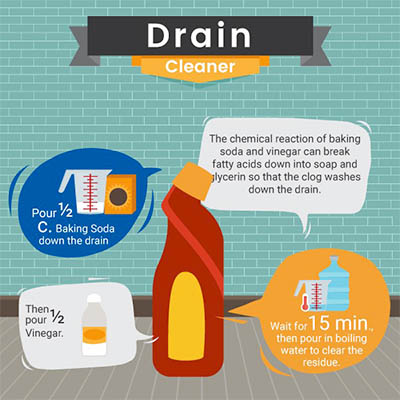 Drain Cleaner
The chemical reaction of baking soda and vinegar can break fatty acids down into soap and glycerine so that the clog washes down the drain.
Pour ½ cup of baking soda down the drain
Pour ½ cup of vinegar down the drain
Wait for 15 minutes, then pour in boiling water to clear the residue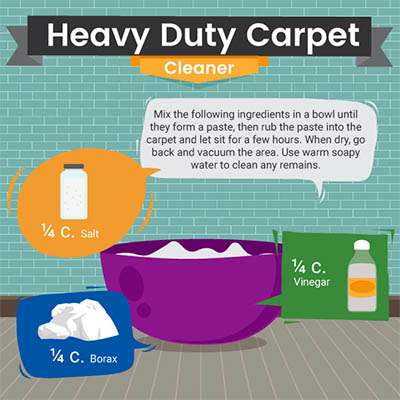 Heavy Duty Carpet Cleaner
Mix the following ingredients in a bowl until they form a paste, then rub the paste into the carpet and let sit for a few hours. When dry, go back and vacuum the area. Use warm, soapy water to clean anything that remains.
¼ cup salt
¼ cup borax
¼ cup vinegar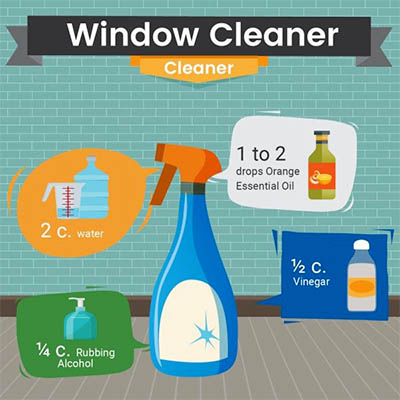 Window Cleaner
This recipe will work to wash your windows and bathroom mirrors. If you're in a pinch, you can also achieve similar results by diluting your everyday surface cleaner, but make sure not to use a very high concentration of vinegar so that the glass doesn't cloud.
2 cups water
½ cups Vinegar
¼ cup rubbing alcohol
2 drops orange essential oil
Visit our friends at
GroomAndStyle.com
for more DIY household cleaner recipes.
Back to top