compost-central-sebastian-alessandra-man-planting-compost-fertiliser
Turn food waste into food production
Veda Dante, September 2016
Making your own fertile garden compost is a lot easier than you think, especially when you have a system that pretty much does all the work for you. By turning organic household and garden waste into compost not only improves soil quality and prevents greenhouse emissions caused by kitchen waste going to landfill, but also saves you money.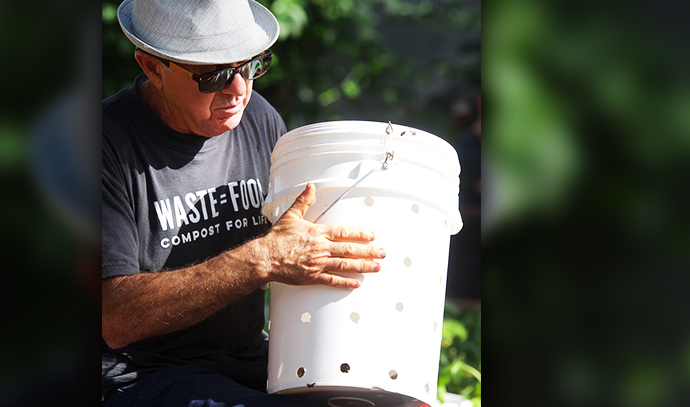 Ecological artist and compost designer
I met
Andrew Hayim De Vries
26 years ago in Fremantle Western Australia, when he was transforming an old timber cottage into an iconic – and eclectic – homage to recycling at
100 Hubble Street
. An ecologically-focussed artist, he is known for repurposing discarded objects into striking
works of functional art
, and for creating one of the largest green walls (at the time) at his sustainable Perth home, dubbed '
Garage Mahal Home
'. Driven by a passion for recycling and up-cycling, composting and vermiculture, and the future health of the environment, Andrew founded
Compost Central
soon after relocating to Byron Bay, in Northern NSW, in the summer of 2016. "Compost Central is the first interactive compost education facility in Byron, which I hope will help close the gap between people and the food production cycle," he says. "I introduce, explain and install composting on-location, and design systems that makes composting easy and accessible for everyone." [caption id="attachment_5764" align="alignnone" width="690"]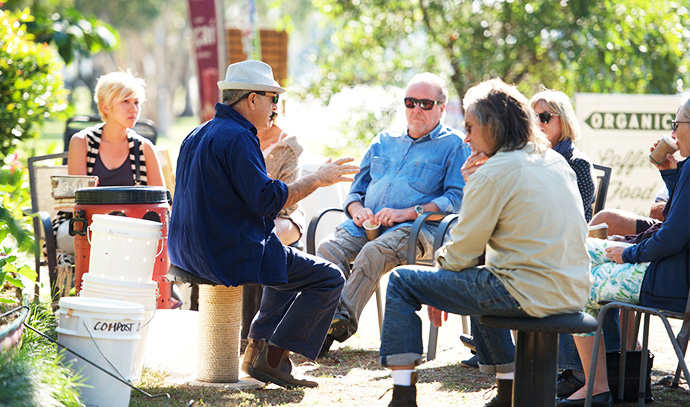 Compost Central founder Andrew Hayim has been an ecological designer for over 30 years.[/caption]
Benefits of composting
A composting system is designed to contain organic material and create the right conditions that enable organic material to break down quickly. The benefits of composting:
Enrich soil, improve the environment
Boost the growth of your fruit, herbs and vegetables
Reduce the amount of food waste in landfill
Social credibility for businesses
Save money long term
Generate income as a grower
"Composting enriches the soil with essential nutrients, helps plants grow abundantly, and makes your garden flourish with healthy fruits and vegetables," Andrew explains. "You are also helping reduce the amount of valuable 'food waste', which is typically lost in landfill. "Composting can also help save money for your household or your business, but also helps to balance the expenses within a community, which then gradually affects a nation." [caption id="attachment_5765" align="alignnone" width="690"]
The Garden Ship composts food waste all year round, boosting the growth of herbs and vegetables.[/caption]
The Garden Ship compost system
The ultimate food production and compost eco-system for your home, workplace, school, café or resort, The Garden Ship is a fully functional food garden that converts and distributes valuable compost bi-product directly into your, boosting the growth of herbs and vegetables. "Spanning anywhere from 4 to 8 metres in length, it houses our Twin-Cone Compost Unit and our Sub-Surface Drainage System, which is designed to compost food waste all year round," Andrew explains. "Embedded underneath the soil is a custom irrigation system that distributes the worm juice from beneath the compost bin, directly to the roots of the plants. Also inset in the soil are a series of our Little Fella Compost Bucket Systems, which create small hubs for the worms to return to for food." Follow Compost Central on
Instagram
,
Facebook
and
Twitter
[embed]https://www.youtube.com/watch?time_continue=1&v=s8Lk3iFR2Vo[/embed]
Compost to grow food
Perfect for the single household, Subpod™ is a modular, sub-surface composting system that harnesses the power of worms and microbes to build soil health and dispose of your organic waste. "Think of it as a worm cafeteria," says Andrew. "The design of the Subpod allows worms and microbes to move freely between the module and the surrounding garden bed, aerating the soil and spreading rich nutrients as they move throughout. In little time, the soil is reconditioned, and your plants benefit from richer soil 24 hours a day."
Find out more here
. [alert dismissible="false" style="alert-lifestyle-inverse"]
Composting 101
Did you know that you can compost used matches, wine corks, pet fur, and hair from your brush? Here's a list of 101 items you probably didn't know you could compost.
[/alert]
Above images courtesy of
Sebastian Alessandra
Back to top