bathroom-contemporary-style
Tricks to make your tiny bathroom look larger
Katie Adema, February 2016
We've all seen the glossy magazine spreads – you would think the average Aussie owned a spacious and open bathroom complete with glossy tile work, a rain shower head, free standing tub and plenty of drawer space in a floating vanity unit. Perhaps some of you possess a large bathroom resembling these designer creations, however those of us with a slightly downsized version could certainly use a few hints to help make our bathrooms look bigger. If you are feeling every inch of that limited wriggle room, here are our tips and tricks for maximising your bathroom space.
Enhance natural light
Windows are essential to letting in more natural light and making the room look more open and spacious. If a standard window is not an option, installing a long, narrow window high up on the wall above the tiling can bring in more light, as can a skylight – plus, these two types of windows won't take away any precious wall space. If windows are not an option at all, create your own light with LED downlights and feature lighting around mirrors. Nothing makes a room feel smaller than dingy lighting that doesn't even throw out enough glow to reach the corners, so invest in some quality lighting solutions.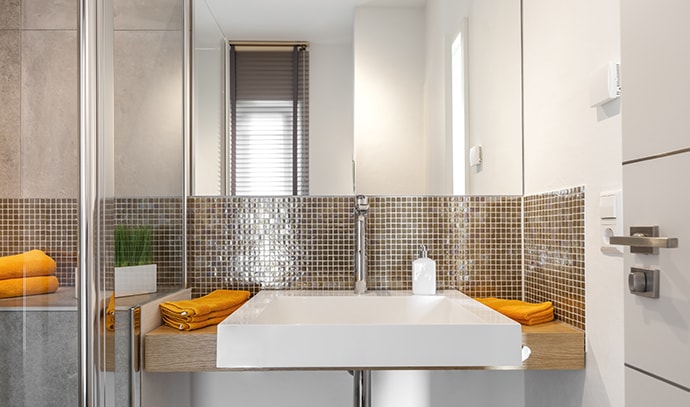 A great sidekick to your new lighting is a mirror – this is a great way to bounce more light around the space and give the illusion of more square metres.
Think practically about extras
While a small living room could be dealt with by going with a minimalistic approach in way of furnishings, a bathroom is not quite as flexible – because it is an extremely functional space, there are certain items it must contain, the bare minimum being a toilet, sink and shower. And if you would also like a bath, a vanity unit and storage space for towels and toiletries, you are looking at a very cramped space indeed. So when considering extras in your bathroom, you are going to have to make sacrifices if you are short on space, and be smart with your choices. While a huge tub would look beautiful and sounds much nicer than a standard shower, and a huge vanity with plenty of drawers and cupboard space is preferable to a smaller, simpler version, you do need to be practical unless you want to be squeezing yourself awkwardly around furnishings too big for the room.
Open it up
Keeping everything light and open is the key to making any space seem larger. To put this into practise, think frameless glass screening for the shower, lowering the steps needed to get into the shower, and installing open shelving on any vanity or storage units. Better yet, install shelving into your wall as an open recess – this works especially well in the shower for all your shampoos and soaps.
It's worth noting that this kind of design does lose its effect if you have too much clutter stored around the open space. Use this as motivation to do a big chuck-out so you can get down to the essentials. [alert style="alert-info" dismissible="false"]
Easy ideas to put into practice today
Let there be light It cannot be emphasised enough the difference that plenty of light makes to a small space. Natural light is best of course, but installing adequate lighting will also certainly create the illusion of more space.
Mirror, mirror As a design accessory, mirrors make a great deal of sense in a bathroom setting, and can even become a beautiful focal point within the space. A bold and/or ornate frame on a large square or round mirror is a sure fire way to create interest and draw guests' eyes into the room.
Watch your tone Using one tone or very similar tones throughout the space is another trick that can deceive the eye to create more space. Light colours, like off white, blue or grey are especially ideal. Try to blend your tiles into the colour of the wall paint so there is more unity in the room, rather than appearing to be broken up by blocks of different colours.
[/alert]
Back to top