latest-kitchen-silver-metal-tiles-white-drawers
Tips for the latest kitchen design trends
Tara Dennis, July 2015
When you're planning a new kitchen, there are so many styles and 'looks' to choose from, how do you know what you decide on won't date too quickly? Right now the experts agree that for long-term value simple design, clean lines, and light natural colours are the way to go.
Cupboards and drawers 
[Tweet "Cupboards & drawers are becoming sleek with a variety of clever hinging options available."] Plain, glossy vacuum formed doors are still the most popular and affordable choice for new kitchens in colours white or antique white. This type of finish is easy to clean, won't chip or yellow making it ideal for busy kitchens. Cupboards and drawers are becoming sleek with a variety of clever hinging options available. Drawers are being used in place of base cabinets and a new and fantastic space saver you should look out for is the 'Blum' corner drawer. Installing some of these means an end to things being lost at the back of those awkward corner cupboards. For overhead cabinets look out for bi-fold lift doors. They're a fantastic idea for their modern, streamlined look and as a space saving solution. Even the heaviest door fronts like glass still have the weightless 'gliding' action and can either be fully opened or left to hang at any height.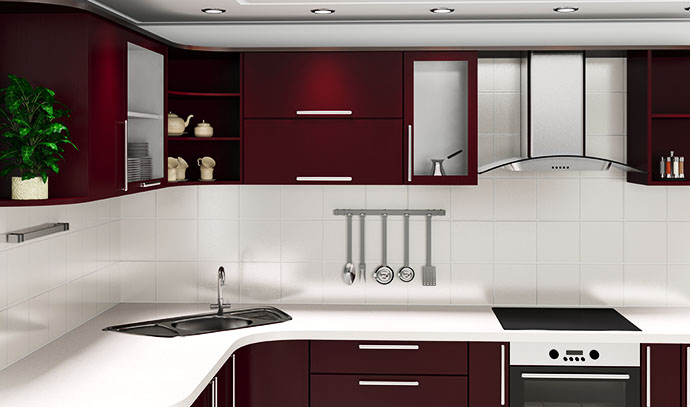 Appliances
Stainless steel appliances have been overtaking white for some time now and this trend looks set to continue especially now manufacturers are coming up with more 'finger print' free options. Experts believe these will remain popular and stylish in years to come, although the integrated variety - where appliances are virtually hidden behind cabinetry - may eventually take the lead. With everything hidden behind cabinetry, there's less of a visual interruption and, as a result, a small kitchen can seem larger than it really is. Integrated coffee machines are also proving incredibly popular for new kitchens. People are sacrificing expensive bench and cabinet materials in order to splurge on their caffeine addiction!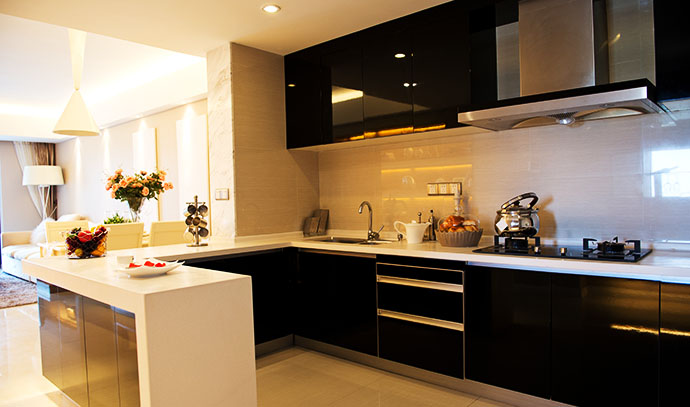 Bench and sinks
Materials such as Caesarstone, Quarella, Corian and Laminex are all popular for bench tops depending on budget. Light, natural shades and whites are excellent choices and if you select a style with a discreet 'fleck' or pattern it will be able to hide water marks, crumbs and dirt. For the bench top profile, go for pencil round and square edges for a clean, modern finish. 'Drop-in' sinks are often chosen for their affordability but undermount sinks, while more expensive are very smart when combined with stone.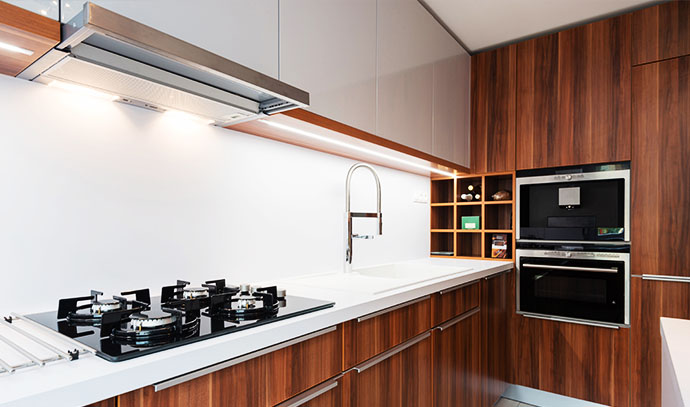 Splash backs
Glass Splash Backs continue to be popular for their simplicity of styling, reflective qualities and easy clean, hygienic finish with no grout lines. There are generally two types of glass splash back to choose from - clear or starphire with the only difference, apart from price being the colour. Clear glass has a slightly blue/green appearance while starphire is perfectly clear. Made from 6mm toughened glass, they can be expensive as they need to be custom made and fitted. They can also be painted on the back and can be colour matched to most known paint brands. For a 'colourless' neutral look however, try painting your wall white and simply use clear or starphire glass . Glass Tiles are also a popular as well as affordable do-it-yourself alternative and there are plenty of beautiful styles, shapes and sizes commonly available.
Pinterest
Pinterest is a fabulous tool for researching colour and design ideas. You can find things you like and keep them organised in boards for when you need them. You can find 
my Pinterest boards here
.
More information: taradennis.com.au
Back to top