cosh-living-dining-chair-outdoor-backyard-exterior-design
This summer's must-haves for creating inviting outdoor retreats
Jane Ryder, November 2017
This summer, designers aren't just catering to our love of dining and lounging outdoors, they're helping us in our quest to bring all the comforts and style of indoors outside with furniture, soft furnishing and fittings that combine the latest looks and weather-resistant materials. Furnishing an area of your lawn, patio, balcony or verandah in a similar style to your interior creates a seamless flow between indoors and outdoors and increases your home's liveable footprint, which means more space to relax, dine, entertain family and friends, and enjoy future staycations. [caption id="" align="alignnone" width="690"]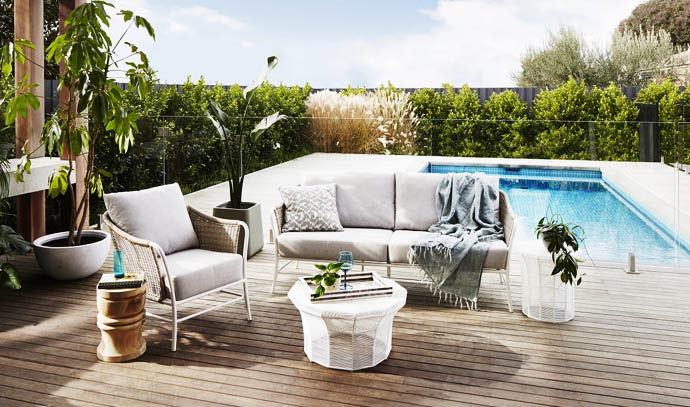 The Southport Piazza sofa and chair, Granada woven coffee and side tables, Barnet Ikat cushion, Evie linen throw and Taj stripe bone tray all from
GlobeWest
create the comfort and style of an indoors living room on this outdoor deck. Styling by Julia Green, Sara Huckett and Georgie Fitzgerald and photo by Armella Habib.[/caption] [caption id="" align="alignnone" width="690"]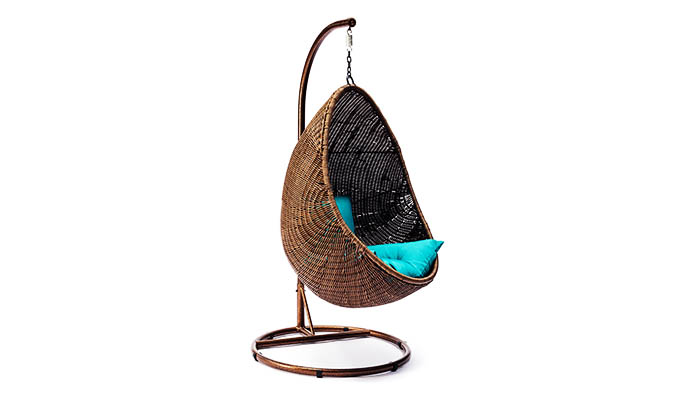 The Wicker Rattan Egg Chair from
Ansan Outdoor Furniture
is handwoven from UV resistant and all-weather synthetic PE rattan wicker and has a powder-coated aluminium basket frame, a solid steel chain and spring and water-resistant cushion.[/caption]
Let's go retro!
Many of this season's outdoor lounges, armchairs, dining suites, sun lounges, day beds and retro hanging egg chairs combine the best of the '50s, '60s and '70s, featuring clean, curved and straight lines, low-set, generous frames, and tropical, abstract and geometric prints. Modern materials include weather-resistant synthetic timber, rattan, wicker, rope and cord, treated timbers that retain natural hues and grain, toughened glass, rust-resistant aluminium, and durable UV and mould-resistant fabrics. [caption id="" align="alignnone" width="690"]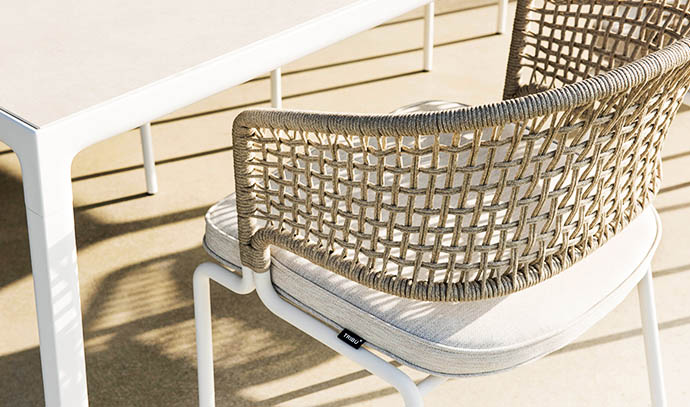 The backrests in Cosh Living's
Contour collection
have a beautiful open weave made of weather-resistant Tricord, which appears to float unsupported around the seats.[/caption]
Natural or synthetic rattan and wicker furniture?
Rattan and wicker furniture look similar but have their differences. Traditionally, rattan furniture is made from the woven fibres of climbing palms while wicker furniture is fashioned from the inner core of the rattan fibre as well as willow branches, reeds and bamboo. Today's synthetic rattan and wicker furniture has the look, strength and flexibility of natural fibre designs but as they are made from polyethylene (PE) or paper-wrapped wire, as in
Lloyd Loom
designs, they are UV, mildew and moisture resistant and low maintenance (so low, in fact, that all is required is wiping down with a damp cloth and mild soapy water; blasting furniture with hose water may loosen fibres and embed grit). Most rattan and wicker furniture is made using lightweight, strong and rust-proof aluminium frames and Australian online retailer
Outdoor Living Direct
recommends to buy pieces made from narrow, round weave polypropylene rather than flat weave polyethylene, as they are sturdier and longer lasting. [caption id="" align="alignnone" width="690"]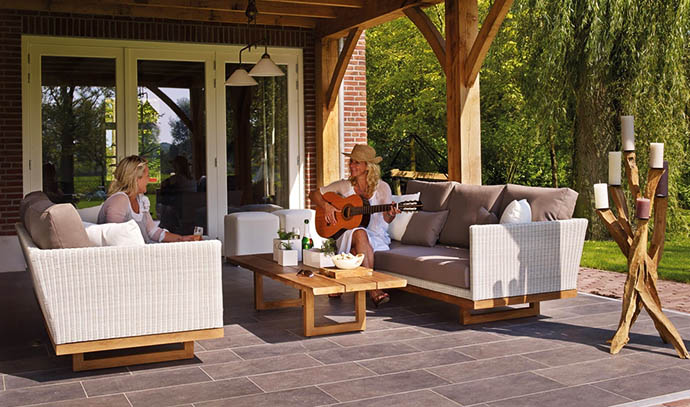 This weather-resistant PE wicker and timber frame low-set lounge has generous dimensions and upholstered seating for comfort and style.[/caption] [caption id="" align="alignnone" width="690"]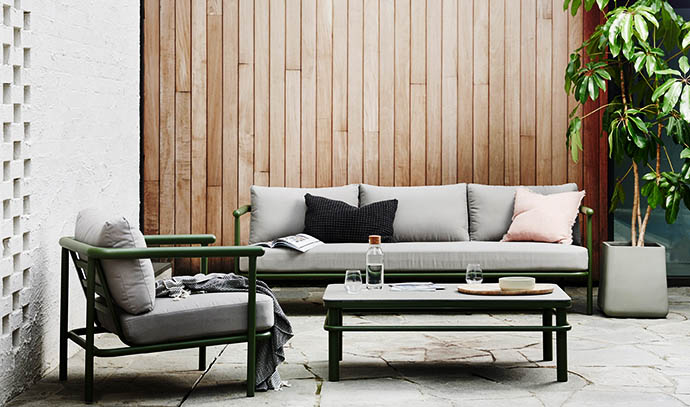 Featuring a khaki powder-coated aluminium frame with grey acrylic upholstered cushions, the versatile
Hermosa Sofa
complements a wide range of outdoor styles.[/caption]
2018's trends and must-have looks for stylish outdoor dining and lounging
Combinations of natural or synthetic timber, rattan, wicker and matte-finish metals
Low-set, i.e. low to the ground, lounges, armchairs and coffee tables with curved or straight sleek lines and no detailing
Generous-sized upholstered lounges and armchairs that are sturdy but lightweight
Natural or synthetic rattan and wicker furniture with metal or timber frames (Freedom Furniture calls it polywicker!)
Open-weave woven seating made from natural and synthetic weather-proof cord and rope
Contrasting light and dark; for example, chairs with dark grey metal frames and white or light-coloured seating, or dark-coloured furniture with light-coloured pavers, tiles and exterior walls
Stone and concrete-look furniture made from durable, weather-resistant composites materials such as Fiberstone, a blend of glass, polyester resins and aggregate materials, or the heavier, extra-tough Glass Fibre Reinforced Concrete (GFRC) manufactured from cement, glass fibres and resins
Bar-style dining stools and narrow tables
Luxe look marble or faux marble topped coffee tables and outdoor kitchen benchtops
Outdoor rugs to define an outdoor area, introduce colour and pattern, protect the floors, and create a soft feel underfoot in durable, weather-resistant and easy-to-clean flat weave and low pile natural fibres or heat-set polypropylene (often made from recycled plastics)
Outdoor scatter cushions in UV, moisture and mould-resistant fabrics
Retro, Hamptons and nautical-style outdoor lights with soft-light globes including wall-hugging bunkers, luxe-look glass encased wall sconces, and rattan glass and antique metal pendants from Beacon Lighting
Finishing décor pieces in retro designs or natural hues and materials including bowls, candles, trays, pots and planter boxes, and PE rattan magazine racks
Outdoor fans in stylish designs such as Beacon Lighting's

Rattan ceiling fan

by HPM
Cantilevered or retro-style upright outdoor umbrellas in weather-resistant fabric for providing much-needed shade
[embed]https://www.youtube.com/watch?v=ATh4lQ49Wa8[/embed]
Back to top