rheem-australia-gas-man-checks-regulates-hot-water
Replacing your home's hot water system
Katie Adema, April 2015
Although our Aussie winters are mild compared to the snowy experiences of those living in the northern hemisphere, we still treasure our hot showers after spending time outside in the cold. And nothing beats the feeling of relaxing in a steaming hot bathtub after a long, stressful week at work. Hot water doesn't only provide us with comfort – it also gives us a way of laundering clothes and washing dirty dishes more effectively. Plus the kids need a good scrub sometimes too! It really does make our lives a lot easier. If your hot water system seems a bit worse for wear, or is cutting out, or doesn't provide you with enough hot water, then it might be time to look into a new, more efficient system.
Your options
Solar
These systems get their energy primarily from the sun. When this energy runs out during times of limited sunlight, they are backed up by gas or electricity. These are the most eco-friendly hot water systems on the market, although if it is boosted by electricity from non-renewable sources then it may contribute to a higher amount of emissions. [caption id="attachment_2559" align="alignleft" width="690"]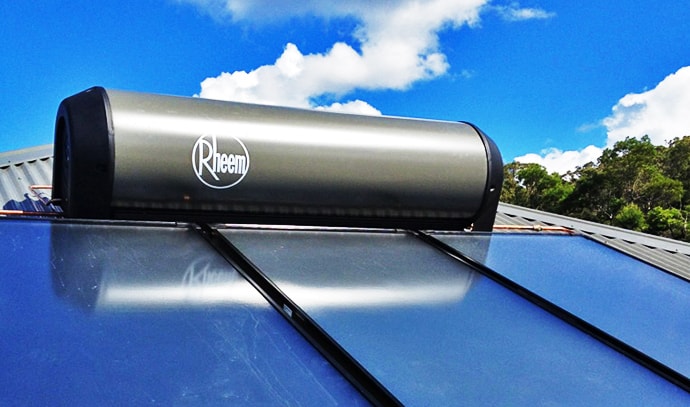 Image courtesy of Rheem Australia
[/caption] Solar heating systems are either roof mounted or ground mounted. Roof mounted systems free up space on ground level because both the collectors and tank are installed in the roof, while a ground mounted system has collectors installed in the roof with a tank on the ground, reducing the structural load on the roof. Upfront costs can be expensive, however a solar system will pay for itself over the long term.
Gas
There are two main types of gas heaters – storage and continuous flow, with a choice between LPG and natural gas. As you can guess from its name, a storage heater heats water then stores it for later use. This means they can service multiple bathrooms, kitchens or laundries at once. Continuous flow heaters heat water as you need it, providing the major benefit of never running out. Whether they are run by LPG or natural gas, these heaters are the next best option after solar in terms of environmental friendliness, but may be a bit more expensive to run.
Heat pump
A heat pump is a different way to use renewable energy to heat water – and it doesn't need solar panels. Think of it as a little like a reverse refrigerator. They work by transferring the heat in the air outside of the unit to the water stored inside the heater through a heat exchange system. [caption id="attachment_2558" align="alignleft" width="690"]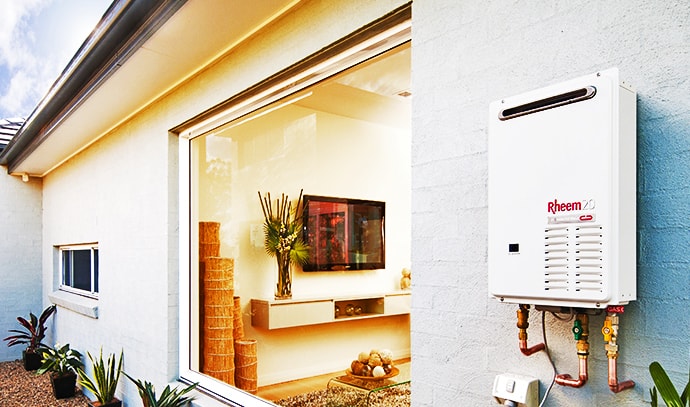 Image courtesy of Rheem Australia
[/caption]
Electric
A relatively inexpensive option, available in many different capacities to cater for singles through to large families. These are among the most common types of water heating system you will find in Australian homes. They do however, run off electricity primarily from non-renewable resources, and so aren't considered to be very good for the environment.
Which is best for me?
The type of water heater that is best suited to you depends upon your priorities: Do you want a system that is affordable first and foremost, or is environmental impact the biggest influencing factor in your decision? Also, the capacity of specific models is going to be a factor to consider when choosing a hot water system, as it needs to effectively service your home and those residing there. For example, a family of six living in a large house with multiple bathrooms will need a completely different hot water system to a single or couple living in a small home or apartment.
Key things to consider when choosing a new hot water system:
Reliability
Energy efficiency
Water efficiency
Type of energy it uses and your energy tariff options
Is an existing gas connection available to your property?
Whether it's an indoor or outdoor installation
Your individual requirements (e.g. number of people in your family; hot water needs)
Type of property and location (geographical location / aspect of the property)
Type of warranty and support available
Ongoing usage costs as well as upfront product and installation cost
Any regulations you may need to comply with
Maintenance
"For most people, a hot water system is 'out of sight out of mind' – until it fails," says Keith Dawber, Service Manager with Rheem Australia, the leading producer of hot water systems in the country. "But if you have the system checked on a regular basis, then you can extend the life of your system, improve efficiency and ensure your water heater is operating and performing as designed, highlight any repairs which need to be done, not to mention ensuring it has been installed correctly in the first place." It is advisable to have your gas or electric hot water system checked every three years. Solar powered heaters need to be checked every second year. "There are a number of factors which will affect the length of service the water heater will provide," says Dawber. "These include, but are not limited to, the water chemistry, the water pressure, the water temperature (inlet and outlet) and the water usage pattern."
Here are some issues that can be identified and rectified during a routine check over:
Pilot light outages (which results in leaking valves)
Leaking valves
Installation issues
Temperature settings set too high (which increases running costs)
Excessive water pressure (this adds stress on the cylinder, thus reducing the life of the system)
Incorrect gas pressure settings
Relief valves which are stuck and then leak constantly due to householders not operating the valves every six months in accordance with manufacturers' instructions
Blocked strainers, causing flow rate issues
Blocked filters and shower restrictors
Faulty thermocouples, igniters, elements and thermostats
[alert style="alert-success" dismissable="false"]
Is your hot water heater on its way out?
Winter is on our doorstep - the last thing anyone needs is a hot water system that suddenly fails right as you hop into the shower before work. Luckily, there is no need to chance it this year. Here are some signs you can look out for that may indicate you need to get your hot water system checked out:
Is the hot water system making strange sounds? (some noise from the water heating up is normal, but if you notice cracking or popping noises these should be checked by a plumber)
Has the pilot light gone out? Does this happen often?
Is the water muddy or does it have sediment in it?
Is the water coming from the tap rusty or brown in colour?
Does the hot water have a strange smell or metallic taste?
Are you getting less hot water?
Is water leaking out of the system?
Do you often experience fluctuations in temperature?
Does the water pressure or flow rate vary?
Are you running out of hot water?
[/alert]
Back to top