vibrant-bedroom-light-colors-pink-green-white-furnitures
Pretty (but not) in pink
Phyllis, August 2015
Not every little girl likes pink or purple – and a fairy floss room can can be downright embarrassing for a teenager. But girl's rooms can still be feminine and pretty in a swathe of other colours, with perhaps a hint of pink thrown in if they (or you) really can't live without it. If repainting the walls isn't an option, then you'll just have to work with what you've got. That's not necessarily a bad thing. In fact, with a bit of creative thinking, it can result in something uniquely stylish.
The romance of France
A room with blue, white or cream walls can lend itself beautifully to a French provincial theme. The French provincial look is a mixture of elegant and rustic furnishings teamed with accessories in yellows, blues and whites. Furniture and picture frames in faded or whitewashed timber, blue, pink and yellow prints and floral fabrics will create the look. Pastel or white painted walls are a great basis for a shabby chic style. This is easily achieved with a big comfy chair from a flea market covered in a patchwork quilt, an old trunk or suitcase used as a bedside table, baskets and lace curtains.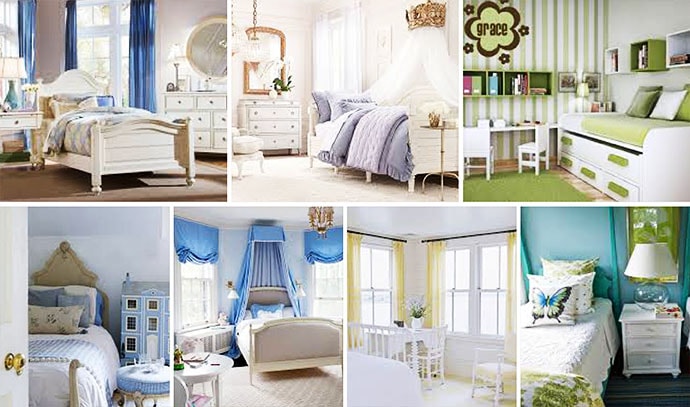 Modern marvel
Neutral coloured walls can be used as a foil for the bright splashes of colour and bold patterns of the contemporary look. Think reds, greens and browns teamed with modular accessories.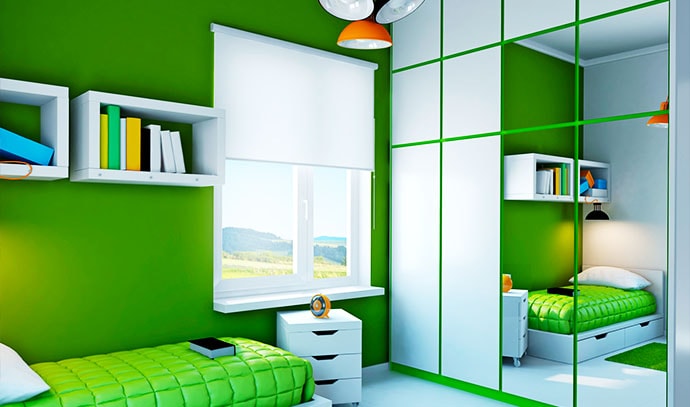 Think inside the square
A case in point is my daughter's bedroom. The house (a Victorian era cottage) has an appropriate colour scheme for the period – mid olive green with cream trims. That was all very well pre-children. But when our daughter reached an age when she could articulate her disgust with green and preference for pink, things started getting tricky. Her father refused point blank to have different rooms in different colours. Fair enough given that the plan has been (for several years and counting) to sell and move on. The answer, as it turned out, was fairly simple. I spotted an old-fashioned quilted floral bedspread covered in pink roses. But it was the olive-toned leaves that tied the bedspread into the room's colour scheme. A pink floor rug in the same shades as the flowers tied the floor in with the bed covering. From there I was lucky enough to find a patchwork quilted wall hanging with a background in a paler version of the green walls, a cream border and some gorgeous little rag dolls dressed in dusky pinks stitched onto every second square. With the walls and soft furnishings tied together, it was easy to add a pink desk chair, cream desk and (of course) pink desk accessories. As luck would have it, I then found some curtains in a babyware shop with tiny pink and green butterflies in just the right shades, as well as a matching lamp. Happy child, happy husband, very happy me. More inspiration on Pinterest:
pinterest.com/HomeloansLtd
Back to top