outdoor-table-setting-japanese-tables-chairs
Preparing your outdoor entertainment area
Katie Adema, December 2014
Fix up, dress up!
Summer is here at last and if there is one thing us Aussies love most about summer, it's those long, warm evenings spent relaxing, wining and dining with friends and family. We are also all about the great outdoors and making the most of the amazing weather we experience here over the holiday season, so suffice to say there is a lot of outdoor entertaining planned over the next month. So get out your lawn mowers, pressure washers and most colourful table decorations, because it's time to get your outdoor entertainment area prepped for the party season!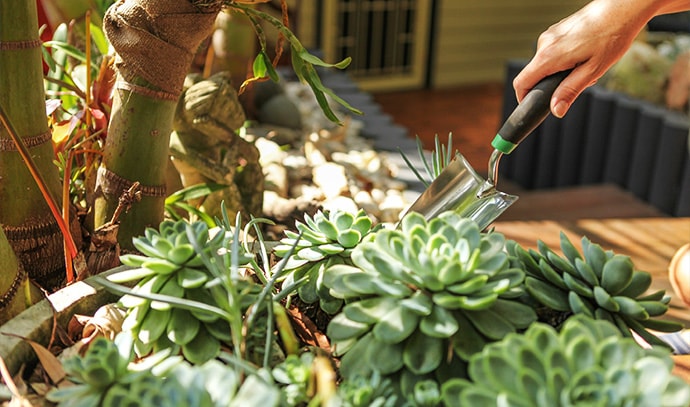 Garden prep
Getting your garden green and healthy so it can be a gorgeous backdrop for your backyard bash is an important step in fixing up your outdoors. Ensuring your garden is well watered will give it a boost -- especially if you water slowly for longer. This way you're watering deeply and encouraging plants to develop deeper root systems, making them stronger and better able to survive hot, dry times. The warmer weather and plentiful rainfalls typical of summer mean a lot of homeowners may be seeing their lawn's growth suddenly surge. Keep up regular mowing to keep it looking neat and get stuck into some weeding if you have to-nothing spoils a flawless lawn more than a dozen pesky weeds! If your lawn is looking worse for wear after being trampled by kids, pets, cars or pet cages, consider replacing your grass completely this summer. It's the perfect time to establish your new lawn, as the warmer weather and more frequent rainfall give it a good boost. You may need to set a sprinkler running on days that it does not rain. To really add some polish to your yard, trim back overhanging branches and hedges and rake up loose leaves scattered around.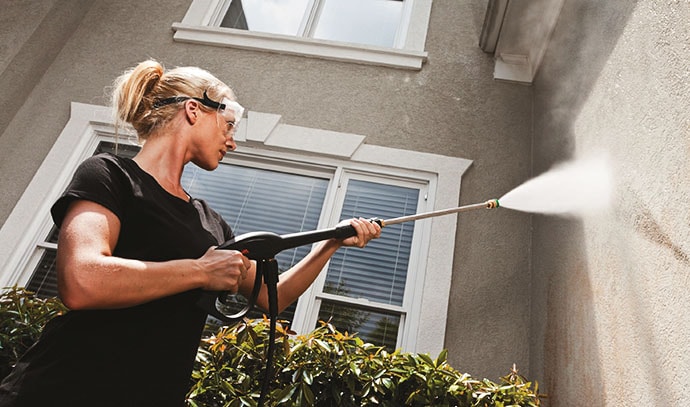 Patio and deck prep
It wouldn't be an Aussie Christmas without having the whole family out on the back veranda and a dorky dad at the BBQ. Before everyone arrives, give the area a once over with one of the most handy maintenance tools around – a pressure washer. Pressure washers are ideal for windows, outdoor furniture, patios, vehicles, stairs and walkways, and use much less water than a standard garden hose. They also remove dirt, mould and mildew more effectively, making your cleaning stint in the yard quicker and easier. Ideally, all of us would be giving our BBQs a good cleaning after each time we used it. However this doesn't always happen, and so your barbie might be looking a bit worse for wear. A quick solution to the caked on grease you may find on your grill is to pour some water over it, turn on one burner and close the lid. The steam will loosen everything, and anything that is really caked on can be attacked with a stainless steel brush. If you have timber decking, it may be time to give it a bit of an oil - every six months to 12 months is a good guideline. Clean your deck first with wood cleaner and a bristle brush to remove any mould or stains. It is very important to not use chlorine bleach on your timber, as this destroys the glue-like substance that binds all the wood fibres in the timber together. Once satisfied your deck is clean, apply your oil in long, even strokes down each board to keep the colour even and free of drip marks. You could also consider waterproofing your deck to minimise the risk of slips.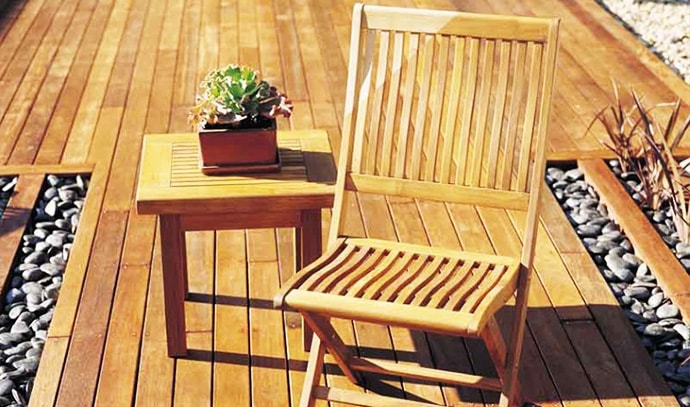 Furnishings
Most of your outdoor furniture will be made of performance fabric, i.e. fabric specifically designed for outdoor use that will resist sun damage, stains, moisture and mildew. If the cushion covers can be removed, it is likely that they can be machine washed in cold water (and using mild detergent). Check the care labels on each item before washing to make sure they are able to be put through the machine. Some fabrics may only need a quick wipe down with a wet sponge. For wooden furniture, use a soft bristled brush and some proper wood cleaner to give tables and chairs a once over. A waterproof sealant can also help keep your furniture in good condition while sitting out exposed to the harsh Australian outdoors all year round. If you can, try to store your outdoor furniture under cover when you aren't using it, particularly during winter. If your furniture is well beyond help, it may be time to hit the shops in search of a new dining set for your patio. If you suspect the wood might be rotting, or the metal parts are rusted, and the soft parts of the furniture are covered in mould and mildew, then these are tell-tale signs that they should be replaced. In addition to your new/cleaned furniture, purchasing a few new cushions or table cloths in bright colours or prints can make the space look completely revitalised.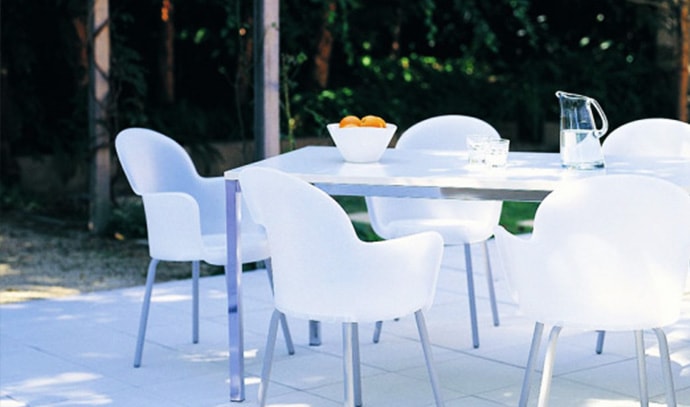 Table decoration
Now that the general maintenance and tidying up is done, it's time for the fun stuff! The sky (and perhaps the budget) is the limit when it comes to decorating your entertaining space. Think bright colours and bold patterns for your table decorations, such as a festive red table cloth, or a classic white with brightly coloured napkins or placemats. If you've got little ones around and are a bit hesitant to bring out the fine china and glassware, invest in some fun patterned paper cups and plates for the kids table. Or even lay the whole table with this colourful crockery, and make cleaning up a breeze!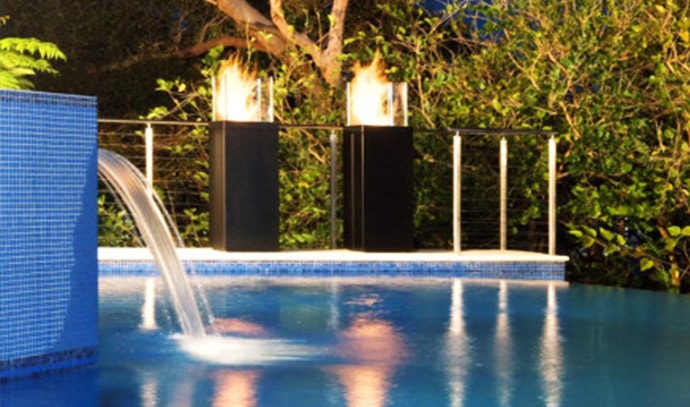 Light up your Christmas
Don't be afraid to get creative with your lighting decorations - even simple ideas can have an amazing effect, such as hanging paper lanterns of different shapes, sizes and colours over the table, or some strategically placed candles. Outdoor fairy lights wound around support beams or veranda railings are an easy way to dress up your outdoors without spending a great deal of money or time setting it up. Christmas baubles strung up in clusters, or peeking out of a flower or mistletoe centrepieces are simple additions that will up the festive factor. Fire pits are a unique way to light up your outdoor space; they also give off a great deal of heat, perfect for when the temperature drops after the sun has set. There are a wide variety of fire pits and other outdoor fires available, so you are sure to find a style that suits your outdoor space. They come in a variety of sizes and shapes, so don't write off your outdoor area as too small or not the right shape for a fire pit! Both kids and adults alike are drawn to fire, especially when there are marshmallows on sticks involved! [alert style="alert-info" dismissable="false"]
Quick tips to spruce up your backyard
It sounds simple, but double check your numbers. Make sure you have enough seats and enough room for everyone to be comfortable
For those seriously celebrating, set up an outdoor bar using a spare table or even a plank of wood balanced across two stools. Cover it with a table cloth and line up your mixers and alcohol and let your guests help themselves!
Hanging some small garden boxes around your outdoor entertainment area can be an easy way to add some gorgeous greenery to the space. Make them practical as well as pretty by using them to grow herbs.
Think about what other activities you guests may want to participate in. Maybe set up some cricket gear, or some mini soccer or volleyball nets, or even some toys for the kids.
[/alert]
Back to top