granite-world-caesarstone-shitake-white-kitchen-benchtop
Kitchen benches made from engineered stone
Veda Dante, June 2017
Engineered stone is formulated from a blend of crushed stone, which is bound together with a resin adhesive. Often referred to as quartz, engineered stone looks similar to natural stone but it has several unique advantages, particularly for use in kitchens. If you like the look of natural stone, but you want a low maintenance option, then consider installing engineered stone. I spoke with the specialists at
Granite World
in Perth to find out the benefits of using this man-made material, and how it compares to natural stone products. [caption id="" align="alignnone" width="690"]
Engineered stone can withstand heat, meaning you won't leave scorch marks if you place a hot pan on the counter.[/caption]
Strength and durability
The finished surface of engineered stone is very hard, and will not crack easily. It is more durable than natural stone, so it's ideal for overhanging counters, kitchen benchtops, splashbacks, and counters. Engineered stone can withstand heat, meaning you won't leave scorch marks if you place a hot pan on the counter. It's also resistant to chipping, scratches, acids and impacts, although you should still use cutting boards to protect the surface while you prepare food. [caption id="" align="alignnone" width="690"]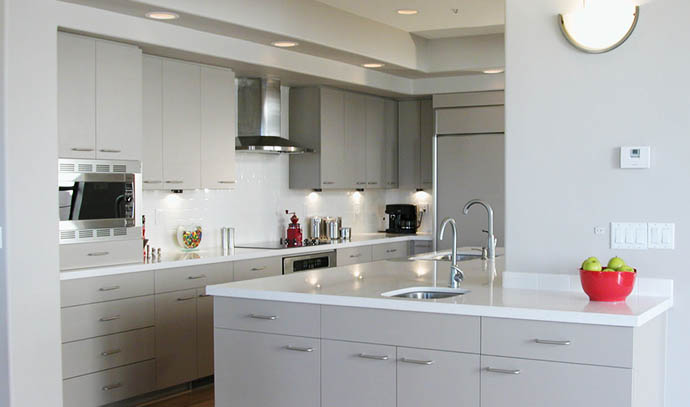 Whatever your home décor, you're certain to find an engineered stone product that will complement it.[/caption]
Aesthetic appeal
The compressed quartz has a similar appearance to natural granite or slate; however the colour is more consistent so it's easy to match it throughout your kitchen. Engineered stone can be crafted to achieve a huge variety of colours and styles – earth tones, greys, rose shades, and more. The range of textures includes polished, rugged or matte, and it's also possible to add colourant during the manufacturing process to enhance the natural colour of the quartz. So, whatever your home décor, you're certain to find an engineered stone that will complement it.
Consistency of appearance
Natural stone can vary widely in appearance due to the inconsistencies in the pattern or colour. However, because engineered stone is made from a mix of controlled components, it can be produced to have a consistent colour or pattern. This means if you need to replace a section of countertop, it is relatively easy to have the original manufacturer create a new piece of engineered stone that will exactly match the old one. [caption id="" align="alignnone" width="690"]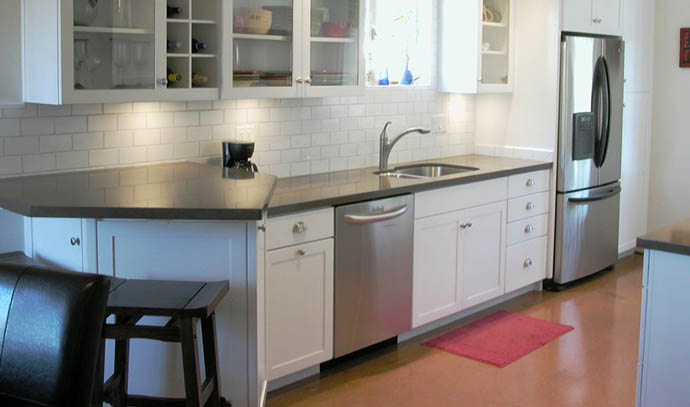 Engineered stone is naturally stain resistant because the adhesive used to bind the stone together creates a permanent seal.[/caption]
A hygienic, low maintenance product
Engineered stone is fully sealed and non-porous, so it doesn't contain fissures or pores for bacteria to hide and grow. This makes engineered stone an incredibly hygienic product, as the surface will not absorb liquids. So, if you frequently prepare raw vegetables, meat or fish in your kitchen, engineered stone can be a more hygienic option than natural stone. For those who love low maintenance kitchens, engineered stone is a great choice as it's generally easier to clean. The surface is chemical resistant, so you can use a wide variety of cleaning chemicals – unlike natural stone, which can require specialised maintenance products. And because it's non-porous, engineered stone is also resistant to stains. Natural stone needs to be sealed regularly and cleaned after every use; otherwise it can stain if it's subjected to beetroot, coffee, red wine, or other dark substances. Engineered stone, on the other hand, is naturally stain resistant because the adhesive used to bind the stone together creates a permanent seal.
Images courtesy of

Granite World
Back to top