IKEA-40th-anniv-aussie-home-of-the-future
IKEA predicts the house of the future
Phyllis, September 2015
Forget rehydrated pizza and virtual windows, by 2025
Back to the Future
's
Marty McFly
will sit down at a kitchen table that cooks his dinner for him and increase the house's living space by moving the walls. These are just two of the predictions in the
Australian Home of the Future
report.
IKEA
teamed up with futurist
Barrie Barton
to predict how a growing population, changes in technology and shrinking living spaces will change our homes. If you're a little fuzzy on what a futurist is, we'll let Barrie explain. [Tweet ""A futurist is someone who develops hypotheses on how life will be in the future,""] he says. "Generally speaking you compare the past with the present to identify patterns or recurrent themes. You then interpret how those themes are likely to extend into the future - this is called a trend line." IKEA and Barrie came up with five future trends. All of them are eye-opening. Some of them are downright exciting.
Togetherness in the home
This trend looks at how the design of our living spaces is changing to foster social interactions. It's also the trend Barrie found most interesting. "For example, the kitchen is fast becoming a place where we congregate and things like kitchen islands that double as dining tables really facilitate that kind of living," he says. "There is an increased emphasis on furniture that is suited to groups and entertaining. The reason I find this interesting is that it seems to be a response to social media. You might have a few hundred Facebook friends, but what this trend suggests is that they might not compare in value to just three real world friends sitting around your table."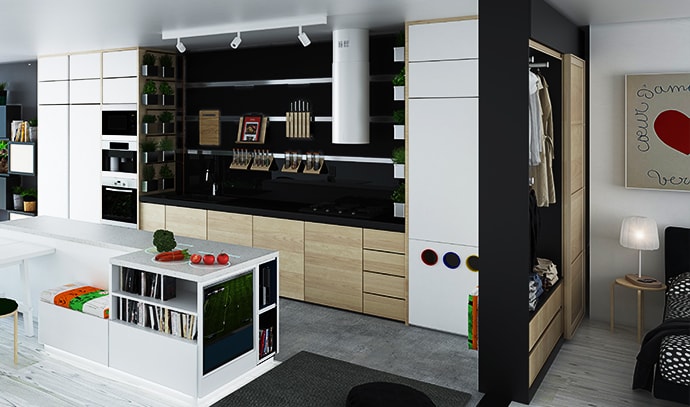 The outside grows in
This trend suggests that more people will opt for inner-city lifestyles, with modern life becoming increasingly digital. IKEA Future Homes project manager, Eva-Carin Banka Johnson, anticipates by 2025 the boundaries between inside and outside will be even more blurred than they are today, as we think of new ways to let nature into the house. "The future will see us use smart technology to transport the outside in," she says. "We are currently researching and exploring some exciting possibilities. This includes technology that grows food using moisture or water instead of soil. We are also looking into the ability to stream live videos of our favourite outdoor places into the home, which could be shown on digital screens or projected onto the walls. We know how important nature is for our wellbeing and so this is one of the interesting areas of our current research here at IKEA."
Flexible living spaces
The report says rooms will have to offer more than one function. "Moveable walls will become increasingly popular, allowing lounges to become bedrooms, or bathrooms to double up as laundries and living rooms to easily transform into an office," Eva-Carin says. "IKEA is already working on a solution."
Happy, healthy homes
The report suggests our homes will increasingly become places that help us improve our physical and mental health. "By 2025 home gyms will be increasingly popular and furniture will double up as exercise equipment," Eva-Carin says. "Technology will be used to create a harmonious environment, with wall projections helping to create a space for meditation and mindfulness."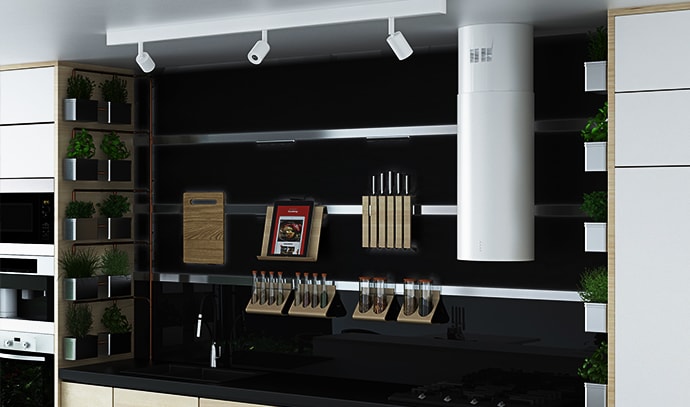 Home smart
Expect homes to be fully integrated technology hubs. "We predict that by 2025 kitchens will include smart counter tops, smart storage solutions and smart waste management systems - and the rest of the home will be no different," Eva-Carin adds. "Soon our homes will give us what we want without us even asking for it."
What does it all mean?
The kitchen will evolve to become a place for growing and cooking.
Digital windows and skylights will give any room a view and provide an alternative to traditional lighting.
Moveable walls will allow lounges to become bedrooms, or bathrooms to double up as laundries, while living rooms to transform into an office.
Furniture will need to be hidden when it is not in use.
Digital kitchen worktops will weigh, measure and pair food at the touch of a button.
Our fridges will talk to our kitchen benches, our vacuum cleaners will talk to our security systems, creating a self-aware home which pre-empts our daily needs.
Back to top