Home renovation: Part 1 - Buying potential
Sarah Watson, October 2014
Depending on which list you read, moving is up there as one of the most stressful times in your life. Add renovating and you are catapulted to a new stratosphere of stress levels. Over the next few weeks, I will document the renovation and modernisation of my newly purchased 1960s Pettit and Sevitt home with minimum budget, and hopefully, to maximum effect. This is how it began.
I was never looking for a 'renovators delight' or a 'clean slate' as the real estate agents love to bill them, but in a Sydney boom real estate market on a limited budget, I found myself viewing houses more unliveable than liveable. The beautifully presented homes with the perfectly placed Home Beautiful magazine on the coffee table and the smell of recently baked bread were immediately swallowed up in an intense bidding war that I had no funds to be part of. Therefore, I was left with houses that are in desperate need of TLC and the question "Can I afford that amount of TLC or not?" Looking at houses with my husband Mark was a dichotomy with his forward thinking of walls ripped out, and extensions added even before we had stepped foot in the property, to my more conservative approach, seeing $$ signs to his 'vision.' We were in the awkward situation of having sold our home and therefore had a deadline (12 weeks) to find somewhere to live. Mark left for America on a four week contract shortly after we had sold leaving me to look after our pre-schoolers five year old Will and three year old Charlotte, work part time and possibly look for a new house to live in…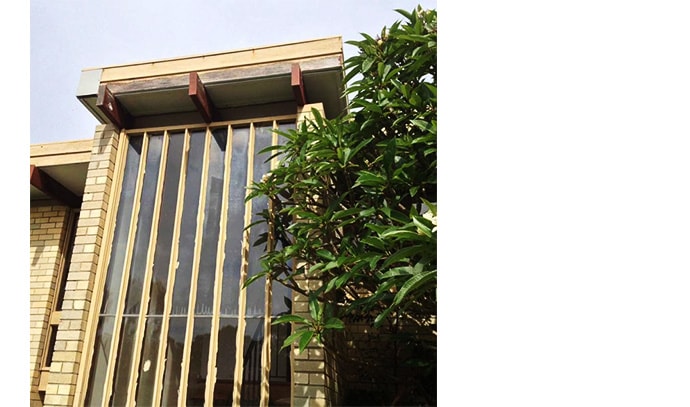 The Saturday open house ritual
The 1960s Pettit and Sevitt house a kilometre from where we lived had an open house and was being sold by the same guy who sold our home. Having severely cut back the houses I looked at with two children in tow, this house already appealed to me because it was empty and therefore less stressful. There were no sofas to sit on, children's rooms filled with toys to play with and I saw its potential so much I began filming on my iPhone to stream to Mark that night. The house clearly needed a lot of work. The outside BBQ area was overcome with large crevasses in the walls and cracks in the concrete, the balcony was so rotten the handrails were incomplete, the built in robe looked like it was original and an ensuite bathroom with significant cracks in the sink and broken tiles throughout. Need I go on? But in my extremely uneducated opinion, the house looked structurally sound and the main rooms were big, so walls didn't need to be ripped out! Tick!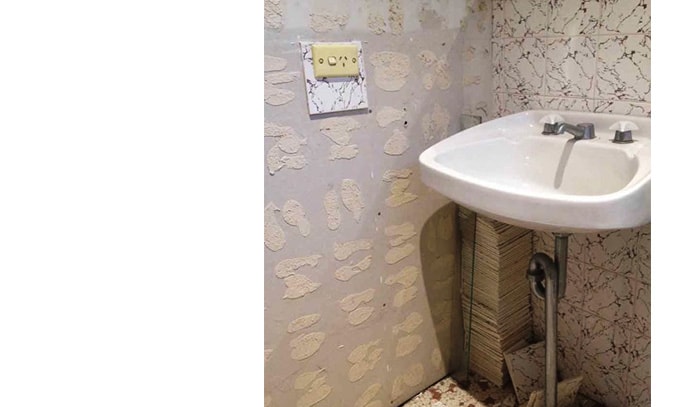 Distance no obstacle

 
Across the globe and using every resource available to him, Mark was able to view the house, see photos of the damage and Google Earth its location. When we agreed to start putting in offers, I felt reassured that we were making an informed decision together. I missed the next open house for the simple reason I felt it was unsafe for the children to be there and I had already made the decision that I wanted it. Despite being the potentially biggest purchase in my life so far, I didn't need the stress of taking the children again. As the interested parties for the house some weeks later went from three to two, our final bid came from a 2am conversation with Mark, agreeing on our final offer.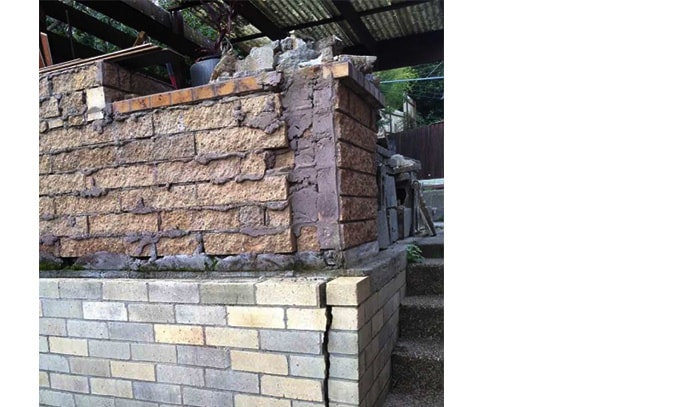 Seven hours to purchase
When our bid was accepted we calculated that Mark would fly home on the final day of our cooling off. This meant that if it was decided it needed too much work, we could pull out with a minimal loss. The pest inspection report came back as poor and a strong suggestion to walk away. We were undeterred. On the morning Mark flew in, I was working and he went to see the house alone and for the first time. He also met our future builder, a next door neighbour who started up a conversation about the history of the house, the work that needs to be done and how. A few hours later the house was ours and here begins the hard work.
Read Part 2: Moving in with the builders
Back to top