three-generation-family-children-kids-dining-outdoor-garden
Holidaying with the family (at home)
Lisa Shearon, December 2016
We've all seen enough Ben Stiller movies to know what happens when extended family come to stay during the festive season. Even if you have the room to accommodate grandparents, aunts, uncles and extra cousins, it's still a situation that can be – how shall we put it? –
challenging
. Oh, we love them, of course we do, but we're creatures of habit and routine, and accommodating extended family throws our well-oiled machine into disarray. Believe it or not, having family come to stay can also be fun. The trick – I think – is to treat the experience as a holiday yourself; a well-earned break from routine, and the chance to chill out and enjoy your holiday season at home. [caption id="attachment_6703" align="alignnone" width="690"]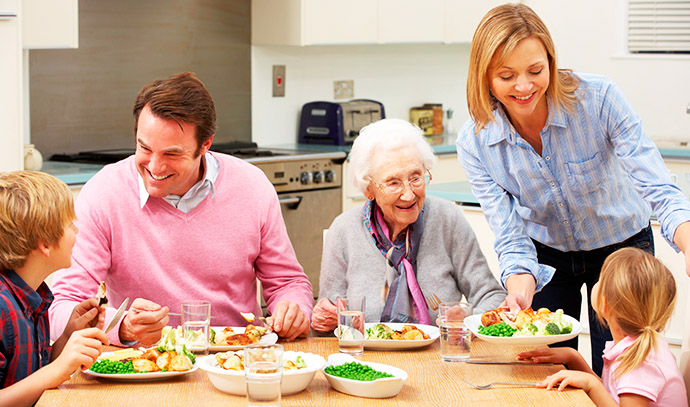 Our advice is to throw your everyday routine away, take a deep breath, and deal with it.[/caption]
6 survival tips to holidaying with family (at home)
Here are a few tips to try and get through family visits unscathed and smiling:
Play the tourist. If your family are coming from interstate or overseas, then everything in your city will be fresh, new and exciting to them. What a brilliant opportunity to see your hometown through their eyes, and experience the sights and sounds of your city. You'll be amazed at what you took for granted, or just plain missed.
Use the in-house babysitting service. Um, HELLO. Did you not think of this? If you have small children, you need to take advantage of having babysitters on tap. Don't wait for visitors to offer – ask if they'd mind looking after the kids for a little while so you can take a break. Grandparents, aunts and uncles will probably love the chance to spend time with your kids on their own, and if they don't, then don't hang around long enough to find out. Go!
Throw your everyday routine away. The kids are going to go to bed at odd times, dinner won't be planned in advance and you might not get to watch your favourite TV programme on a Wednesday night at 7.30pm like you do every week. Take a deep breath and deal with it.
Plan a loose itinerary. Ask your visitors if they have anything in particular planned for their stay, and then incorporate that into your schedule. You don't have to be militant about this (I mean, you can, but it probably won't make for the most relaxing of holidays), but if you've got a loose plan in place, and know roughly what you'll be doing day to day, then you'll be able to chill out.
Ask for help around the house. Tensions start to escalate when one party or another isn't seen to be pulling their weight, and sits with their feet on the coffee table while you serve up dinner to double the normal amount of people. Not cool. Nip these kinds of situations in the bud. Ask for help!
If you can, give everyone their own space. If guests have somewhere to dump their stuff and escape too occasionally, you'll find that things will run much more smoothly.
Happy holidays! [embed]https://www.youtube.com/watch?v=JG5NnOIKeew[/embed]
Back to top