attractive-young-woman-stretching-workplace-smiling-office
The health benefits of an ergonomic office
Veda Dante, January 2017
With an increase in musculoskeletal injuries recorded across the country, the need for improved ergonomics in workplaces has become a hot topic for employers and employees. In fact, according to
this report
prepared by the Australian Safety and Compensation Council, work-related musculoskeletal disorders in Australia are the most common condition for which workers' compensation claims are lodged. "The study of ergonomics is all about fitting a job to the person," says Mary Vetere, Principal Ergonomist with organisational health and risk management solutions provider,
Konekt
. "That means designing and arranging the environment so that people can use it easily, productively and safely. Ergonomics therefore plays an integral role in the provision of a safe and healthy work environment." Given the move towards flexible working arrangements - specifically working from home - organisations are being faced with the challenge of ensuring that the work environment in the home is in fact safe for their workers. The Work Health and Safety Act 2011 outlines that a person conducting a business or undertaking must take all reasonably practicable steps to protect the health and safety of their workers. In doing so, they must identify hazards, assess the risk of the hazards and implement control measures to address the hazard. Here, Mary explains what's involved in an ergonomic office and how you can reduce stress and injury caused by awkward positions and repetitive tasks. [caption id="attachment_6773" align="alignnone" width="690"]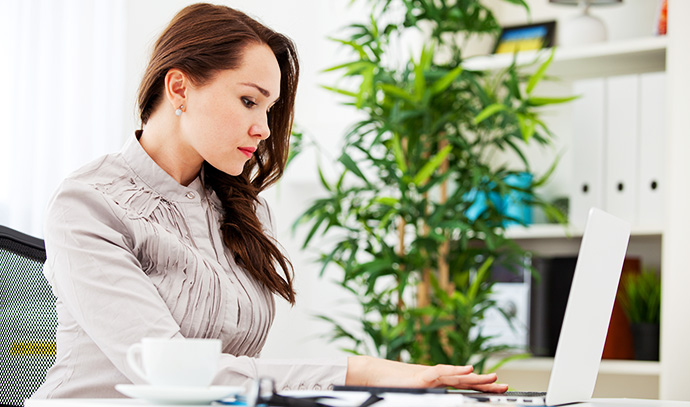 Looking down at your laptop monitor often leads to shoulder hunching, which puts strain on your neck and back.[/caption]
Is your office ergonomic?
Whether the workstation is in the office or at home, ensuring that it is set-up in accordance with ergonomic principles will fundamentally help prevent musculoskeletal injuries, and assist person's conducting a business of undertaking in meeting their duty of care to provide a safe working environment. This may therefore involve utilising additional equipment, selecting your work location wisely and/or considering the length of time that you are working in a particular location. Poor working posture leads to fatigue and overuse of your muscles, tendons, ligaments, bones and joints. Equipment and workstations that are not well suited to the task or poorly designed also create postural tension, which can subsequently lead to injury over time. Laptop computers present various ergonomic issues such as inappropriate screen height/angle and the poor postures encouraged when using the inbuilt keyboard and touch-pad mouse. I.e. typing on the tiny keyboards on laptops can place excessive strain on wrists and fingers, as tight and precise movement is required. In addition, utilising the laptop keyboard places the laptop screens at an angle that often leads to shoulder hunching and strain on your neck and back from looking downwards to view the monitor. Although it is important for employers to ensure that all workers are educated on how to set-up their workstation appropriately, it is also important to assess the individual needs of workers. Our bodies are all built differently, therefore individual assessments of ergonomic needs will help identify whether speciality equipment is required. Konekt Identified a gap in the market catering for flexible work arrangements, and managing ergonomic risk for employees working on the road, from home or remote locations. A limited capacity to traditional ergonomic risk management strategies to a flexible work environment has led to the development of an online risk management solution known as 'Ergoscreen', an online screening tool that allows you to perform widespread ergonomic assessments. More info on Konekt's Ergoscreen can be found
here
. [caption id="attachment_6774" align="alignnone" width="690"]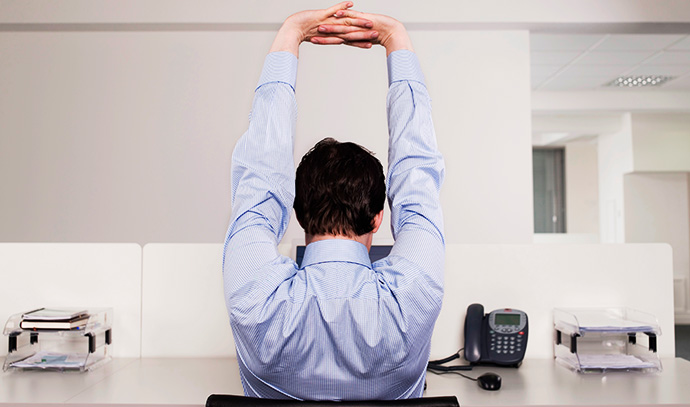 Micro pause breaks and postural reversal can help you stay fresher and energised for longer.[/caption]
Micro pause and brief exercise breaks
Lack of micro pause or exercise breaks and holding tension in your body leads to muscle fatigue and static muscle loading. Static loading occurs when we hold our muscles in the same position for an extended time. The process begins with muscles constricting resulting in reduced blood flow and oxygen to those same muscles. The result is muscle pain and fatigue and the increased risk of injury. Some examples of static muscle loading include sitting in a chair for periods greater than 45 minutes or bending over a desk for a prolonged period. The effects of static muscle loading are also worsened with poor posture. Therefore, working with your laptop on a desk for greater than 30 minutes without a separate keyboard and mouse can increase your risk of developing a musculoskeletal injury. Taking a pause break or reversing your posture increases blood flow to the muscles, which helps release tension and removes waste products such as lactic acid build up. Micro pause breaks and postural reversal can help you stay fresher and energised for longer. Stretching to the opposite posture of what you have been doing is really all that is required to complete a successful stretch break I.e. If you sit for most of the day, stand up – and vice versa. Consider linking up with other telecommuting workers or friends to take regular breaks together. This could mean anything from arranging a walking lunch or hosting a teleconference that allows you to stand whilst on the phone using a headset. Stretches can also be completed to increase blood flow to muscles. [caption id="attachment_6772" align="alignnone" width="690"]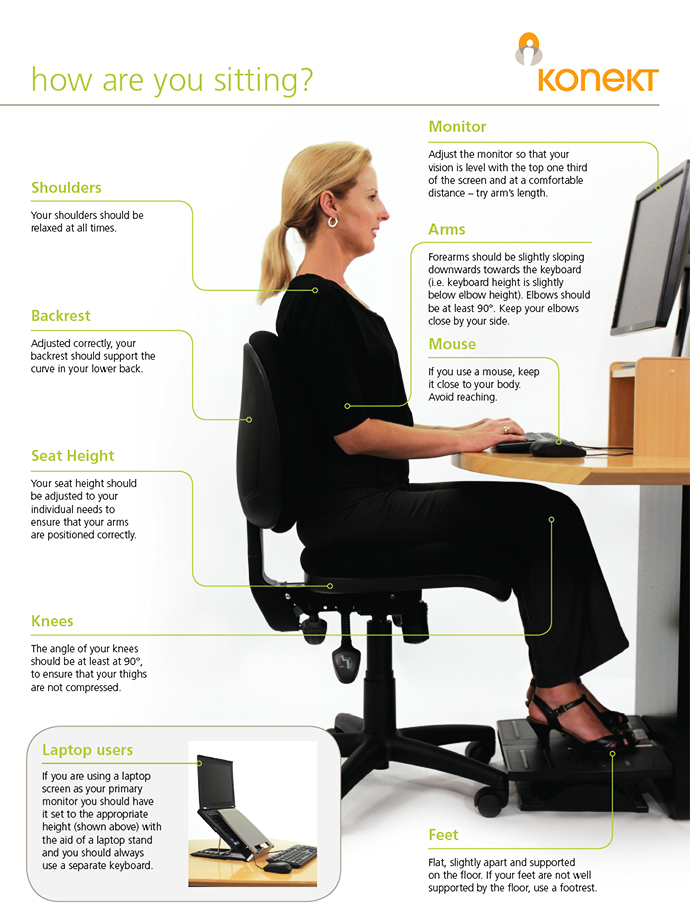 Image courtesy of
Konekt
.[/caption]
Back to top