tiny-house-company-front-on-tiny-house
What's all the fuss with tiny houses?
Phyllis, July 2016
We humans are resourceful creatures. Faced with high house prices and a planet increasingly affected by our growing carbon footprints, we're making some tiny changes that are morphing into a giant movement. Increasingly, people are opting for more sustainable lifestyles, whether it's installing solar panels on the roof, recycling or growing their own fruit and veggies. Then there are those who are reducing their carbon footprint by reducing the physical footprint of their home. It's called
The Tiny House Movement
, and it's having a huge impact on the way we think about our dwellings. Decluttering and minimalist living have been buzzwords for several years, with numerous blogs, articles and entire TV shows devoted to helping us reduce our stress by reducing our "stuff". The Tiny House Movement takes this a step further by ensuring we don't have anywhere to accumulate unnecessary clutter in the first place.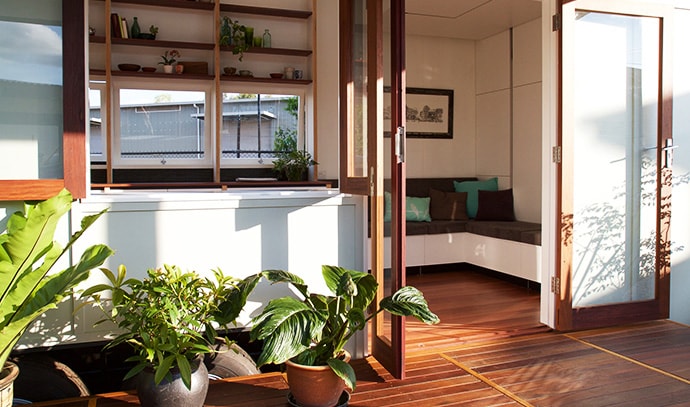 That's not a bad thing when you realise Australians spend almost a third of their income on mortgage repayments. It's also brilliant when you consider what environmental monsters many project homes are. In an age when families are smaller than they've ever been (less than two children on average) we're building bigger houses than we've ever had in the form of four or five bedroom (plus study) McMansions complete with three bathrooms (okay, that's not necessarily a bad thing) and numerous living areas. Australian houses are the largest in the world with an average of 243 square metres, according to the Australian Bureau of Statistics and Commsec. And a major factor that determines a house's greenhouse gas emissions is its size and location — with average Australian houses emitting 18 tonnes per household a year according to the Environment Protection Authority. However, a growing number of Australians are ditching big home concept (and with it the outrageous mortgage) to opt for something smaller and more affordable - a Tiny House.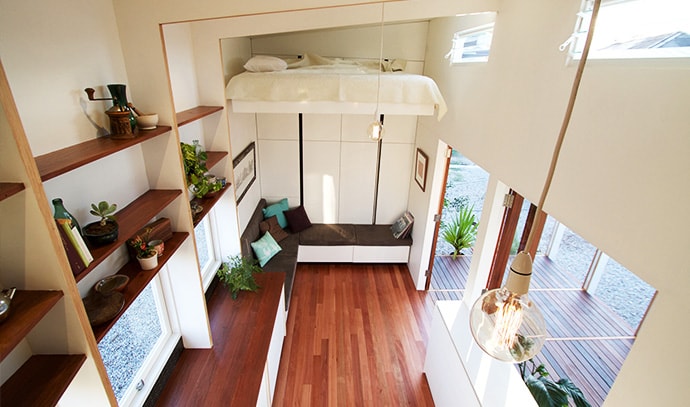 So how did it all get started?
The Tiny House movement grew out of tragedy – as so many great concepts do. When Hurricane Katrina left thousands of people in the US' southern states homeless in 2005, miniature homes were built to create quick shelters for them. People quickly came to see how comfortable these compact dwellings could be and began to emulate them. Now the craze is spreading across Australia. These pint-sized homes are usually 2.5m wide and about 7m long. That means there's no room for clutter. They provide an affordable alternative to a regular sized home for those looking to get started in the housing market, looking to downsize or who simply want to live a minimalist lifestyle.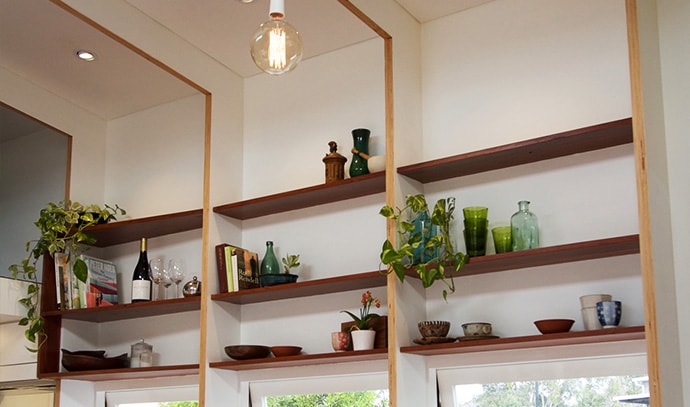 A Tiny business model
Here in Oz we tend to be early adopters of new ideas and technology, so it's hardly surprising that Tiny Home designers and builders are starting to pop up around the place. Among them is The Tiny House Company. Greg Thornton and Lara Nobel are architects and apprentice carpenters who teamed up with builder Andrew Carter to found the business, which now includes a crew of tradespeople all excited about the chance to build something different. "Sustainability has driven these tiny homes from day one," Lara says. "It has inspired the design, grounded our decision-making, and brought us closer to a movement of like-minded people who are fighting for more just housing options and practices. Of course, living in small dwellings is nothing new (most of the world already does it) but here in Australia we've lost our way – just look at the figures. Our houses are among the world's largest. Our housing needs are changing – diversifying – and it's time the housing market caught up and offered some more alternatives to the 'just in case we need it' suburban four-bedder." Their transportable 18 square metre tiny house design demonstrates how you can live sustainably and comfortably in an aesthetically beautiful small space. "Continuous sight lines through the length and width of the house help to provide a spacious feel," Lara says. "Combined with operable windows, they also allow very effective cross-ventilation of the house. As an added bonus, correctly ventilated tiny houses can be passively heated and cooled in an instant."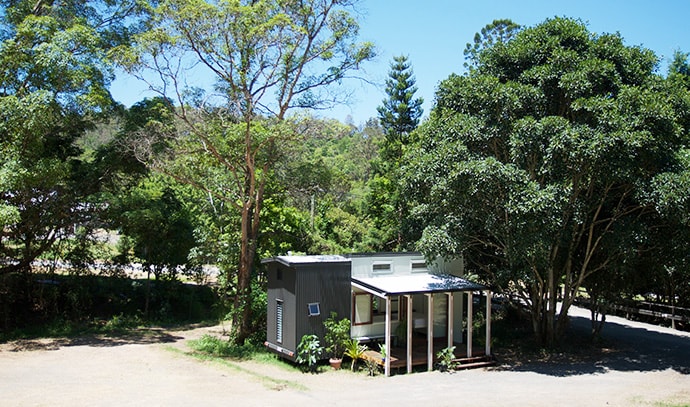 So how do you deal with every function of a house competing for 18 square metres of floor space? By combining two spaces into one. Lara says the retractable bed has 3m of headroom by night and floats over a 2.4m lounge space by day. "Controlled wirelessly by remote, this bed needs no folding, no packing away - you don't even have to make the bed," she says. "The bed and lounge seating work in unison. As the bed lowers onto the cushions it slips past the backrest which becomes a padded headboard when fully lowered. Cushions, pictures and wall-mounted screens can all remain in place."
What's in the future?
Where to next for the Tiny House Movement we may well ask. As global warming, capital city property prices and an increasing desire among the population for a return to a more sustainable lifestyle push people to reconsider their ideas about what is desirable and necessary in a home. One thing is certain – this tiny idea has a big future. Many thanks to
The Tiny House Company
for their assistance in preparing this article as well as supplying the images. For more information visit
http://www.tinyhousecompany.com.au
Images courtesy of The Tiny House Company
Back to top