interior-dining-room-modern-elegant-furniture
Come dine with me: Your guide to dining table styles
Katie Adema, February 2016
Your dining room table needs to shine in both form and function – which is what can make choosing the perfect style for your dining space a bit tricky! Of course, a super practical approach is always an option – this process can be as simple as measuring your dining space and just picking a table that fits the size requirements and is solid and sturdy enough to last a few years. But for the more aesthetic conscious among us, exploring all the possible styles of dining room tables is a definite must before making a final decision.
Classic shapes for all
Round and rectangular shapes are the most classic style of dining table for a reason – these suit the majority of dining spaces and are best for accommodating larger gatherings of people. Rectangular tables offer the huge advantage of being able to be extended a much more easily than most other shapes with an extra small table added onto the end. It is also a visually appealing shape, as it is clean and linear, which can elongate a room.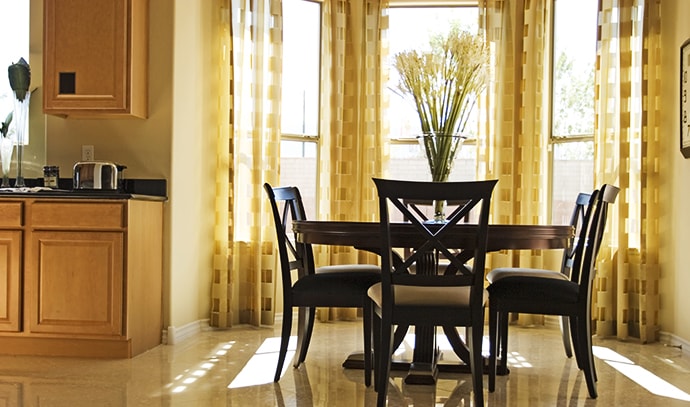 [Tweet "The shapes also promotes visual unity in the design of the room."] Round tables are often the best choice for smaller spaces – the shape encourages easy conversation between guests, as it is a more intimate having everyone seated in a circle. The shapes also promotes visual unity in the design of the room and breaks up linear shapes that can dominate the interior landscape. You could also take a modern approach and opt for fashion forward square, oval or octagonal shapes – be bold and complement the unusual shape with some brightly coloured or mismatched chairs.
Show me what you're made of
Material choice is just as important as shape – and of course, the two need to complement each other. Traditional living spaces, or even modern spaces with earthy elements, will be complemented beautifully by a dining table made from solid timber. Whether you prefer dark or light hues, natural timbers offer a huge variety of colours and textures, and will last a lifetime. (Especially important for growing families!) If traditional timber isn't your thing, never fear – there are an array of man-made materials to choose from, durable hard plastics like acrylic, and even various metals if you are inclined towards an industrial style. A table that includes a mixture of material, such as aged timber and rustic metal, can also provide some visual interest and impact in your dining space.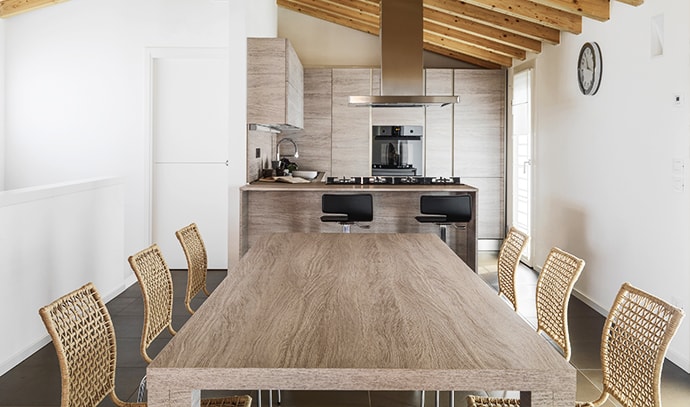 [Tweet "There are no rules when it comes to individual style!"]
In the detail
Style is determined by your choices in colour, materials, textures, shapes, and the composition of any given room. In this context, a traditional style dining space works well with natural timbers, light creams and greys and ornate detailing on chairs and/or lighting fixtures, while a modern minimalistic room will work with man-made materials, clean, linear shapes, and an artistic style space can experiment with bold colours and unique shapes. The bottom line is, there are no rules when it comes to individual style! Dining tables are only complete when teamed with some complementary interior décor and furniture – pendant lighting that hangs low over the table, statement, high-backed chairs, or some truly fantastic quality crockery and cutlery can be the difference between a plain old dining space and something that makes your guests go "wow"!
Back to top