Creating bathroom retreat at home
Creating a bathroom retreat at home
Belinda Hill, April 2012
With the bathroom one of the most important rooms in the house, it's no surprise homeowners are indulging when it comes to the design of this space. Over the years, the idea of designing the wet area with a relaxing "spa" feel has become more popular.
Visiting a day spa is an indulgent experience that leaves one revitalised and ready to tackle the hustle and bustle of life – so it's no surprise that's the direction many homeowners are taking when planning a bathroom renovation. "Day spas are relaxing and calming from the moment you enter, so it's no surprise that we're seeing this replicated in the bathroom, where we refresh and prepare ourselves to face the world," says Darren Genner, director of award-winning bathroom design company Minosa. It's a theme that's evident in today's popular finishes and the 'moodier' spaces that play on natural and artificial light. "The use of natural materials, such as marble, has made a resurgence, as well as wood in a more natural sense," says Darren. "Personal music is also a big part of the spa feel – it's all about senses being engaged." To master the look and feel of this relaxing space, the key is to create an intimate space as opposed to a private one. "To have an area where the basin and freestanding bath are visible from the bedroom is great, and then it's important to ensure the toilet and showers are concealed out of sight behind a wall or door," suggests Darren.
Darrens Genner's tips to bring your retreat to life:
Be seen
Use high quality products for those that can be seen easily in the bathroom space, such as the washbasin, furniture and freestanding bath.
Natural finishes
Natural elements are a great way to create a sense of relaxation and escapism. Marble, wood and veneer are never-fail additions.
Cater to the senses
Add a controllable lighting system to create different scenes and moods. Music that plays through the bedroom, walk-in wardrobe and ensuite will instantly alter the mood of your relaxation space. What can we expect from bathroom designs in 2012?
Simple style
The most obvious theme we'll see this year according to Ari Zorlu from Paco Jaason is very simple, streamlined design. "There won't be many elaborate shapes but colours and different materials will have a strong presence," says Ari. Keep an eye out for black, glass, Corian, timber and stainless steel basins.
Blurring the lines
Where does the bathroom space begin and the living zone end? More than ever ,designers are treating the bathroom as an extension of the living space in the home. An increase in furniture features and stylish lighting additions has seen the space grow into a room homeowners are spending more and more time in.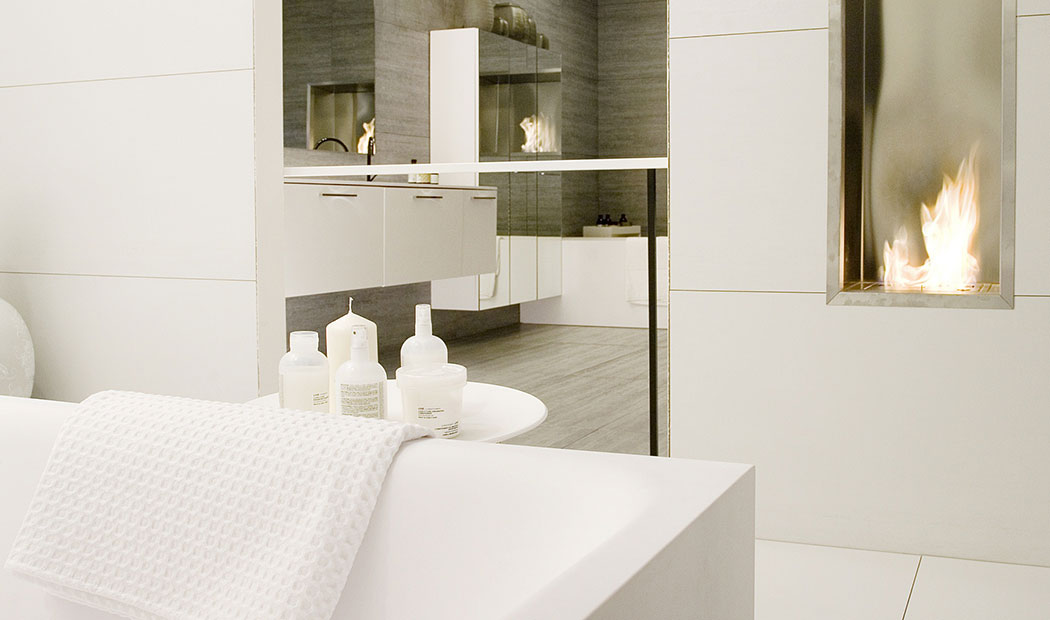 [alert style="alert-info" dismissable="false"]
Top five bathroom trends for 2012
Bathtubs and fixtures design In the bathroom, homeowners are installing contemporary designs when it comes to their bathtubs and other fixtures. Today, we are seeing more and more wooden, glass, metal and stone materials. For an eye-catching design, mix the new with the old. There is a wide range of options from wooden toilet seats paired with white toilets to black and glass bathtubs.
Modern design Modern design continue to grow in popularity. As homeowners move forward from traditional design, they are inviting a wide range of neutral colours into their home. Popular choices have included pale green tones, sand, cream, gold, silver, ivory, comfortable brown and classy white shades. Black and white decorating designs are also on the rise as they bring a streamlined feel of simplicity and cleanliness.
Space saving Small bathrooms and half-baths are no longer a design challenge in 2012, as homeowners are choosing to install more space saving options. Whether you love hidden drawers within the vanity or a wide shallow sink, creative options now define the space. You can even save space by upgrading your toilet, as older models are larger and take up more room. Also, don't forget custom corner storage cabinets are a great option as they provide unique design solutions within a limited space.
Vanity height Many homeowners hate having to stoop behind the sink. As time passes, this becomes uncomfortable and can lead to back pain. In the past, vanities were originally installed at a height of around 76 – 82cm to accommodate kids. Today, people are choosing to raise their bathroom vanity to a more comfortable height of around 92cm.
Spacious Master Bathrooms The master bathroom continues to evolve into a retreat for homeowners to indulge and relax. With a spacious layout, you can install a wide range of features from large sunken bathtubs to wide vanities that bring luxury and elegance to your room. This trend is really a throwback to a vintage period, as many enjoy the open space and separate areas for the shower and bathtub. Don't forget you can mix in modern elements, such as shower lights and his-and-her sinks.
[/alert]
Back to top