diago-ji-temple-colourful-maple-trees-red-autumn-kyoto-japan
Top tips to create your own Oriental garden
Katie Adema, June 2016
Whether you live in a smaller town or a bustling metropolis, your garden can be a retreat of sorts – and styling it like a traditional oriental garden can help you create a peaceful, natural space in your backyard or courtyard. With a strong focus on nature, Oriental gardens are constructed in a way that inspires feelings of peaceful contemplation, tranquillity and mindfulness. Japanese and Chinese gardens are often very small – therefore, you don't need to worry about not having enough space to create an authentic oriental feel. Traditional gardens are designed to maximise space through soft lines and harmonious design. You only need to incorporate a few Oriental elements to lend an edge to your garden, so check out a few of your options:
Stonework
Groupings of natural stones of varying sizes are a key element of oriental garden design – they are used to direct the visitor's eye in order to accentuate certain points in the garden, and soften the landscape naturally. Odd numbers bring visual harmony to any space, so consider grouping your stones in collections of three, five or seven and placing them throughout your garden. You can also incorporate stone by creating some little pathways throughout your back yard - these are traditionally made using pebbles, sand or slabs of natural stone, and are meant to inspire contemplation and stimulate natural thought processes.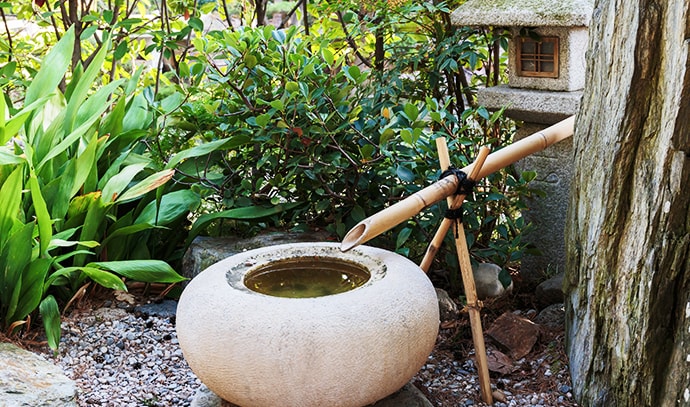 Water
Water is viewed by cultures all over the world as a soothing element to include in outdoor design. It is perhaps one of the most important elements in an Oriental style garden – whether it is in the form of a pond, water feature, water bowl or waterfall, all water brings glistening light and soft, trickling sounds to your garden. Go all out with a koi pond filled with vibrant fish, or tuck a small water feature in the corner for a more subtle effect. Whatever you choose, just make sure it is peaceful in its movements - a huge water feature that shoots water in all directions and is very noisy does not inspire tranquillity.
Oriental plants
Of course, no Oriental style garden is complete without at least a few traditional Asian trees and flowers. Bamboo, camillas, azaleas, prunus mume (Japanese apricot), cherry blossom trees, cycads, hostas, Japanese maples and magnolia trees are some of the most popular options. Talk to your local garden centre staff to determine which of these plant species would grow well in your area. "Clump forming" bamboo is essential – the Asian varieties tend to be invasive, while this type gives the same look without the consequences of fast growing roots.
Statues
Statues are more than just a focal point for the garden – they are viewed as bringers of good fortune and protectors of the home and the family that resides in it. The options are endless – many kinds of animals, Buddah variations and warrior guardians, or mythical creatures like dragons, are just some of your options. Adding a stone or wooden statue of any size is any easy way to lend an Oriental flair to any garden but make sure you scale it to the size of the garden so it does not overwhelm the space.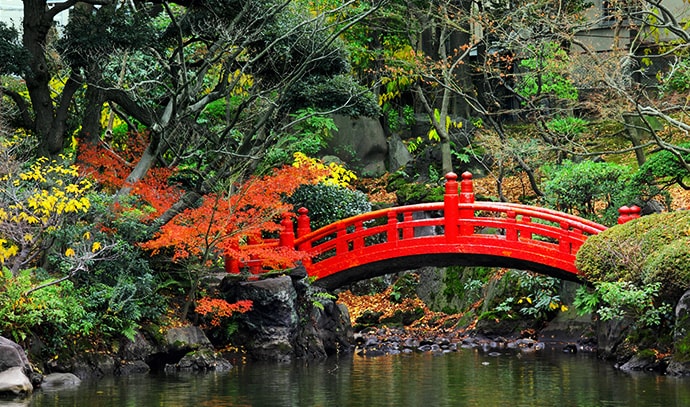 Bridges and fences
Oriental design is all about symbolism – and in your Asian-inspired garden, the fences keep the clamour and chaos of the outside world out of sight and out of mind. This is key to creating a truly peaceful garden space, as mindfulness and connection to nature are at the core of oriental design. Bridges can also be a great addition if you are lucky enough to have the space for a pond – give the illusion of a floating bridge by placing the support beams in the water, or construct the bridge out of bamboo or dark wood.
Lanterns
Both stone and paper lanterns are a beautiful accent to any garden, and throw a peaceful glow over the space. Rice paper lanterns are better used in clear, warm weather, whereas a stone lantern fashioned like a temple or oriental home can offer a more permanent addition to the garden while having a similar, flickering affect. Oriental style lanterns can complement more modern types of garden lighting, such as flood lights and LED downlights – they can also be used as an alternative, softer lighting option for brighter summer evenings.
Back to top