tankworks-australia-blue-tank-beside-home
Choosing the right location to install your tank
Phyllis, May 2015
Think rainwater tanks and visions of  … suburban houses spring immediately to mind. That's right. Once the enduring image of rural Australia, rainwater tanks are increasingly becoming synonymous with urban homes across the country thanks to greater awareness of the need to conserve water. This water can be used for toilet flushing, laundry, garden irrigation and hot water.
A style to suit everyone
While the traditional round corrugated tank may have an air of nostalgia, there are a variety of designs and sizes available to help fit tanks into the tight spaces of smaller blocks in new housing estates. Most tank manufacturers have round and slimline designs, and some also have square ones. The most common materials are corrugated steel and roromoulded polyethylene, while concrete ones are used underground. Modern steel tanks are coated on the inside with a food grade polymer film that gives tanks a 20-year warranty against corrosion. To work out what size tank you need, estimate the size of the catchment area in square metres and where the building's downpipes are located. It's a good idea to buy the largest tank that will fit, but if you don't have the catchment area to fill then it might not be as effective.
DIYers welcome
Installing a small tank for watering can be a DIY project, but large tanks may need a professionally installed reinforced concrete slab. A plumber's services will be necessary if the tank water is to be used for toilet flushing or in the laundry. Most water tanks need a small pressure pump, although if the tank is in a high position in the yard and is only to be used for watering the garden, then it can be a simple gravity feed. Once the water tank is installed, then it's important to keep the roof and gutters clean, and the tank may need to be cleaned every two or three years.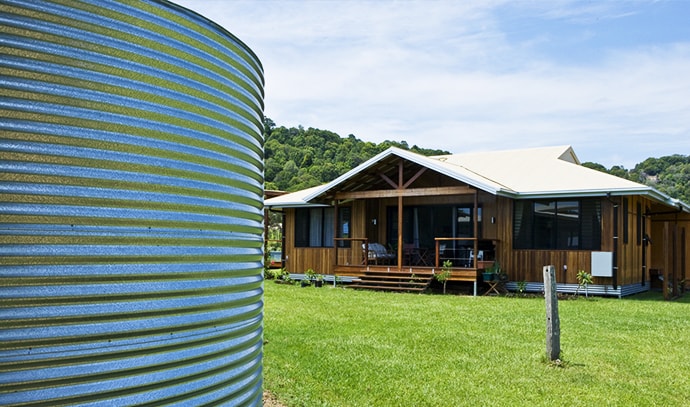 Top tips when choosing the best place to site your tank
Slope of the site. The most suitable site will be on level ground, away from retaining walls. Extra installation expense may be incurred if your site needs to be excavated to make a level foundation.
Downpipe location. You should aim to connect as many downpipes to feed your tank as is practical. The closer the water tank is to your downpipes, the more efficient the water harvesting system will be. If downpipes need to be diverted and run horizontally over long distances then the installation expense will increase and the efficiency of the system may be compromised.
While a well-positioned water tank can add a design element to your home, most people are not likely to install a water tank where it is highly visible. This is an important consideration.
Proximity to laundry or toilets. Where a water tank is used to feed a toilet or washing machine, a licensed plumber must install it. Again, the shorter the run of pipe work from the tank site to the internal appliance, the less expense will be incurred in installation.
Information and images supplied courtesy of Tankworks Australia,
tankworks.com.au
. Tankworks Australia was established in 1934 (previously known as Parramatta Tank Works) and has continually manufactured quality, long lasting water tanks and accessories. Tankworks has manufacturing sites in Melbourne, Brisbane and Sydney, supplying water tanks in Victoria, Queensland, NSW and the ACT.
Back to top