treverkcharme-grey-tile-floor-study-work-desk
Choosing the right flooring
Lisa Shearon, August 2016
If you're building, renovating or simply sprucing up, you'll know that deciding on your home's flooring is one of the biggest decorating decisions you'll have to make. Carpet or tiles? Timber, laminate or vinyl? Polished concrete? The options are seemingly endless!
Above image: The Treverkcharme range comes in a 100mm x 700mm slim format designed to be liad in a variety of parquetry patterns.
Hard flooring surfaces are always popular as they're versatile, hardwearing and ideal for busy households. Over recent years, more and more Aussies are making the most of DIY flooring options, which offer a quick and affordable way to update a home. Followers of interior-design fashion will know that 2016 is all about natural materials that offer warmth, texture and character. Flooring trends are following suit, with tiles, carpets, timber and laminate all leaning towards a look that is natural and organic. Manufacturers of tiles, laminate and vinyl are using the latest digital technology to creating flooring surfaces that mimic natural materials while at the same time being long lasting and affordable, and are proving to be a fantastic option for Aussie homeowners. [caption id="attachment_5396" align="alignleft" width="690"]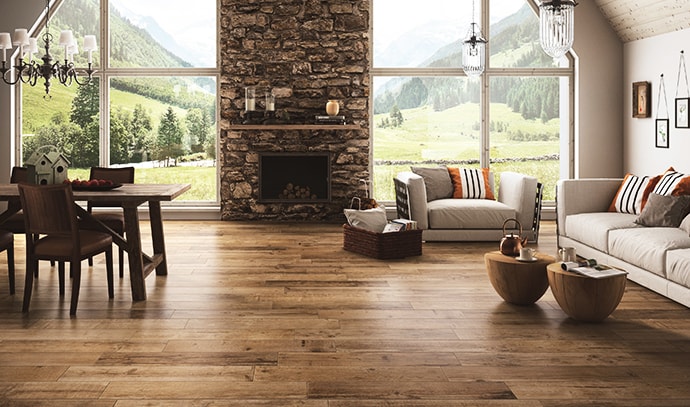 The Rhone Cru 200mm x 905mm has been inspired by the rustic grains and knots of traditional-style wine barrels.
[/caption] "Timber-look tiles are proving to be a big trend this year," Ceramo's interior designer Renae Tropiano explains. "Natural timber has always been a popular floor finish but now, thanks to advances in ink-jet technology producing such realistic replications, we can achieve the warm look of wood with no maintenance." Concrete-look tiles have also continued to grow in popularity and are now evolving into larger and larger formats to replicate that seamless appearance of a polished concrete floor. The trend for natural materials means that timber is once again a fail-safe flooring choice, with native Australian species being the order of the day. With such an enormous range of species available, timber is an excellent way to add warmth, character and colour to a home. [caption id="attachment_5397" align="alignleft" width="690"]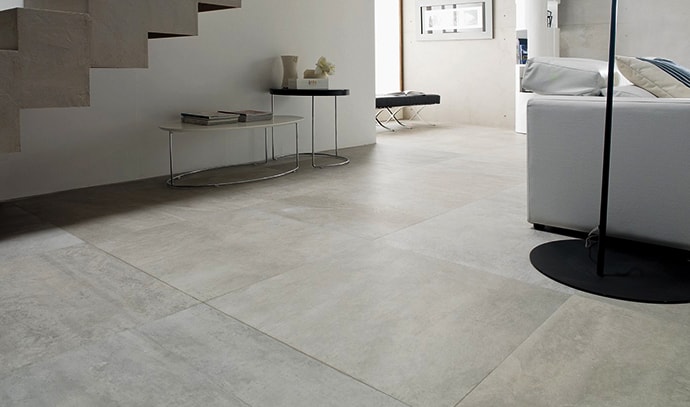 The Rodano Acero 800mm x 800mm replicates all the etchings of raw concrete while having the technical advantages of porcelain.
[/caption] Carpet is also in vogue, thanks to the natural warmth and colour it brings to a home. Wool carpets have been introducing style and comfort into homes for years, and it's no wonder – wool is one of the most versatile and durable floor coverings you can choose. Wool carpets are not only soft, comfortable and natural, they're also fire resistant, easy-to-clean and very durable. Want to add even more warmth and personality to your home? You might want to consider laying your timber and tiles in an interesting pattern. "We are finding an increase in creative laying patterns for floor tiles such as herringbone or chevron patterns, and also combinations of various sizes being laid together to form an original design," Renae says. All flooring images are available from
Ceramo
,
www.ceramo.com.au
Back to top