dulux-colour-kitchen-home-dining-room
How to choose the right shade of grey paint
Veda Dante, August 2018
With hues ranging from nearly white to virtual black, there's a colour in the grey spectrum for everyone, regardless of your style of home or choice of décor. And while this neutral colour is considered timeless, it can be tricky if you've never worked with it before.

Which shade should you pick?
Whether you plan to re-paint your entire home grey, or just a feature wall, think of the tone you're trying to create. A pale grey in eggshell reflects a softer atmosphere – ideal for a bedroom or nursery – while a darker, warmer, flatter gray better suit a media room or master bedroom suite. While 'pure' grey is essentially a mix of black and white (and free of undertones), grey paints tend to lean towards one colour, such as a blue or pink undertone for a cooler, sophisticated look. Then there's 'greige', which is a mix of beige and gray. The addition of gray to beige creates a richer colour, that can work in both cool and warm colour schemes. [caption id="" align="alignnone" width="690"]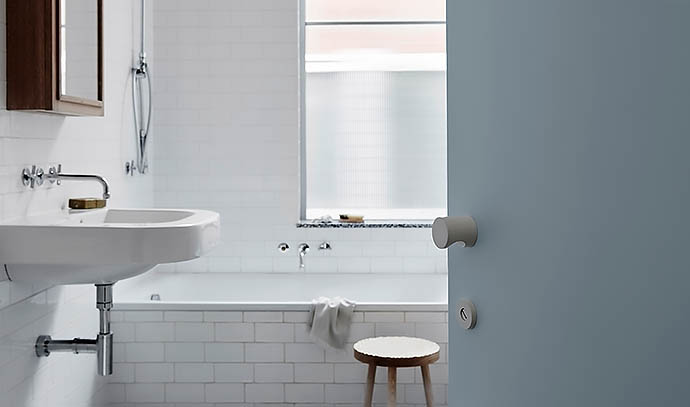 Grey paint accentuates the crisp white subway bathroom tiles. Pictured is Essential Palette from Dulux Colour Trends 2018. Stylist Bree Leech. Photographer: Lisa Cohen.[/caption] Styling tips from Bree Leech, Dulux creative consultant and stylist for
A warm white and grey scheme pairs beautifully with other soft organic shades such as buttery tan, sand and green grey
Add colour, such as dusty pink, terracotta or inky blue to create a focal point in a room or draw attention to interesting architectural features such as architraves or a beautiful ceiling rose
A textured wall finish, such as Dulux Design Suede Effect, will add depth and interest to your scheme
Accessorise with furniture crafted from simple shapes in raw timber, natural stone and leather
Incorporate textiles and ceramics with raw edges and hand-finished detailing
Here's how to avoid the 10 most common mistakes people make when painting their home.
[embed]https://www.youtube.com/watch?v=tguCmyWXroc[/embed]
Back to top