kmart-august-living-range-simple-stylish-bed-design-white-sheets-modern
Buyer's bedding guide to getting a good night's sleep
Hedgie Gundry, August 2017
For many of us, a regular eight hours sleep a night keeps us bright eyed and bushy tailed. But did you know almost 40 per cent of Australians experience some form of bad sleep? That's according to an alarming new
Deloitte Access Economics
report commissioned by the Sleep Health Foundation released last week. And although, as the report found, various health issues can unavoidably affect our sleep, there are some practical steps we can take to create the optimum sleep environment. First things first, you need to get the basics right: a comfortable mattress, snug pillow and some great bedding. [caption id="" align="alignnone" width="690"]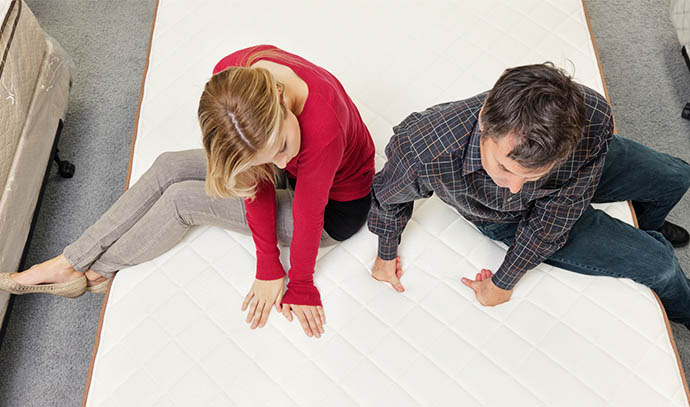 There's no one size fits all or standard mattress type as we all have different sleep positions, preferences and body weight.[/caption]
Mattress makeover
It will come as no surprise that your mattress provides the foundation for a good night's sleep. Unfortunately, there's no one size fits all or standard mattress type as we all have different sleep positions, preferences and body weight. It's also a common myth that a mattress needs to be firm to be good for your back – there's a difference between firm support and a firm feel. "Most mattresses offer a comfort layer or pillow-top," says Snooze mattress buyer Troy Grzeschka. "Depending on the fabric and thickness, this comfort layer is considered soft or firm. However, no one can tell you which one is right for you, as it's a personal choice." Troy says one of the best ways to choose a new mattress is to try before you buy, with pocket coil, coil spring and memory foam mattresses the most popular. But if you're not quite ready to buy a new one, a mattress topper is also a great way to add comfort. [caption id="" align="alignnone" width="690"]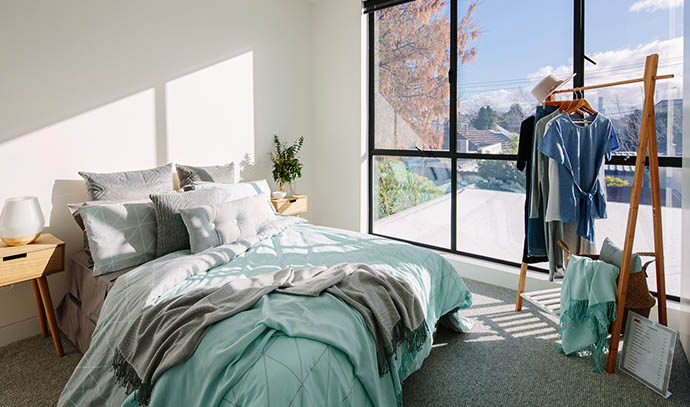 Choosing the right pillow starts with knowing what type of sleeper you are – are you a tummy sleeper, back sleeper, or side sleeper?[/caption]
Pillow talk
Combining a great mattress with the right pillow will make all the difference to your sleeping patterns. If you've ever woken up with a stiff neck or sore muscles, it's time to invest in a new pillow that supports your neck consistently through the night. "For most people, finding a comfortable pillow is the most important consideration of all," says Tontine pillow expert Scott Hayward. "However, what pillow you find comfortable, others may not, and vice versa." To help you choose the right comfort level for you, most pillows are classified as either soft, medium or firm.  And the best pillows are usually those that have the balance right between comfort and support, and have a height appropriate for your body size and shoulder width. According to Sheridan group general manager Paul Gould, when choosing a pillow to suit your needs, there are a number of factors to consider. "It starts with knowing what type of sleeper you are – are you a tummy sleeper, back sleeper, or side sleeper? Next, you'll need to decide on the feel of your pillow. Think about your preferences – whether you enjoy a luxuriously soft touch, or a super supportive memory foam style," Paul says. "Finally, take note if you have any extra requirements. If you're an allergy sufferer, sleeping on a premium quality hypoallergenic microfibre fill will be important. Regardless of what type of sleeper you are, sleeping on premium quality, breathable fibres and fills is paramount when choosing a pillow." [caption id="" align="alignnone" width="690"]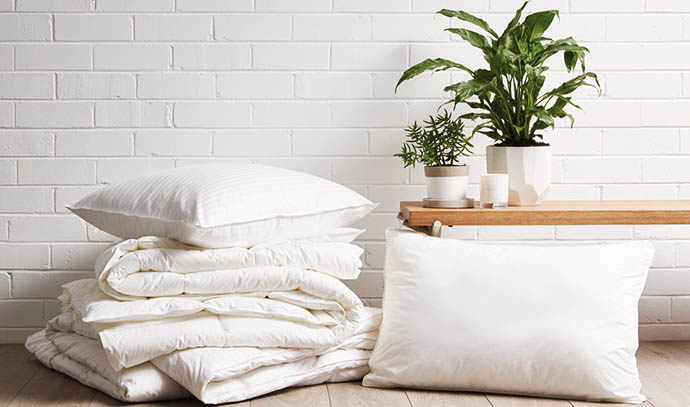 When selecting sheeting and bed linen, forget thread count and choose the feel you love. Here are a few helpful tips to
choosing the right sheets.
[/caption]
Get cosy between the sheets
And finally, there's nothing better than new sheets to add that final layer of luxury and comfort. Paul also has some great advice from Sheridan when it comes to choosing the perfect bed linen. "When choosing sheeting and bed linen, forget thread count and choose the feel you love. A common misconception about thread count is that it relates to quality, however it's merely a measure of sheet weight. The higher the thread count, the heavier the sheet," he says. "Every Sheridan sheet for example, regardless of thread count, has been crafted to the same high quality, using the most premium long staple fibres, which is why we always recommend choosing the feel you love – whether it's a crisp 300 thread count, or a heavier sateen at 1200 thread count." [caption id="" align="alignnone" width="690"]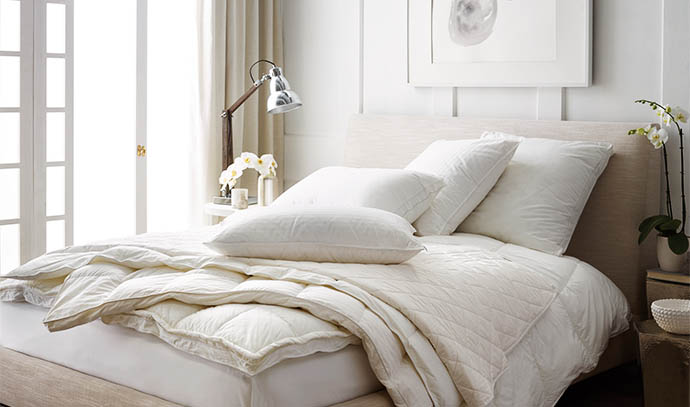 To create the perfect night's sleep, quality materials and fibres, size and weight all come into play. Sheridan has some tips to find out what works best for your body
here.
[/caption]
Common mattress types
Pocket coil
: These mattresses are made from individual springs, which are sealed in separate fabric pockets. This means they generally operate independently from each other. So, when one person moves around they are less likely to disturb the springs on the other side of the bed. Pocket coils come in various sizes from micro to standard. Typically, the smaller the coil, the better it conforms to your body shape.
Coil spring
: These mattresses feature a single length of wire in each row or lattice. Each wire is shaped into a coil and interlaced to the top and bottom of the spring frame. The coil is made from strong wire that can vary in thickness. If the wire is thicker, the mattress is firmer. If the wire is thinner, the mattress is less firm. This design limits the amount of movement across the mattress so may help reduce partner disturbance.
Memory foam
: A memory foam mattress is typically made from viscoelastic. Once warmed up, the memory foam contours to your body shape, which may help relieve pressure points (usually in the shoulders and hips). The result is a relaxing, supportive feel.
Source:
Snooze
[caption id="" align="alignnone" width="690"]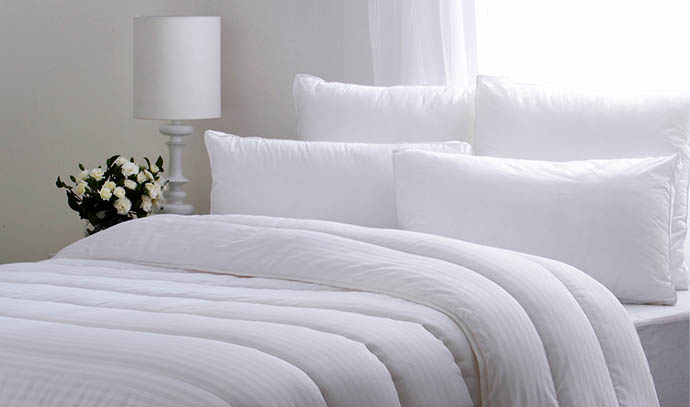 Poor quality polyester pillows may only last six months or less, while good quality polyester pillows can last up to two years or more. Take a look at Tontine's collection
here.
[/caption]
Common pillow types
Cotton and polyester
: Good quality polyester pillows provide both comfort and support, and often represent great value for money. If the materials used are of sufficient quality, and the pillows have been constructed well, the pillow shouldn't go flat, lumpy or lose its shape quickly, which some cheap polyester pillows can do. Poor quality polyester pillows may only last six months or less, while good quality polyester pillows can last up to two years or more.
Latex
: Latex is a natural product made from the sap of the rubber tree. Latex pillows are generally very durable, and have superior rebound qualities and are supportive yet comfortable. They also have the added benefit of being naturally hypoallergenic. Latex pillows come in a wide variety of shapes, profiles and densities. The average life of a latex pillow is between five and ten years.
Memory foam
: Memory foam moulds to the shape of your head and neck, and can relieve pressure on sensitive areas. Memory foam pillows are considered to be a good choice for people suffering from neck and related back pain, but they can take a little getting used to, and may be a little hot for some people to sleep on. For those people who sleep hot, a memory foam pillow designed to address this issue, like a gel infused memory foam pillow, or memory foam pillow with cooling gel top, may be the best option. Memory foam pillows generally last between five to ten years with normal use.
Source:
Tontine
Helpful links
Head to the
CHOICE mattress buying guide
to find out which mattress is best for you or check out
HomeHub's recent mattress guide here
. And also check out the
Tontine Sleep Centre
and
Sheridan pillow and bedding buying guides
for more helpful tips.
Back to top