aged-brick-wall-boxed-plants-vertical-garden
5 tips for a versatile vertical garden
Phyllis, February 2016
When it comes to hanging gardens, it's hard to beat the
Hanging Gardens of Babylon
. Modern Australia may be a long way from ancient Mesopotamia, but we do have a few things in common: a dry hot climate and (recently for us) a love of vertical gardens. Few of us have the manpower or space to create anything that could remotely rival this wonder of the ancient world, but we do have access to modern technology that King Nebuchadnezzar II and his architects would have given their green thumbs for.
Location, location
The great thing about vertical gardens is they can be used inside or outside, in deep shade, full sun or part sun. The only limit is your imagination. Use your hanging garden to disguise an ugly fence or wall or even bring a little bit of nature into the bathroom, kitchen or living room. Got a bland entry hall? Why hang a painting when you can create a living artwork. The only thing you'll need to be careful about is your choice of plants depending on the location.
Go potty
You can buy vertical garden kits online or from nurseries. These consist in the main or a plastic base that can be mounted to the wall with individual planters or plastic channels that clip into place. The pots or channels can often be angled forward to allow the plants to spill forward and encourage them to grow down. But you can also have a lot of fun making your own. There's plenty of inspiration on
Pinterest
, but a few ideas include using an old timber pallet lined with geotextile fabric to hold the soil in place. Staple the fabric so that it covers the front, back and sides, fill with potting mix, then cut holes in the front of the fabric and poke the plants into the gap. Another option is the create a frame, also lines with geotextile fabric. Lay it flat, add potting mix and staple wire mesh across the front. Cut holes for the plants, put them in place, then leave it to settle for a few weeks while the roots take hold before hanging it in place. Or keep it as simple as fixing some pots to a wall.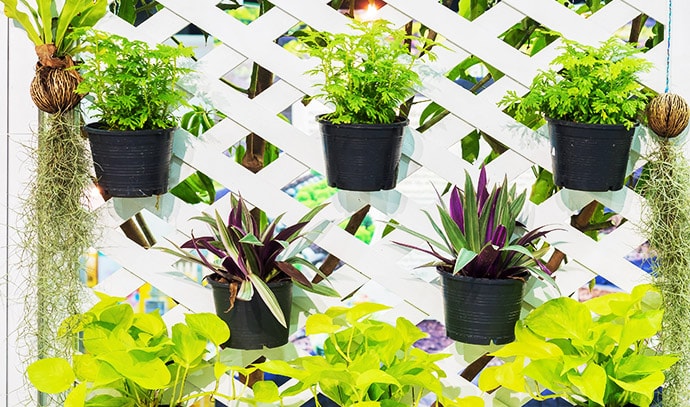 Water works
Some commercially made vertical gardens come with irrigation systems, but I you make your own, then you'll need to keep it watered or you'll find yourself with a very unattractive plant graveyard on the wall. The amount of water your vertical garden requires will depend on whether it's indoors or outdoors and whether it receives full, part or no sun. The type of plants in the garden will also determine how much water is needed. The best thing is to consult with the staff at your local nursery when you buy your plants.
Decisions, decisions
Now for the fun part: choosing the plants. Just make sure the plants you buy are suitable or the location, as with any other type of garden. If you have a shaded vertical garden look for ferns including boston fern and bird's nest fern, bromeliads, orchids (especially crucifix orchids), philodendrons, begonias, limonium, mondo grass, liriope, Australian native violet, ribbon plant and tradescantia. If the garden is in a very hot, sunny position, go for succulents and cactus, ivy geraniums, dwarf agapanthus, sun-tolerant bromeliads, society garlic, walking iris, mondo grass, liriope, dianella, alternanthera, ivy, festuca glauca, myoporum and Dichondra. Or why not add some colour with annuals such as begonias, pansies, petunias or dwarf marigolds. If you don't have space for a conventional veggie patch, why not grow some soft-heated lettuce, kale, English spinach, small chilli plants, strawberries and herbs such as mint, thyme, tarragon, parsley and oregano.
Maintain the sage
Or the mint, or succulents or ... You get the picture. This is not a case of set and forget. Just like any other garden, you'll need to maintain your plants to ensure they don't outgrow their home as well as fed and water them as necessary. However, just like any other garden your efforts will be well rewarded with a relaxing and beautiful vista.
Back to top