baby-bedroom-blue-polka-dots-wooden-shelves-white-sheets
5 tips for a beautiful baby bedroom
Phyllis, August 2015
The baby is on the way, the hospital is booked and thoughts of darling little 0000 jumpsuits and a perfectly decorated nursery are front of mind. But little bundles of joy turn into toddlers then teenagers and off to uni in the blink of an eye. So how do you create a room that will take them from nappies to nightclubs without too many extensive (and expensive) makeovers? The trick is to keep it timeless while adding a few touches that are quick and inexpensive to change as your child grows.
1.   Timeless furniture
It's easy to fall in love with all the lovely items in the baby goods store. Who doesn't go ''Mwaaw'' looking at gorgeous little cradles bedecked in lace and ribbons, comfy rocking chairs and those ever so handy change tables. The trouble starts after about three months when bub outgrows the cradle and goes into the cot, followed a couple of years later by a toddler bed, then a single bed. Seems like an awful lot of money to have spent on sleeping arrangements for someone who, let's face it, seems to spend more time in the queen size bed than you do. Consider putting bub straight into the cot or hire a bassinet that doubles as a bath like the ones you use in hospital. When it comes to a cute toddler bed - forget it. Buy a good quality single ensemble that'll last until they leave home. As for the change table and child sized chest of drawers ... Before you know it, that feather-light bundle will be too heavy to lift for nappy changes, and their wardrobe will be larger than yours. Opt for a change pad that can be put on the bed when you need it and regular sized drawers that won't embarrass a teenager.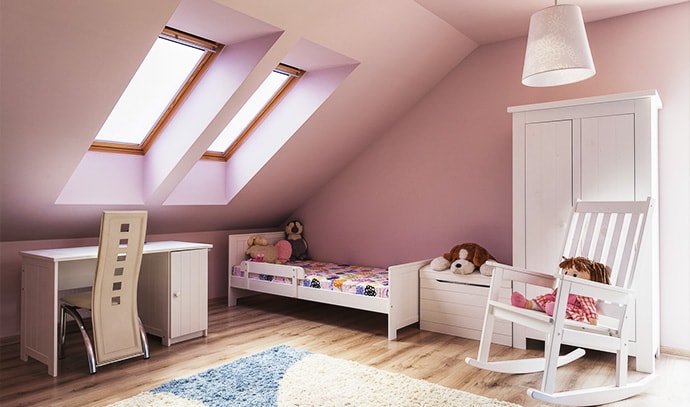 2.   Multifunctional Furniture
Furniture that can do double duty will more than earn its keep over the years. If you really want a change table instead of a pad, put the pad on a desk. Once the nappy days are behind you, your child has a desk ready for homework (they'll be in kindy before you know it). Similarly, keep the room clutter-free with a bed that has built-in storage underneath. You'll save floor space by not having toy boxes everywhere.
3.   Expensive equals neutral
Unless you have very deep pockets, floor coverings, furniture and paint are not things you'll want to replace too often. These are not the way to make a statement. Buy classic pieces that won't date and stick with a neutral colour scheme for the walls and floors. That doesn't mean you can't create the beautiful baby-themed fantasy room you've been dreaming about. See my next tip...
4.   Accessorise to your heart's content
Now go nuts. Use bed linen, wall decals, cushions, throws, knick knacks and anything else that strikes your fancy to create a bubby paradise. These things are relatively inexpensive to buy and can be changed easily. Check out Pinterest for inspiration and enjoy the process.
5.   A word to the wise
Before you know it that cute little bundle is going to be crawling, then walking. Most parents are hyper aware of child safety and the babyware store will have walls devoted to many useful devices. The hidden dangers often come from the sources you trust most. Magazines and online images of children's rooms created by stylists are a wonderful source of inspiration. But beware. These rooms often don't exist outside a studio or, if they do, they're decorated specifically for the photo shoot. Sometimes they may be images that have been styled and shot overseas and that have items that do not comply with Australian standards. The most frightening one I remember was where a huge plank of timber had a single coat hook screwed into it near the top and was leant against a wall in a child's room. A pretty little dress was hung from the hook. So cute. So impractical.
So dangerous! Lamps and night lights are also things to watch - especially if you buy online from overseas. Make sure these items are approved for Australian Standards (it should be on the label). Non-compliant electrical items can cause electric shocks and fires.
Back to top