indian-colored-fabric-shawls-tibetan-market-delhi
5 tips to get the Boho look
Phyllis, March 2016
Colourful, creative, unconventional and slightly dangerous. There's something endlessly fascinating about the Bohemian lifestyle. While few of us could entirely embrace the eccentric lifestyle, it's possible to bring a touch of its glamour and freedom into the home through our decorating style. Bohemian was originally the French term for Gypsies, believed to have originated from the Bohemian region of central Europe. Their wild, colourful itinerant lifestyle has inspired countless generations of artists and rebellious young people and become a decorating style in its own right. So just how do you get the Boho look? Think Gypsy meets hippie meets Marrakesh and you'll be on your way. Most of all, think for yourself, because being Bohemian is truly about letting go of convention and making your own rules. That said, here are a few hints to fire up your imagination.
STEP 1:
Take a chill pill
Or as my daughter tells me: "Calm your farm". You can't be uptight and have a Bohemian décor or you'll go crazy. This look is uber relaxed, shabby and cluttered. Forget what other people think – it's about what makes you feel good. Be warned that it takes courage to defy convention.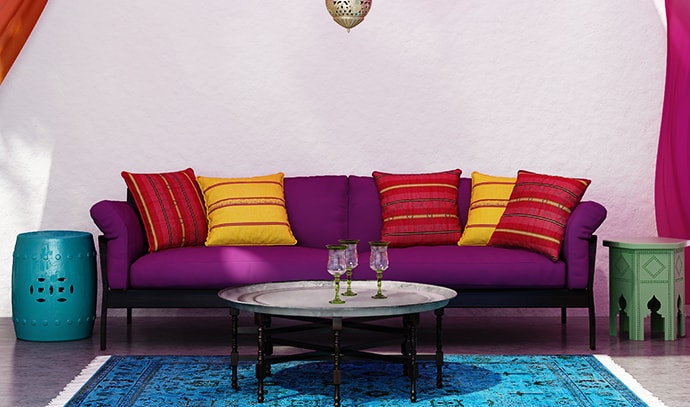 STEP 2:
Throw out the rule book
The style rule book that is. Forget what mum used to say about "blue and green should never be seen unless there's a colour in between", not to mention her strictures on coordinating colors and never mixing patterns. Be bold and, above all be abundant, which leads to our next step …
STEP 3:
Create a Sara Lee Danish
Remember the Sara Lee ad from the 70s where we learned that Sara Lee Danishes were made from "layer upon layer upon layer" of pastry? If you don't, click
here
. The take home message here is piles of soft comfy furnishings, including cushions and throw, layered effortlessly on the furniture, floor and hanging from every object in the room. The one thing I WOULD caution against is the practice of throwing a shawl over a lamp. It's a fire hazard and even though today's LED globes are cool to the touch, it's not a risk I'd be keen to take.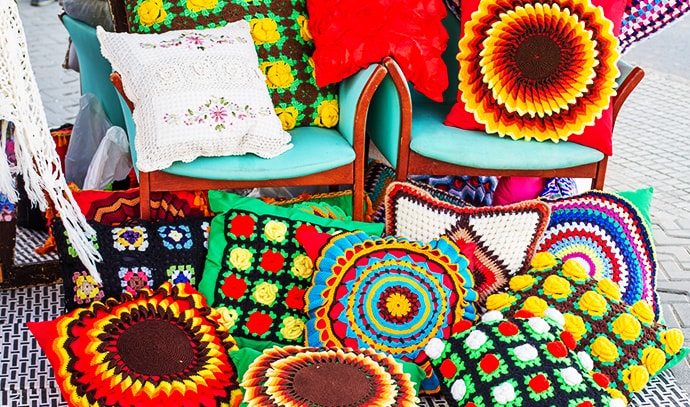 STEP 4:
Put your life on show
Stuff every space with the things you love: photos of family, friends and places you've been; items you've picked up everywhere from flea markets to art galleries, books and home wares. Life's short so enjoy these objects all day every day. The sky is the limit, here – think art, books, furniture, fabrics, pillows, sculptures, plants, lamps, or whatever else makes your heart sing with joy. Remember, you're trying to create a cozy space full of life.
STEP 5:
Forget perfection
Embrace the imperfection that is every one of us, nature and life in general. A great way to do this is to eschew factory-made cookie-cutter items and embrace the handmade – especially those gifted to you by family and friends. These things will evoke fond memories and create a feeling of joy and belonging.
Back to top