bozzy-shades-blinds-indoor-outdoor-swimming-pool
Top 5 questions to ask before you buy outdoor blinds
Dave Bozuwa, July 2016
If you are upgrading your outdoor space and planning to install outdoor blinds, make sure it's a good investment by finding a product in a style that suits your home best, is practical and operates easily, and will last for many years. With hundreds of companies to choose from it may be hard to know which option is best for you, so to help you out we have compiled a list of the top five questions to ask before you buy outdoor blinds.
1.   Should I choose motorised or manual outdoor blinds?
While both types of outdoor blinds will provide the shade and protection you require, there are other factors that can help you decide which will suit you best. The main difference between these motorised and manual blinds is how they are operated; motorised blinds are opened and closed electronically by a fixed switch or a remote control, while manual blinds are operated by hand through a crank system. Motorised blinds are especially suitable for blinds that are installed in areas that are hard to reach. Motorised blinds are the more convenient choice, but they are usually more expensive and you should look at your budget, outdoor area and your lifestyle to find the best solution between the two.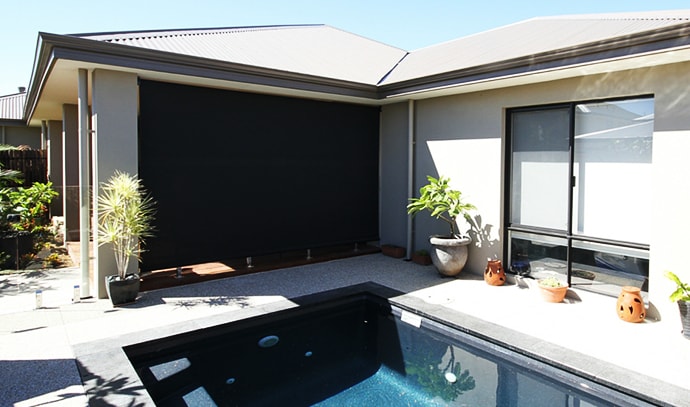 2.   What are the types of outdoor blind designs available?
Other than the option between motorised and manual outdoor blinds, most suppliers will have a range of outdoor blind designs available to choose from. The more well-known choices include HD channel blinds, crank and clip outdoor blinds and slide track blinds. HD channel blinds are popular outdoor blinds that are often used in patio areas of homes and businesses, simple but versatile crank & clip blinds are ideal for more challenging installations and areas, and slide track blinds can create an almost invisible and sleek appearance. Other outdoor blind styles include wire guide blinds, roof to fence blinds, and external window blinds.
3.   What are the different materials?
Most outdoor blinds are manufactured from mesh fabrics, acrylic materials and PVC's, and are usually available in a large range of colours, but greatly vary in quality depending on the manufacturer. The main features to look out for in good quality, outdoor fabrics are tight weaves that won't wear or tear easily, UV and fade resistance, and a high percentage of sun, rain and wind protection.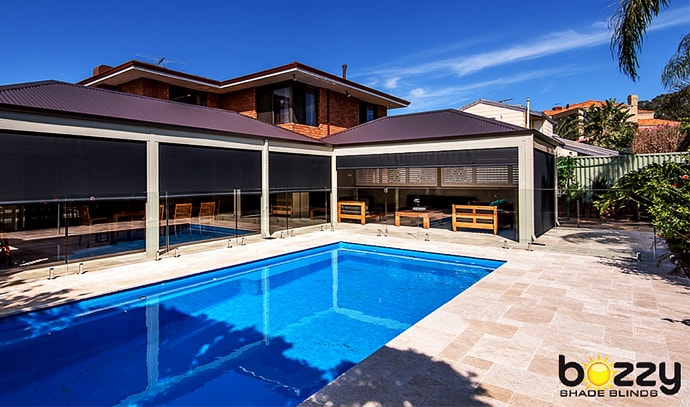 4.   What is the quality of the product?
A good quality outdoor blind system isn't only manufactured from quality fabrics, but will fit your outdoor area perfectly, function effortlessly and look great for years to come. Other than looking at fabrics, you should also speak to suppliers about their blinds' electronic and remote systems, the quality of operating system elements such as straps, cranks, clips and locking features, as well as their workmanship and installation process.
5.   What sets these outdoor blinds apart from the competitor's products?
Good quality outdoor blinds can be a great investment in your home's exterior that increases its value by adding comfort, aesthetic appeal and even a new room to your home.  Ensure that your investment is a solid one by choosing an outdoor blind supplier that will provide more than just quality outdoor blinds. Look out for factors such as a warranty on their products and workmanship, product customisation, and installation turnaround times. You can also ask to see examples of their previous product installations. Most reputable suppliers will be happy to show you photos of their previous projects.
Images courtesy of

Bozzy Shades Blinds
Bozzy Shade Blinds
has more than eight years in the industry, and is one of the most trusted suppliers of outdoor blinds in Perth. Their entire range of outdoor blinds and other products, including awnings, retractable roof systems and aluminium shutters, are custom made and installed by their experienced team to suit your preferences and outdoor area flawlessly. Bozzy's products are manufactured with only the highest quality material and their workmanship and majority of their range come with a five year warranty, to ensure that your outdoor blinds will endure our harsh climate and last for many years. For more information, visit
www.bozzy.com.au
or call 1300 800 234 today.
Back to top