christmas-decor-fairy-lights-cookie-jar-wood-sticks
10 magical things to do with fairy lights
Phyllis, March 2016
Strings of fairy lights are a sign that Christmas is on the way. But there are plenty of ways we can enjoy their magical beauty throughout the year. The great thing is you don't even need ready access to a power point. There are battery and solar powered lights that you can buy from stores including Spotlight and Target.
Add a bit of romance to your bedroom by stringing some fairy lights around the bedhead. You can also string them around the kids' bedheads to not only look pretty but act as a night light with their soft glow. Buy the battery powered ones and you'll know they're safe.
Still in the bedroom, fairy lights come in a wide range of styles, which makes them great for creating a themed bedroom for the kids. My eldest daughter wanted a music themed bedroom, so I used fairy lights that looked like tiny disco balls strung around the picture rail. My youngest girl wanted a "surfer girl" theme. I strung some multi-coloured round rice paper style lanterns (again battery powered) around the room from the picture rail and they added beautifully to the rest of the decorations and made a perfect night light.
Make your guests feel welcome by stringing solar-powered fairy lights around any trees or shrubs along the path or driveway.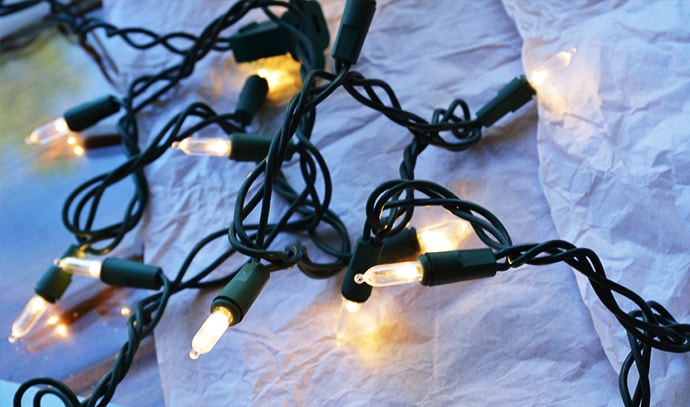 If you don't have a bedhead, add some glamour to the bedroom by draping fairy lights around a large mirror. The effect is even better if the mirror is standing on the floor and has a fairly plain and inexpensive frame. Ditto for a large mirror in the living room.
If you've ever watched the Twilight movie, you'll remember the gorgeous scene at the end where Edward and Bella dance in a romantic twinkling rotunda. If you have a gazebo or any type of garden shelter outside, use fairy lights to create a beautiful sparkling canopy. (Team Edward by the way!)
No rotunda? No worries! Set up a cosy little indoor nook by stringing fairy lights into a tepee over a pile of comfy cushions and snuggle up to read books, talk or watch a movie. Fun for all the family.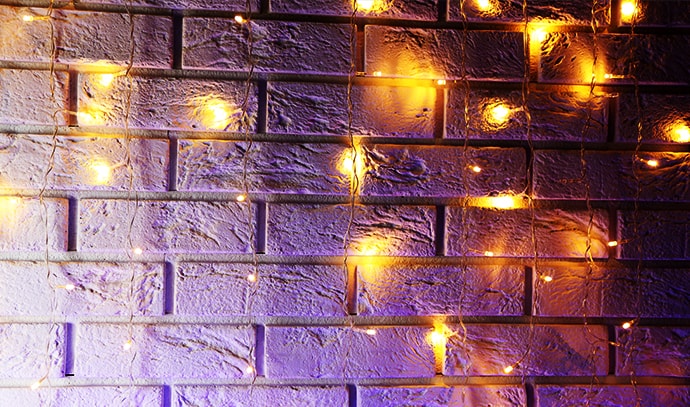 Brighten up your décor by piling some fairy lights inside a large glass jar or twist them through some of the painted bare branches in a vase that seem to be all the rage in interior decorating at the moment.
Fireplaces can look a bit dull through summer, but not if you pile some fairy lights into the hearth for some evening glamour.
Open plan living is handy, but if you want to create a more intimate atmosphere, hang strings of fairy lights from the ceiling to create a twinkling room divider.
If you've got an old timber ladder, why not wrap some fairy lights around it and place it against a tree, shed or fence that you can see from inside the house.
Back to top