boral-summer-adobe-pavers-in-charcoal-outdoor-seating
When it comes to pavers, grey is the new black
Phyllis, September 2015
THEY may not come in 50 shades, but grey pavers are still set to be a big hit with homeowners this season thanks to reality renovation shows like The Block. Mark Dell of
Boral
said the use of grey pavers in renovation shows like the Block was sure to make the popular this spring. "Grey tones can provide a sleek and modern look for broader landscaping visions,'' he says. ''The darker, neutral tones contrast with the earthy hues of timber decking or screening, and the greens and blues of surrounding garden and pool areas. "The finished look is visually interesting and allows the pavers to shine as a design feature in their own right. For added appeal and depth, homeowners can lay pavers in interesting patterns or combine different colours. As pavers are laid individually, the design options are endless." Mark says homeowners can use pavers in more than their traditional areas as pool surrounds and barbecue areas. ''Pavers can be used to add practical new design elements to the garden,'' he says. ''A path adds an access point to the home and can enhance street appeal, while a small paved pergola can create a reading nook or tranquil area for afternoon tea.''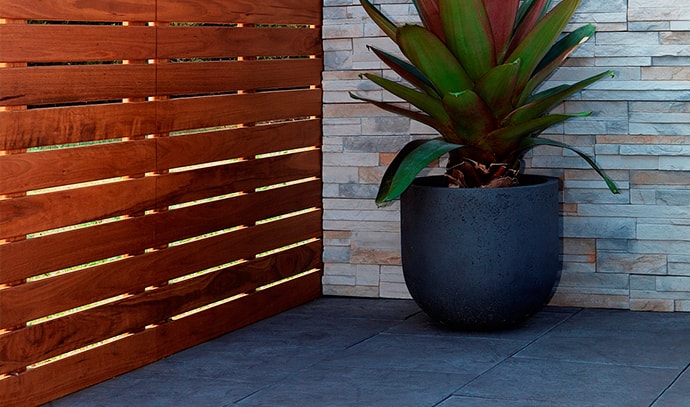 Use the following tips to create the perfect paved area in the garden.
Plan ahead
Before making any changes, draw a simple plan of the existing area and mark all the key points. Think about how the space will be used and pencil in your design ideas, remembering to account for paved areas, access points, landscaping, furniture and shade requirements.
Pavers for purposes
For driveways, use extra-strong, thicker pavers designed to withstand vehicle weight. Add a touch of style with a contrasting border.
Sense of direction
Direct traffic and reduce the amount of dirt carried into the home with a new path that encourages people to stay off the grass.
The art of illusion
Lay pavers in a stretcher bond pattern across the width of the path to create the illusion of more space.
Relax more
Add a paved area to reduce the size of the lawn and the time spent mowing. You may even be able to downsize the mower and line trimmer to one of the new lightweight battery-powered models like the Victa V-Force+ Lithium-Ion 16 inch lawnmowers. The V-Force + range is designed to be quieter, easier to operate, and offer longer lasting performance.
Increase living space
A paved outdoor living area topped with a pergola and finished with outdoor furniture can help to create a functional space for the family.
Pool perfection
Pave poolside areas so they blend into the adjoining patio to create the illusion of more useable space. Choose bullnose pavers for a smoother finish around pool edges, and remember to seal pavers to protect them from salt and chlorine damage.
Back to top