happy-family-roast-chicken-dinner-table
How to transform pokey rooms in to a multifunctional living space
Joe Snell, November 2017
Architect and home renovation expert Joe Snell, who has already shared his
living room design tips
with HomeHub, shows us how to create a cohesi e, multifunctional living space – and happily co-exist with our families through the clever use of zones.
Extended living
For many families, the preference is for the kitchen, dining and living room to be together as part of the same larger space. When you see this working well and in action it is very cohesive to conversation and keeping a family together and happy. So, as an architect, I tend to think of a living room as a room with as few walls as possible. To make a great living room I often borrow from the spaces/rooms beside it. For example, create some big doors and windows to the garden, so that the living room feels as if it extends into the outdoors. Or design the hall so that it is partly in and partly out of the living room, so the living room has a connection to the rest of the home. It makes sense to me to combine the uses of different areas into one large room – you get a larger room and therefore a better sense of a bigger and more valuable space for your money. For me, it's better to have one large multifunctional space than a series of pokey little rooms; it always feels better to walk into a bigger room than a little room. Many centuries ago in our homes we all lived, slept and ate in the same space. It was highly efficient to have everything in one room. It was only with the development of social hierarchies that our homes changed: the upper classes had servants and separate discretionary spaces that could be serviced by the extra help. Dining rooms, drawing rooms, libraries, studies and embroidery, writing and smoking rooms were all made possible by an elite who could afford extra help in their abodes. Of course, these extra rooms became associated with status and the trend filtered down through society. By the twentieth century, many middle-class households aspired to a separate dining room, despite the fact that it added so much cost and maintenance time to a household. I remember when I was growing up my mother always refused to live in a house with a separate dining room: it made her feel like a servant. She insisted on being part of the conversation, not stuck in a separate kitchen, so she demanded that the kitchen and dining area be part of the larger living space. It seems perfectly natural now, but it was a pertinent issue back then. Today the baggage of these separate rooms is slowly disappearing and we are going back to where we started: one major room for the functions of preparing meals, dining and hanging out. In the homes I am asked to design now, we try to create ancillary spaces to that major living space to allow for other activities, such as a train set, study nook, or just a space to get away from the family and return to the main room later on. Ideally, you should be able to hear and partake in the conversation at the dining table when you are in the kitchen. That way you'll avoid those awkward dinner parties where everyone ends up standing around the kitchen sink because the scale and proximity of kitchen to dining room is not correct and everyone has drifted away from the table. [caption id="" align="alignnone" width="690"]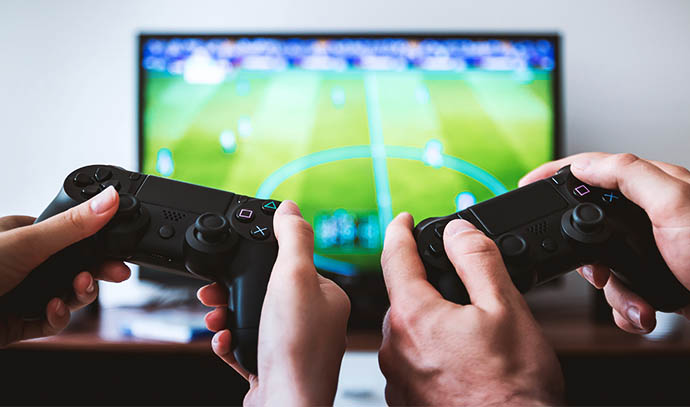 Consider moving the television out of the major gathering space into its own room. It doesn't dominate the experience of everyone else.[/caption]
Together apart?
Having said all that, I sometimes get very detailed and considered briefs from families who insist on more separation of their spaces. This often becomes more prevalent as the kids grow into teenagers and there are different activities and needs going on under the same roof. It is important to drill down in these situations to find out exactly why the separation is needed. It might mean something as simple as moving the television out of the major gathering space into its own room so that the one TV viewer doesn't dominate the experience of the other family members. What separation is required? Is it acoustic or visual privacy? Flexible screens can make a big impact on visual privacy, while acoustic privacy is more difficult – unless the solution is headphones. In bigger houses separation is not an issue because there are just more rooms that can be dedicated to different uses, and you will still have a bigger space to gather in. However, in smaller homes it is difficult to create permanent separation without also reducing the opportunity to gather. In my opinion, the best sense of gathering is around meal time, so as long as the space supports that you can afford to have more separation in the rest of the home. [caption id="" align="alignnone" width="690"]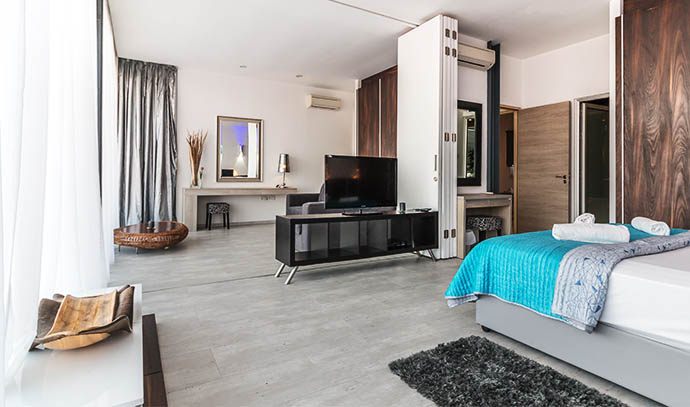 Draw the bifold doors across, turn the sofa into a bed and suddenly you have a guest bedroom.[/caption]
Screens and separation
While there are many advantages to open-plan living, you sometimes do just need some separation from other people. Consider moveable flexible screens that separate an area. There are many great built-in options, such as sliding walls and doors, with different levels of opacity and acoustic separation. Also available are bifold screens that can be bought at your local furniture store and joined together to become larger. Often we design a room that is an extension of a major living space and has doors hidden in, or against, a wall. Quickly you can draw the doors across, turn the sofa into a bed and suddenly you have a guest bedroom. The beauty is that this temporary bedroom makes your living room bigger every day that it isn't being used as a bedroom. [caption id="" align="alignnone" width="690"]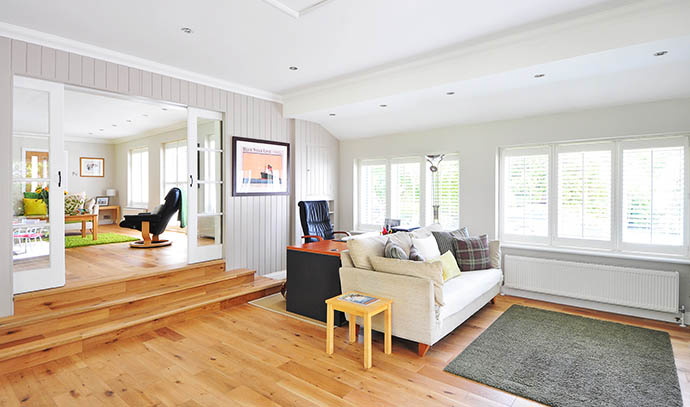 You can make a space feel special by raising it up and putting it 'on a pedestal', or sink an area down to make it more cosy.[/caption]
Level change
In a large open-plan living area you need to define zones, whether through placement of furniture, change of materials, level changes in the floor or ceiling, or through screening. Without clever zoning, it will end up as one big bland space. One of the most important tools of an architect is the level change; this can mean changing the floor level up or down, or doing the same with the ceiling. You can make a space feel special by raising it up and putting it 'on a pedestal' – this is often done with a dining area, to separate and lift it above the main living space. You can also sink an area down to make it more cosy and special. A sunken lounge is an opulent area, especially if you include a fireplace in it. By raising and lowering a ceiling, you can clearly define different areas in an overall space – drop the ceiling down over a dining area or raise it up to make a living area feel bigger, particularly if it lifts to let in light.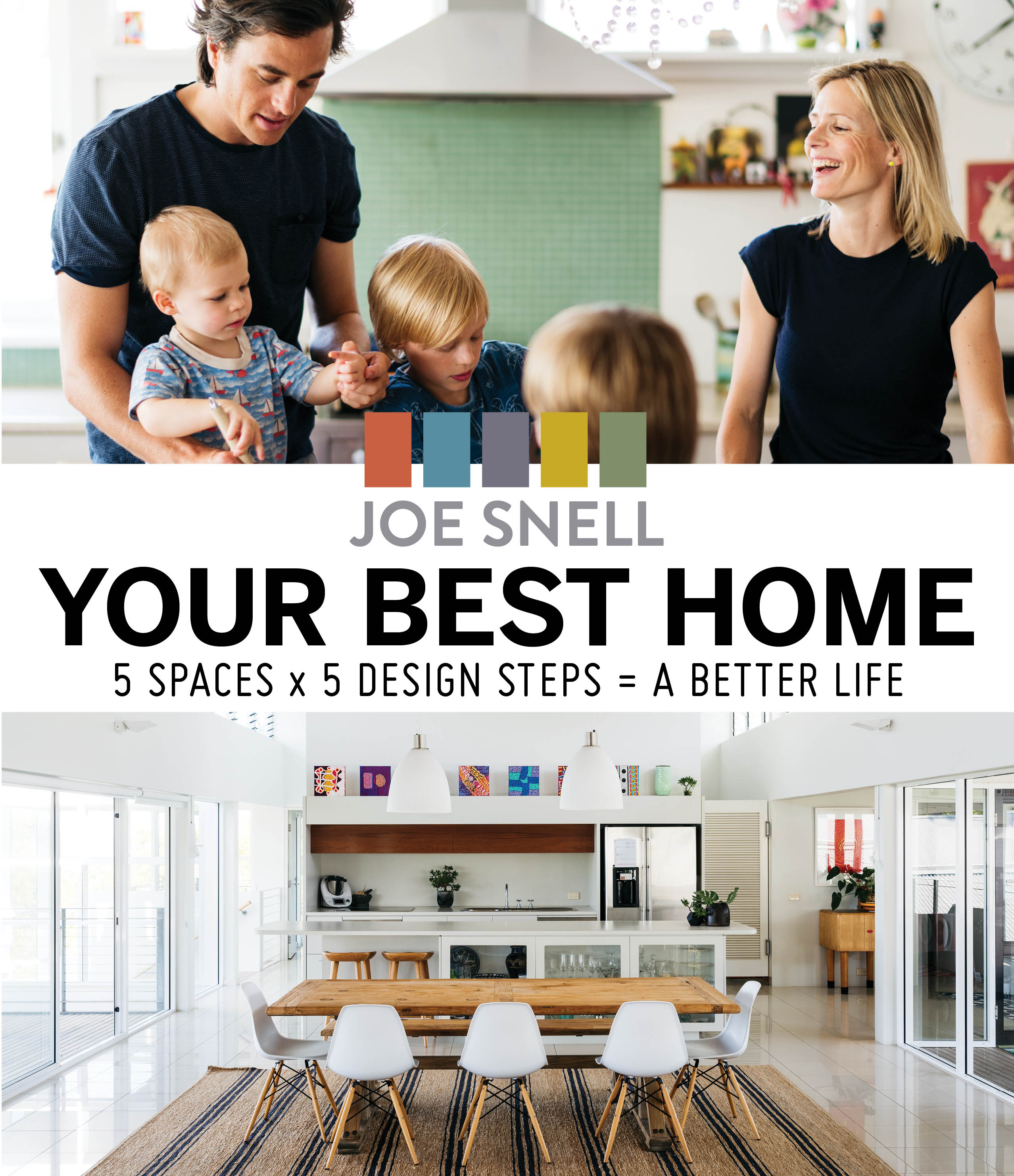 Images from
Your Best Home
by Joe Snell (
Murdoch Books
, RPR $39.99). Photography by Phu Tang.
Back to top