dishwasher-cleaning
Top tips to spring into spring cleaning
Phyllis, September 2015
It's spring, which means the countdown is on to the Christmas entertaining season. Before we know it, hordes of visitors will start to descend en masse, so now is the time to ensure the house and garden are in tip top shape to receive them.
Awesome organising
Take three washing baskets and label them: throw, rehome and keep.
Choose one do-able task at a time (e.g. pantry, laundry cupboard, wardrobe, fridge).
Systematically work through that one task. Do not, under any circumstances, haul everything out at once or you'll end up with chaos and a job so monumental you won't know where to start (so you won't).
Work quickly and methodically and don't get bogged down in the minutiae of "micro sorting" (e.g. sorting the toys into separate piles such as trucks, Lego, blocks and action figures). The micro sorting is a task for another day.
Once everything is sorted into the baskets, take the basket of stuff you're going to throw out and head straight for the bin. Throw it in without a second glance.
Use some plastic bags or small cardboard boxes and divide up the stuff to be rehomed depending on whether it's headed for the charity bin or a particular friend or family member. Label the bags or boxes and put them in the boot of the car to be taken to their new homes asap.
Grab a pen and paper and look at what you're keeping, write down the categories you can sort them into. In the case of a toy cupboard: Lego, blocks, action figures, animals, cars, games and "stuff". In the case of a laundry cupboard: batteries, candles, light globes, shoe care, rags, essential oils and odds & ends. Label the containers, put everything away and you're done.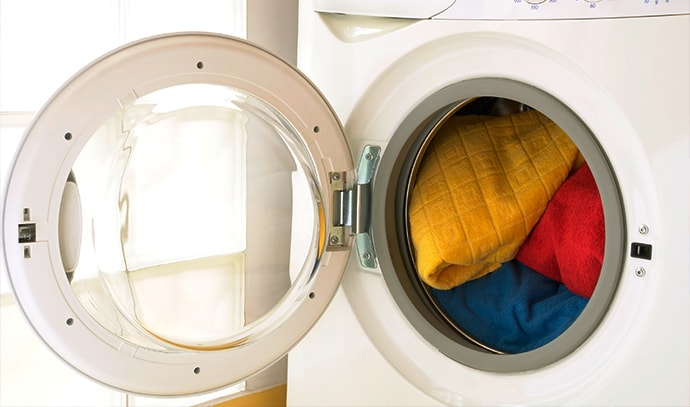 Fabulous fridges 
Turn off the power and empty all the contents, throwing out anything that's out of date.
Remove all the shelves and drawers then wipe down the inside of the fridge using two tablespoons of bicarbonate soda dissolved in one litre of warm water. Soften up hard, crusty stains and spills by laying a warm damp cloth or paper towel on top. Use an old toothbrush to clean those tricky crevices in the seals and corners.
Wash the shelves and drawers with the same solution of warm water and bicarbonate soda.
Wipe down any containers, jars and bottles before replacing them in the fridge.
Clean the outside of the fridge using the same bicarbonate soda and water mixture for an enamelled surface, or a few drops of baby oil on a soft cloth for stainless steel.
Vacuum the dust from the fridge coils to ensure the fridge continues to operate at maximum efficiency.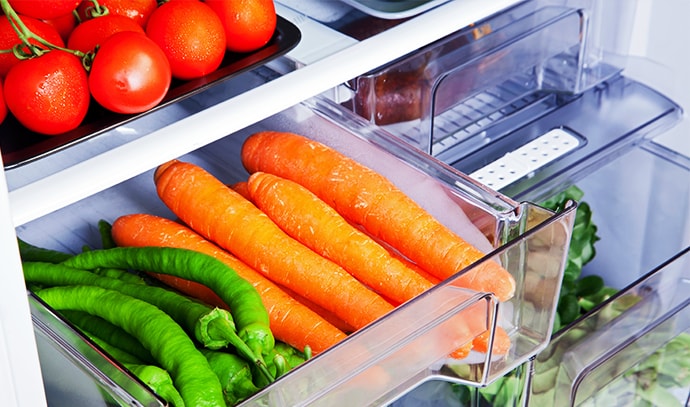 Overwhelming ovens 
The easiest method is to fill a baking dish with hot water and place it on the bottom oven rack. Turn the oven on high and let it simmer away for 30 minutes.
Remember to keep an eye on things through the glass to make sure the dish doesn't become empty. Top it up only if you have to, because if you open the door, the steam will escape. The steam clean will loosen all the grease and grime build-up. After half an hour, turn the oven off and allow it to cool down. All that's left to do is use a damp cloth and wipe everything away.
If you still don't feel the oven is clean unless you've scrubbed it, try mixing bicarb soda with water to make a thin paste. Wipe it over all the oven's surfaces (except the elements) and leave it to dry for a few hours. Then simply wipe it all away with a damp cloth.
If you prefer a store-bought solution, give Gumption a go. It's a gentle paste that will get most surfaces clean.
Piles of paperwork
Set up a mail station. A small table near the entry door with an "in" tray.
Buy a vertical file organiser (I like a clear plastic stepped letter organiser) and manila folders or (better) A4 plastic wallets.
Label each wallet or file "To File", "To Action" and "To Read".
Buy a clear plastic A4 wallet that is divided into several sections.
Label each section "Receipts", "Prescriptions", "Vouchers" and "Invitations".
Place each day's mail in the "in" tray and make a time to open it. (It will only take a minute if you do it every day.
Immediately sort the mail into the appropriate folder depending on whether it needs to be filed, actioned (e.g. bills to be paid, school notes to be signed) or read.
Receipts, prescriptions, vouchers and invitations can be filed in the plastic wallet. (I've never lost a prescription, party invitation or gift voucher since using this system.)
One day a week go through each folder and deal with the paperwork then dispose of it or file it as appropriate. Alternatively, you could deal with one file on Monday, one on Wednesday and one of Friday.
You could also try to have as many of your bills and other mail delivered by email. (Many banks and utility companies offer this option.)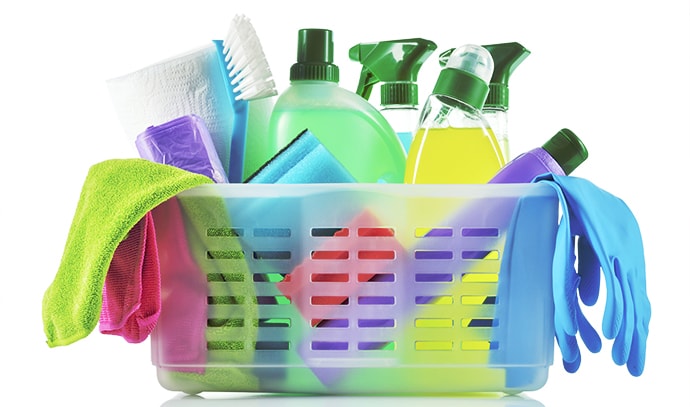 Beautiful barbecues
Baking soda. A highly undervalued item in the pantry, it can remove odours, lift stains and can also help to clean a barbecue grill. Simply sprinkle dry baking soda on a damp brush and scrub! Voila, the baking soda will eat through the grease leaving your barbecue shiny and new.
From bathroom germs to barbecue grime, full-strength white vinegar is pungent on the nose, and on the grease. Spray a generous amount onto the barbecue hot plate and wipe clean with a damp cloth. To avoid the nasty smell lingering, simply rinse with warm water.
Yes, you heard right. Now you no longer need an excuse to crack an early beer. Use half a can of beer over a pre-heated hotplate and scrape the plate with a wire brush or rub down with paper towel and newspaper once it's cooled enough to touch. Watch as the grime wipes easily away to reveal a beautifully clean grill.
Believe it or not, lemons are useful for more than just making lemonade. Grab a couple of good sized lemons and cut them into halves. Heat the grill up and dip the exposed flesh of the lemon into a dish of salt. The natural acidity of the lemon combined with the abrasiveness created by the salt will sterilise the grill in seconds.
We all know that cleaning the barbecue as soon as you've finished cooking is the best time to get on top of the grease, but when the enticing smell of freshly cooked meat is calling, this important task can often get forgotten. Instead, fill up a metal baking tray with water and place over a burner at a low heat (the remaining burners should be off). Close the lid and enjoy your meal. When you have a moment to step away from the guests simply head back to the barbecue and slowly lift the lid. The steam will loosen the built up gunk and make the clean up a breeze.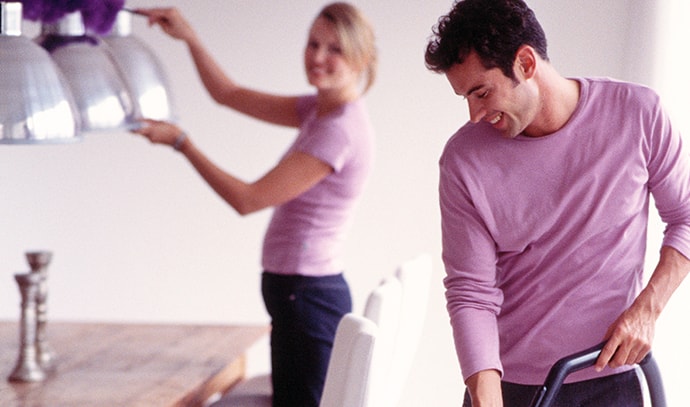 Pretty pavers
Leaves and other materials like oils and food from barbecues can stain or discolour pavers if they are allowed to remain in contact with the surface for prolonged periods. Concrete segmental pavements can be routinely cleaned just like any other pavement however; precautions must be taken during the very early life of the pavement to avoid removing the jointing sand during cleaning operations. For the first three months, pavements should be cleaned with soapy water and a stiff broom after which time pressure cleaners can be used.
Maintain the jointing sand to protect the pavement's structural integrity. Check pavers for small, localised problems and repair them promptly – this can help you avoid having to undertake major maintenance of large areas. One of the many advantages of segmental paving is that individual pavers that become chipped or damaged can easily be picked up and replaced.
Sealing your pavers at the beginning of the project can help preserve the colour and surface of the pavement as well as guard against chipping or dulling, particularly during extreme weather conditions. The sealant maintains the brightness of the paver surface. You can re-seal a paved area every few years if necessary.
Perfect pressure washing
Start with a wide spray pattern and hold the nozzle about a metre from the surface. Move closer until the desired effect is achieved
Keep the nozzle in motion, spraying at a steady speed with long, even strokes
Maintain a consistent distance between the nozzle and the cleaning surface to prevent "tiger stripes"
Spray pressure washer cleaning detergents when cleaning heavily soiled or stained surfaces; let it work its magic for a few minutes and then spray it down in high pressure mode and enjoy the results
Try brush attachments or a turbo nozzle to help remove stubborn dirt, grime and stains
Remember to squeeze the trigger after turning off your machine. Leaving a machine under pressure after use is one of the most common causes of faults and breakdowns, so make sure you squeeze that trigger after you've finished and you'll be pressure washing for years to come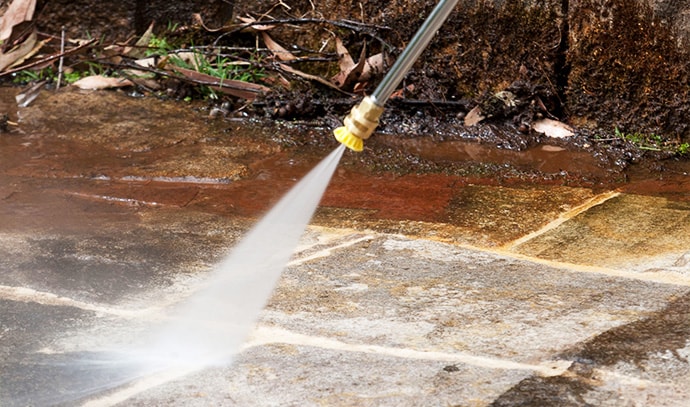 Back to top