adairs-home-republic-bed-linen-osperey-quilt-cover
Snuggle up with the latest doonas and throws
Phyllis, May 2016
It's getting cold and that means one thing: it's time to rug up with fur - faux fur that is! Not only is it on-trend, it's versatile, functional and absolutely fabulous! Adairs is crazy about faux fur this season. They've got a range that's guaranteed to keep you snug and warm this winter. Layer your throws for extra style that will not only create a cosy look within your space but make you feel ultra feel luxurious when you're all rugged up. It's also a great time to clear out your linen cupboard of old blankets. Give them to charity and help keep someone else warm this winter.
Thrilling throws
The Adairs
Montana Fur
throws and cushions are the more lifelike throws in animal patterns with coloured tips and both long and short pile finishes and exceptional quality.  The
Grey Wolf
short pile is one of the company's most versatile and popular, with silver-grey tones performing very well this season.  The
Alpine Fur
throws and cushions are new this season and have done very well with the long piled lovely dusty pink a definite winner.
Montana Fur throw $159.95 & Montana cushions $59.95 Alpine Throw $159.95
Quality quilts
Quilts of course hit their stride at this time of year as things cool down, and Adairs has seen a strong increase in the popularity of its
White Goose Down
range of quilts in the
Downtime
range (
Supreme Quilts
,
Opulence Quilts
and the luxury
Ultimate Siberian Goose Down Quilts
).  Many feel that goose down offers the cosiest option in quilts, as it is light and warm but also bulky and puffy.  The higher the percentage of goose down, the lighter and warmer the quilt will be, giving you the sense of sleeping under a warm and cosy cloud!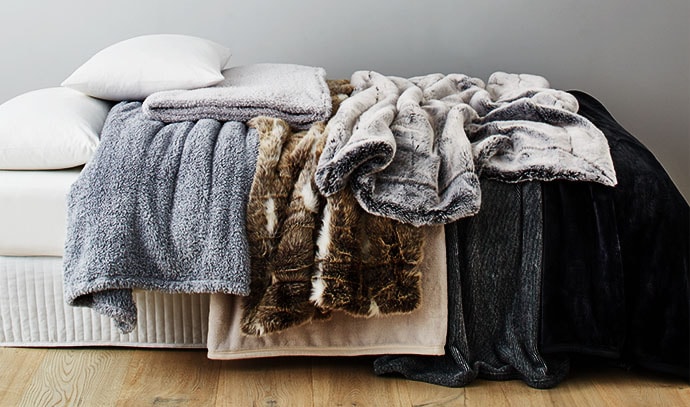 On the other side of the spectrum is the wool quilt range from well-known Australian made brand
Mini Jumbuk
.  Wool is well regarded as a very healthy sleeping partner, which helps to maintain body temperature and to dissipate moisture into the air so that you don't overheat.  Adairs'
Mini Jumbuk
quilt range has five different styles ranging from a luxury
Ultralight
summer wool/cotton quilt all the way through to the heavy weight
Thermal
for the cold blooded.  Wool quilts are a little on the heavy and flat side compared to down, but are very popular and offer a great night's sleep.  Adairs' most popular
Mini Jumbuk
quilt is the
Everyday
quilt, which seems to offer the best all round experience for most people with its level of warmth and comfort in a medium weight.
Downtime Queen Quilt Starting from $399.95 Mini Jumbuk Queen Quilt Starting from: $439.95
Awesome alpaca
There's nothing like an alpaca wool jumper for softness and warmth, so it makes sense that Adairs has added an
Alpaca Quilt
to it's
Downtime
wool range. The quilts are made from the finest Alpaca fibre from Peru, and encased in a cotton sateen. This medium weight quilt will be warmer than most wool quilts as Alpaca wool is a hollow fibre that traps more air than regular sheep's wool.  It is also a softer fibre, and drapes very well. Alpaca wool has similar properties to sheep's wool in that it has a wonderful ability to transfer moisture away from the body during sleep, and helps maintain body temperature. Its lightness and softness also make it a popular option for those that feel wool is too heavy on them when they sleep.
Alpaca quilt RRP: Queen $499.95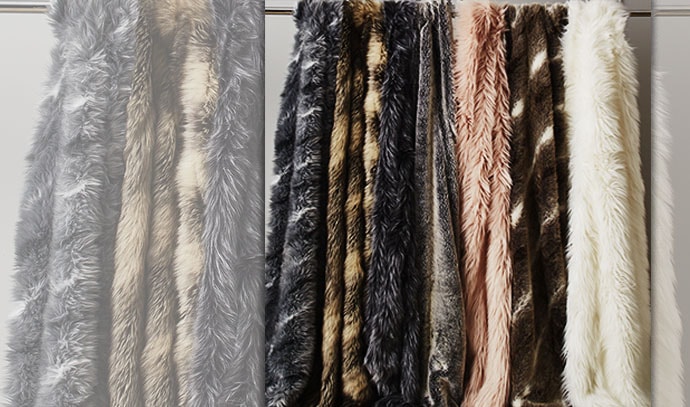 Keep it clean in green
Of course, having invested in some lovely warm quilts, the next step is to ensure they stay clean. Adairs' Home Republic bed linen
Osperey
range quilt cover has a triangular quilted design that creates a luxurious, textured look and feel within your bedroom. It has hints of green and mint within various patterns and a solid piped trim, which makes it the perfect gender neutral design for your winter bedroom.
RRP:
Queen $229.95 [alert style="alert-info" dismissible="false"]
5 things to consider when choosing a doona:
1.    Feel the cold?
If you feel the cold, then feather and down doona is one of the best solutions. Down has the highest fill power of all fillings available, so look for one with a higher percentage of down to provide absolute comfort. Wool is another favourite for those who get cold easily. It offers a heavier weight and the insulating qualities will keep you warm while allowing your skin to breathe.
2.    Hot blooded
Natural fibres are a great solution for those who feel the heat or live in a warmer climate. Natural fibres will absorb any moisture and keep you cool as you sleep. A cotton doona/quilt is a great lightweight option. Other fibres to consider are tencel or bamboo, which are very absorbent and have a luxurious feel.
3.    Allergy sufferers
Synthetic fabrics (microfiber and polyester) are better for those who suffer from allergies. Good quality synthetic fibres also keep you dry, as they "transport" moisture away from the body. These types of doonas also tend to stay light.
4.    Consider the weight
There are different weights in doona ranges, there are even winter and summer weight doonas. So consider whether you want a lightweight one or one that's heavier. That obviously also depends on whether you feel the cold or are more hot blooded.
5.    Maintaining your doona
Doonas build up dirt, dust, dead skin cells and dust mites as time progresses. So it's important to regularly air your doona in the sunshine to keep it fresh and avoid dust mite infestations.
[/alert] For more information, visit:
www.adairs.com.au/homewares/throws-bed-runners
www.adairs.com.au/bedroom/quilts
www.adairs.com.au/stylist-picks/linen-lovers-exclusive-bedlinen-offers/home-republic/ospery-bedlinen
Back to top