young-girl-risking-accident-with-pan-kitchen
How to prepare a first aid kit for your home
Veda Dante, April 2018
Do you know what to do in an emergency? Can you confidently provide CPR or first aid for an injured person in your home until help arrives?
St John Ambulance Australia
 and the 
Australian Red Cross
 sell a wide range of first aid kits. You can also find them at some service stations, chemists and motoring organisations. [caption id="" align="alignnone" width="690"]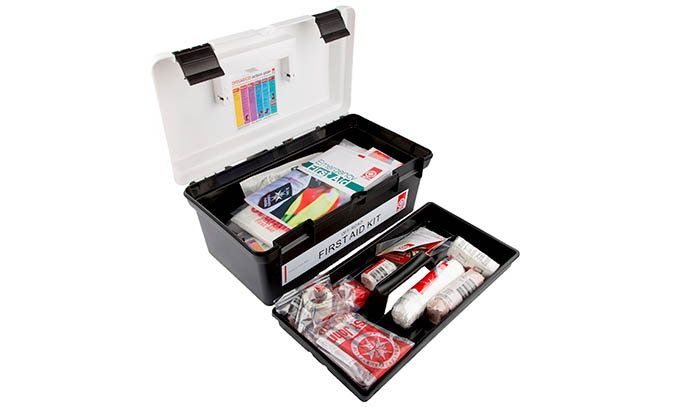 St John has a variety of first aid kits to meet your lifestyle needs and budget. Image courtesy St John Ambulance WA.[/caption]
Is your first aid kid properly stocked?
This basic kit from
St John Ambulance
has all the essentials required to administering first aid to someone who is injured. The kit contains:
1 Conforming bandage – 5cm x 1.5m
1 Triangular bandage – 110 x 110cm
1 Sterile wound dressing – No.15
1 Hypo-allergenic tape – 1.25cm x 9.1m
1 Adhesive strips (pk 50)
2 Antiseptic skin preparation swabs
1 Gloves nitrile disposable – large (pk 2)
1 Forceps stainless steel – 8cm
1 Disposable scissors
1 Pack safety pins – assorted (pk 12)
1 Plastic bag resealable – 100 x 180mm
1 Plastic bag resealable – 150 x 230mm
1 CPR Card – 85 x 55mm
1 First Aid Quick Reference Guide
Also check out the
Family First Aid Kit
packed with 43 supplies which is recommended as a must-have around the home. There are also dedicated kits for
pets
,
toddlers
,
bites and stings
, and
burns
. [embed]https://www.youtube.com/watch?v=xbfi5dMNQ6I[/embed]
How do I customise my kit?
As
Health Dire
c
t
explains, once you have assembled a basic first aid kit (see below), you can customise it according to its intended use. For example, if it is:
For use at home, add extra items according to the number of people in your home and their age, such as thick crepe bandages if you have older children who play sport or for use as a pressure immobilisation bandage
For the car or caravan, add a highly reflective (day/night) safety triangle and vest as you may be near a road and traffic
For camping, add heavy crepe bandages, instant cold packs, disposable poncho, plastic bags, whistle, compass, torch and glow stick
For use on a boat, add a disposable poncho, plastic bags, whistle and glow stick. If you are boating in waters where marine stingers are present, include vinegar to pour over potential stings
For babies, add extra items such as a digital thermometer, basic pain reliever medications (such as paracetamol or ibuprofen) and plastic syringes for accurate dosing
For known medical conditions, add extra items, such as medicines and or equipment you normally use to manage the condition.
[embed]https://www.youtube.com/watch?v=7FcPmSOYYuk[/embed]
The Most Important Thing
Responding to research that only 2 in 10 people in WA did any form of first aid training in 2015, WA Ambulance Service, St John, produced an emotionally-charged first aid campaign that "focused on all the things you can know, and take for granted about someone in your life, while never learning the most important thing – how to save their life." For 125 years, St John offers a range of
nationally accredited courses
as well as shorter, non-accredited training options – meaning there's an option for everyone, no matter what your reason is for learning first aid. Learn the essentials to keep your family safe with a
Caring for Kids
course or keep your first aid skills up-to-date and top of mind with a
First Aid Refresher
.
Australia Wide First Aid
also offers
courses in 18 locations around the country
in general first aid training, specialised CPR, asthma and anaphylaxis training.
Back to top