ecosmart-outdoor-base-fire-feature-waterco-magic-ball-floating-pool-lights
Outdoor lighting advice
Lisa Shearon, November 2016
Good outdoor lighting is integral to the success of an external living space, able to transform it from a dull, drab and unusable area to an inviting 'room' that can be used around the clock and around the year. Increasingly, building designers and architects are bringing the outdoors in and treating alfresco areas as an extension to the home. As a result, outdoor lighting has moved from lights being purely functional to something that complements the exterior design of the home and creates much-needed ambience. For maximum effect, use light layering, which is a mix of ambient, task and accent lighting. [caption id="attachment_6422" align="aligncenter" width="690"]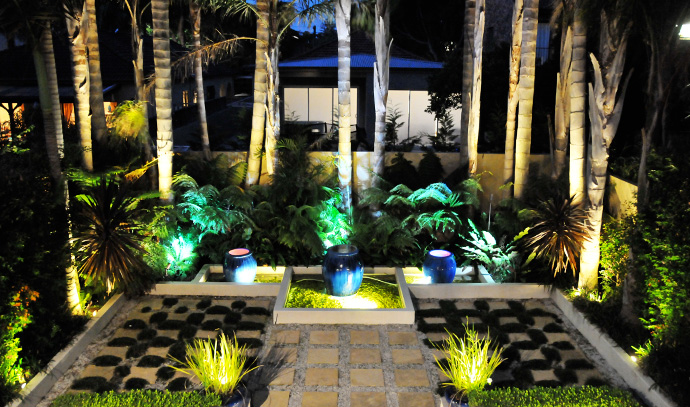 Highlight outdoor features such as water features, sculptures and specific plant species with accent lights. Image courtesy of Limelight.[/caption]
Ambient lighting
Ambient lighting should light up the entire space – for instance a ceiling light, spotlight, downlights or wall lights.
Task lighting
Task lights light up areas where you need illumination – over a dining table, for instance, or the barbecue.
Accent lighting
Accent lighting highlights architectural details and illuminates landscape designs. This type of lighting adds the "magic" to outdoor areas by highlighting the features you want to emphasise – for instance festoon lights and Japanese lanterns. [caption id="attachment_6423" align="aligncenter" width="690"]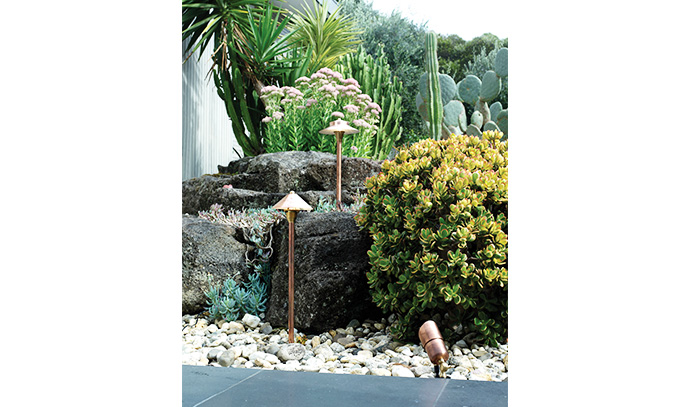 Strategically placed bollards and spike spots highlight special garden features. Image courtesy of
Beacon Lighting
.[/caption]
Light up
When it comes to design trends, there has been a strong movement toward LED in-ground up-lights and stylish bollards. In-ground uplights are used to set off vertical structures in the architecture and help to create a more dramatic mood with light and shadow. The design of bollard lighting has evolved over the few years, with more emphasis placed on their appearance rather than plain orientation light. Look out for LED bollards that conceal their light source from view to emit an indirect light. [caption id="attachment_6420" align="aligncenter" width="690"]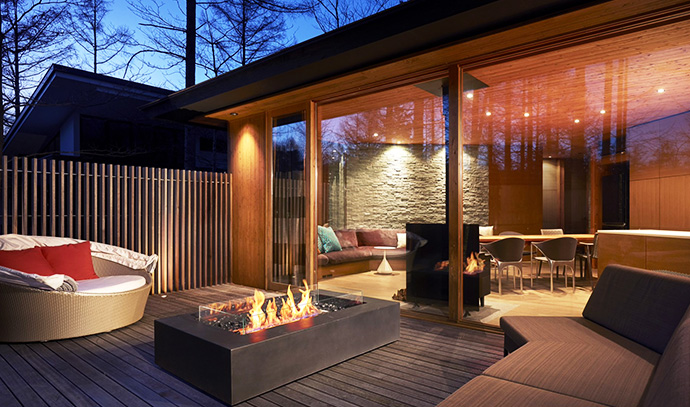 EcoSmart's
Wharf fire feature
blends the simplicity of an outdoor fire pit with the functionality of a standalone table.[/caption]
Back to nature
Outdoor lighting is going back to nature, with finishes that represent the dry Australian outback – think charcoal, white and the 'on-trend' rust finish. The rust, white and charcoal colours complement houses that incorporate timber, as well as the stacked stone features of their exteriors. [caption id="attachment_6419" align="aligncenter" width="690"]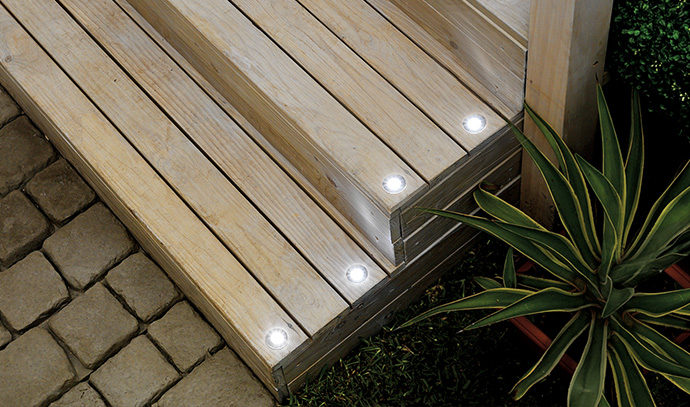 HPM's
LED deck and step lights
are made from durable stainless steel and plastic.[/caption]
Built to last
As well as looking good and providing light, exterior light fittings need to withstand the rigours of the harsh Australian climate. The combination of elements such as wind, sun, pool chemicals and salty air mean that the metals and finishes used in the manufacture of your exterior light fittings should receive special consideration. To ensure the longevity of your outdoor lighting, look at the IP (ingress protection) rating of the fitting, which rates its resistance to water and dust particles as well as water submersion. Also look at your home's proximity to the ocean or river. If you are within 1km of either you will need a high IP rating on all outdoor fittings, as the salt in the air will more quickly erode the light fitting. Working with water and electricity can be hazardous so avoid potential problems by using a licensed electrician to install your outdoor lights. Check that components are weatherproof and suitable for outdoor use before you buy, and report product malfunctions immediately to the manufacturer or seller. Top image: Create captivating lighting features with EcoSmart's outdoor
Base fire feature
and Waterco's
Magic Ball Floating Pool Lights

.
Back to top