aqua-aerobics-equipment
The latest gadgets to help you get fit in the pool
Katie Adema, March 2016
Australians are a water loving folk – whether its water skiing, surfing, body boarding, sailing, diving or swimming, we love getting active in all forms of water. Swimming and other water sports/activities have been proven to improve fitness and health in more ways than one:
Great cardiovascular exercise to improve functioning of heart, lungs and circulation
Year-round exercise if the water is heated
Easy on joints, low impact exercise
Water provides resistance to tone and strengthen muscles without excess strain
Perfect exercise to build endurance and general fitness
And why settle for something as ordinary as endless laps up and down your backyard pool when you could incorporate some cool gadgets into your water exercise?
Modern movements
Current generators are one of the latest additions to water sport technology - they are a particularly perfect investment for anyone that is short on space, as they can be installed in pools no bigger than a standard spa to increase the functionality. Current generators can be installed into an existing pool, or bought with all components included, such as filter, lights, jets, heating, controls and water generator. Check out
Fastlane Pools
for some great options! These current generators can be adjusted to provide as little or as much resistance as you want, which means you can have complete control over the intensity of your workout. Move the resistance up and down during your swim to really feel the burn!
Water treadmills are another form of waterproof exercise technology that are growing in popularity. Developed for injury rehabilitation, these devices are now being used by all kinds of people to improve their health and fitness. Underwater running or walking workouts can be done in the form of steady state cardio, keeping a constant steady pace for an extended period of time, or in intervals, switching between slower and faster speeds for fixed time periods. Both provide wonderful health benefits and resistance provided by the water is conducive to extra energy expenditure and muscle tone. Some brands of water treadmill even come with an underwater video system that allows you to correct your running or walking technique!
Traditional training
Who says you need fancy equipment to get fit in your pool? Traditional pool accessories that you may remember from your childhood like kickboards and floatation devices can actually be extremely useful tools for getting fit. Kickboards are great for cardio exercises, while small floatation devices like noodles or rings can be used for core exercises, resistance training for arms and legs, or for improving balance.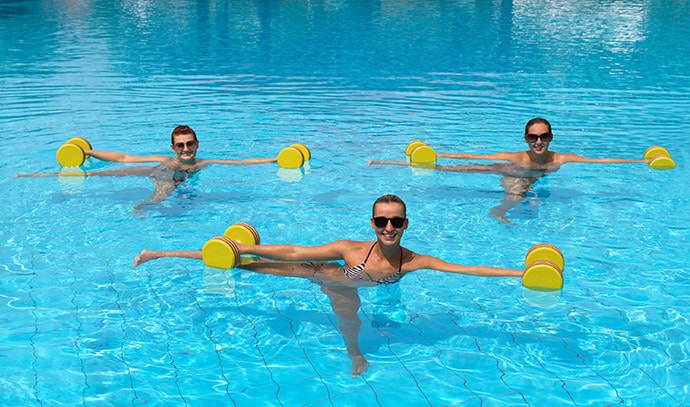 [alert style="alert-info" dismissible="false"]
Move it
Get motivated to exercise in your pool with some energising music! While your favourite tunes may get you pumped and feeling good, don't bother the neighbours by blasting them from your home's sound system - head to your closest swim store to check out their range of waterproof sound systems so you can even listen underwater. [/alert]
Back to top