dan-kitchens-iron-moss-rustic-brown-kitchen-benchtop
Kitchen trend update: porcelain benchtops
Katie Adema, April 2016
Porcelain is not a material uncommonly sighted in the kitchen – but it usually appears in the form of our finest crockery. Lately, in an unexpected twist, porcelain has been sighted dressing up our kitchen benchtops and splashbacks. Above image courtesy of
Dan Kitchens
Curious as to how this works in both a practical and aesthetic sense? We find out for you now the ins and outs of using porcelain in kitchen construction.
Practical advantages of porcelain
As a kind of natural stone, porcelain possesses a great number of properties that make it perfect for use in kitchen benchtops, including:
High strength and scratch resistant – perfect for an environment such as the kitchen, where many utensils that could scratch surfaces are being used
Thermal shock resistant – placing hot dishes is no worry when you have a porcelain benchtop. This property also means gas top stoves and ovens will have no effect on the material
Easy to install and handle – which is great news for both your installer and you, as it is less likely you will faces issues
All natural material – porcelain requires no sealants, waxes or man-made binding agents that could contribute to VOC production
Light – the low density material is lighter than other materials, making the raw material easier to transport
As with any kind of building material, there are also a few disadvantages to using porcelain in your kitchen. The main drawbacks include the high cost and the special equipment and trained stonemasons required to install the benchtops.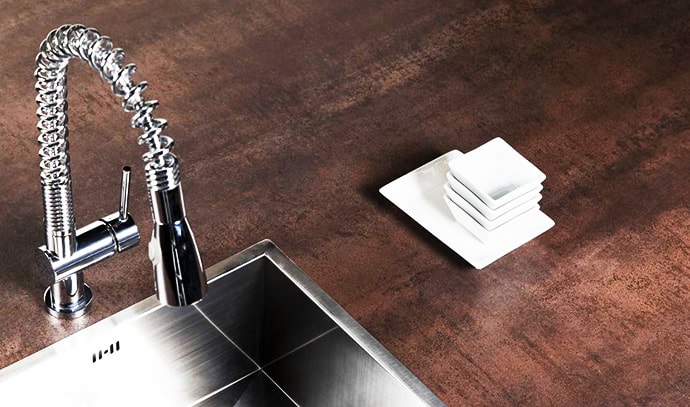 Aesthetic advantages of porcelain 
Aesthetically speaking, porcelain can pose a few difficulties when it comes to repair work, joinery and seams – therefore, the finished result may not be exactly perfect in all cases. Despite these drawbacks, porcelain does have some qualities that make it a style friendly choice:
UV stable – this means it won't fade in direct sunlight, maintaining its colour for many years
Available in smaller tiles – this makes porcelain perfect for splashbacks or feature walls in your kitchen
Larger slabs – porcelain tends to be manufactured in longer slabs than those of other materials, making it perfect for island benchtops
Stain resistant – no one needs to be worrying about removing stains off their kitchen benchtops, especially when there are little ones around
Customisation friendly – porcelain can be customized with a range of printed designs to make it look like marble or another kind of natural stone
Back to top