busy-childrens-box-student-accessories-craft-needs
Kids desk tips
Veda Dante, February 2016
My partner and I work from home, so both of our girls (Matilda, 10 and Edie 8) often sit with us drawing and writing while we toil away at the computer. When time came to move them into their own rooms, we wanted to set up learning spaces that were functional like ours but also fun and engaging.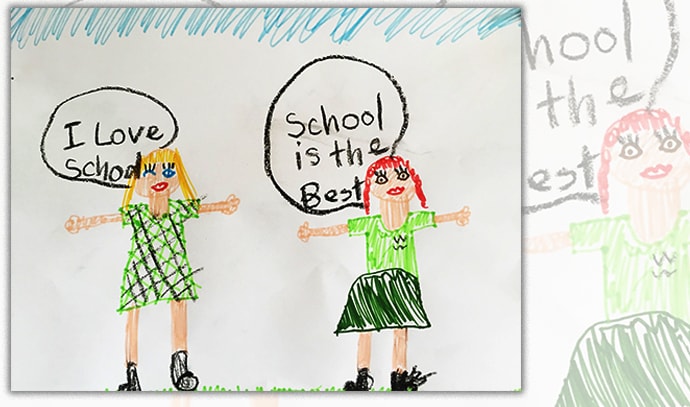 Pin-up boards
Corkboards are a great way to de-clutter kids' desks while also displaying important items like timetables, teachers notes, and achievement awards. You can personalise them with a colourful fabric that matches the room's décor, and then using a staple gun to secure it to the back of the board. Edie spends every spare moment drawing or painting, so we've set up a corner of her room where she can hang artwork and put together exhibitions of special objects on her boards. Not only can she clearly see the evolution of her artistic skills as she gets older but also feel the pride when people comment on her work.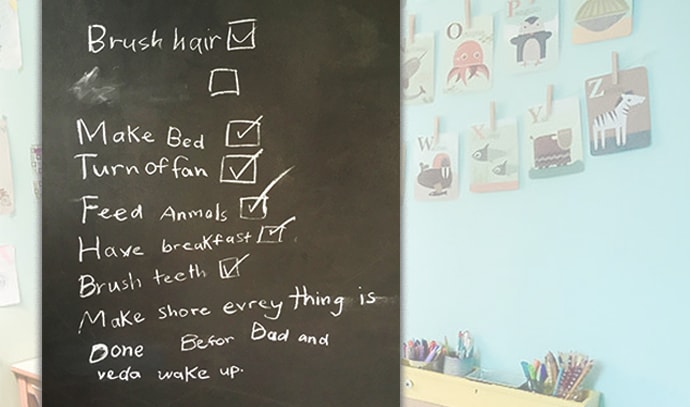 Chalkboard paint
Even though most teachers use electronic whiteboards these days, kids still love writing on chalkboards. Our girls have large sliding cupboard doors in their bedrooms, which we recently painted with black chalkboard paint. Initially it was so they could see their chores list every morning but it quickly became the place for them to write reminders like "take books back to the library" as Matilda has on hers, and set goals for the year (Edie's is to "Get an 'A' in Art"). First step is to paint the area with a layer of dark tinted primer followed by a layer of chalkboard pain. I wish I'd learnt this earlier but the tip is to cover the entire surface with chalk (using a large stick turned on its side to rub it in) after the chalkboard paint has dried and then wipe it off. Apparently this process seals the chalkboard, allowing whatever is written and drawn on the surface to be completely erased.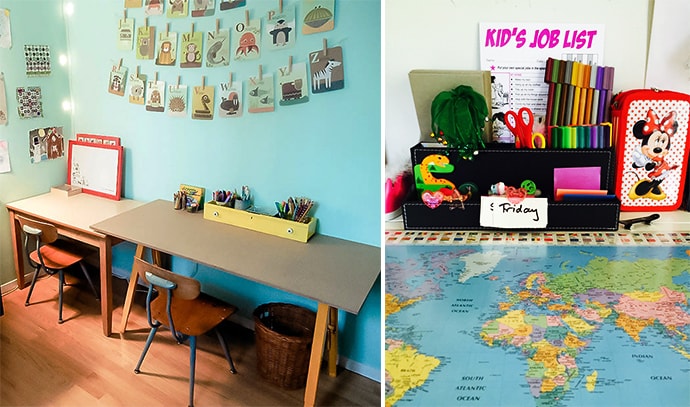 Storage draws
I'm a little bit OCD when it comes to organising my office, so naturally this has segued into the girls' rooms! One of the cheapest and easiest systems I use to organise their rubbers, stickers, craft beads and fairy outfits is with those simple bolt organisers you can buy from any hardware store. Everything is miniature in size and tends to get either lost in their desk drawers or sucked up by the vacuum cleaner, so it's a great way to organise these items in one handy storage system. Go for the multi-storage cabinet units with the clear plastic fronts so the kids can easily see what they need when they need it.
Rain gutter book shelves
I came across this clever book display idea recently and can't wait to install one in each of the girls' rooms. Not only is it inexpensive and easy to erect but also encourages positive reading habits. The concept was devised by American author of
The Read-Aloud Handbook (1982)
, Jim Trelease, who advocates that books need to be advertised in classrooms and libraries in the same way that chocolates and cereal boxes are displayed in the grocery stores — with the cover facing out. Not only does the practice of seeing book covers in gutters encourage children to read but also assists in the development of lifelong reading habits. The idea is to rotate the books, which is so much better than stacking them as those at the bottom of the pile quickly get forgotten! There are plenty of step-by-step installation instructions online as well as Youtube video tutorials.
Images courtesy of Veda Dante
Back to top