woman-planting-garden-plant-in-pot-balcony
How to grow delicious veggies you'll love to share
Phyllis, March 2016
There's nothing more rewarding than growing your own organic veggies! The sense of satisfaction that you get from nurturing your very own home-grown produce from seedling to succulent vegetables is second to none. And it's not just the sense of achievement of growing your own produce. The flavour that you experience from your wholesome crop will be a treat for your tastebuds - and the envy of your supermarket-shopper friends! When fruit, vegetables and herbs are picked perfectly ripe from your own garden, they don't just taste absolutely delicious, they are packed with healthy nutrients and vitamins too. So, how can you grow organic veggies without loads of time and years of experience? Well now it's simple with new
Scotts Pure Organic
.
Pure Organic products
are just as Mother Nature intended, and all the clever organic fertilising work has been done for you, to ensure the very best results! Until now, setting up the perfectly balanced organic growing environment at home has been a hassle, but
Pure Organic
soils and plant foods, make it easy. Simply open the pack and add the mixture to pots, planters or garden beds. Pure Organic has been developed in collaboration with expert horticulturists to ensure your home-grown produce has everything it needs to grow from seed to wonderful fruit or vegetables.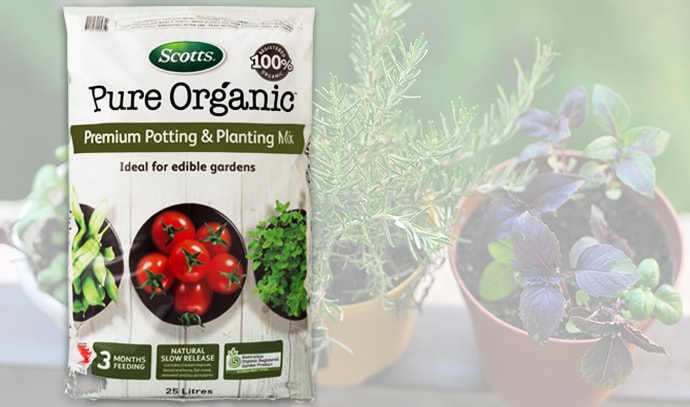 Scotts Pure Organic Potting & Planting Mix
is your complete organic garden bed in a bag! Also, unlike many organic products, they've taken care to ensure that all the products are low odour, so you get to enjoy your garden without annoying the neighbours! Another great advantage of growing your own is the cost saving. When you consider the price of fresh organic produce in the shops, it's easy to see how much you can save by having your own veggie patch. The granular plant foods contain specially prepared organic slow release fertiliser that feed plants for three months, so your crop will receive exactly the right amount of nutrients to flourish into wholesome, ripe and beautifully formed produce. It's now easy to grow your own.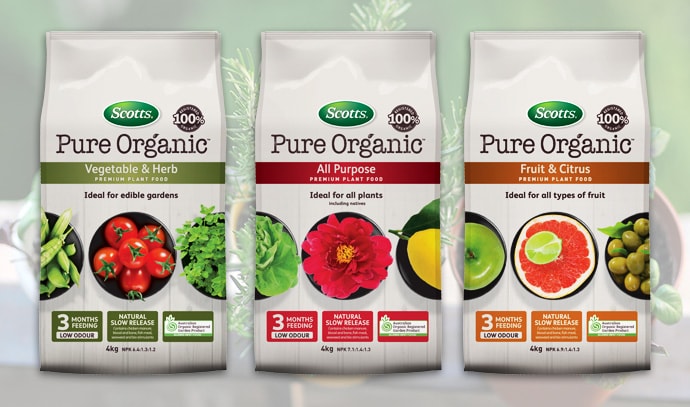 [Tweet "If space is tight, why not think about growing your edibles in pots?"]
So what's in the range?
Scotts certified organic granular range of
Fruit & Citrus, Vegetable & Herb and All-Purpose plant food
is easy to use and super-effective. Just take a handful of the mix and sprinkle it around your plants. The
Premium Seaweed Liquid Plant Food
can be used as a tonic for your plants. These natural fertilisers stimulate growth while keeping your plants healthy and productive – and condition your soil. It's an easy way to give your plants a great nourishing drink!
If space is tight, why not think about growing your edibles in pots?
Scotts Pure Organic Premium Potting & Planting Mix
is perfect for pots, baskets and other containers and gives your edibles the best start in life. More information:
www.scottsaustralia.com.au/pure-organic/range/
Back to top