air-plants-interior-decoration-indoor
How to grow air plants in 3 easy steps
Angie Thomas, August 2018
Don't have a green thumb? Well, don't worry because it doesn't get much easier than growing air plants! Air plants – botanical name –
Tillandsia spp
. literally live off the air and can be grown indoors, hanging from tree branches or balancing precariously on sculptures or garden ornaments. You can also keep them on your desk or in a dish on your coffee table! [caption id="" align="alignnone" width="690"]
Air plants looks stunning as a low-slung centrepiece for your dining of coffee table.[/caption]
Easy peasy plant care
Native to South America, Mexico and southern parts of the USA, this amazing plant species is striking to look at and easy to care for. Here's a snapshot of this fascinating genus:
Great for
– Adding interesting features around your home. Can be used in wall features, glass globes and more
Position
– Indoors, under trees, or on window ledges, your desk or coffee table
Water
– Mist spray or immersing in water every couple of weeks, depending on the weather
Soil
– N/A
Harvesting
– N/A
When to grow
– Year-round though cannot survive in frost or very cold areas unless in a hot/green house
Hot tip
– When watering be sure to gently shake to avoid water collecting at the base, as this can be detrimental to your plants health.
Check out these clever decorating tips using air plants (check out the bike spoke!).
[caption id="" align="alignnone" width="690"]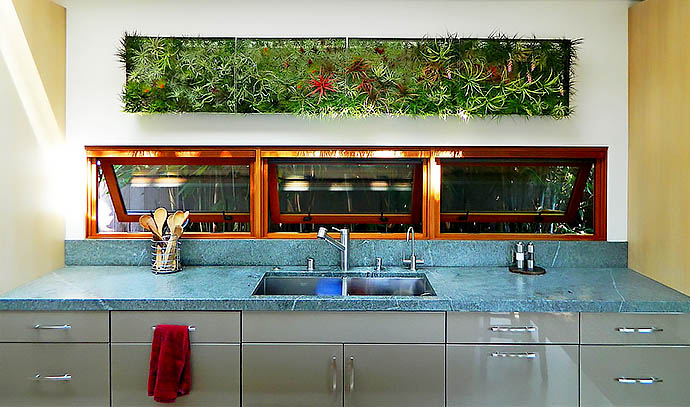 Air plants are generally not affected by pests or diseases and don't require feeding.[/caption]
How to grow air plants on terracotta pipes
Air plants can be hung from trees or any support-like structure, such as terracotta pipes or an old tree stump. For indoor use, you can string or place them on ornaments. If you wish to use a terracotta pipe or wooden pole to create an indoor plant art, read on.
Step 1
– Choose a glazed or unglazed terracotta pipe, wooden pole or tree branch.
Step 2
– Using a hot glue gun, add a small amount of glue to the base of a plant and glue onto the structure. Repeat for all plants. If you don't have a glue gun, you can also use an old stocking or rubber band to secure the plants to structures.
Step 3
– Position in a well-lit spot, out of direct sunlight and thoroughly mist the foliage to water. Mist spray at least once a week or more, depending on the weather.
Growing Tips
Air plants generally prefer outdoor or breezy environments but will grow well indoors provided they're in a well-lit spot
During hot and drier periods, mist a couple of times a week to help keep them happy
During winter, they will survive well without much watering. Misting them once a month is usually enough
They're generally not affected by pests or diseases and don't require feeding – no fuss!
Back to top