woman-washing-tomatoes-sink-home-kitchen-model-camera
Easy and affordable ways to reduce your water and power bills
Jane Ryder, July 2017
In just one year, each of us uses an average of 100,000 litres of fresh water*, which makes us the greatest consumers of water in the world. Our love of water doesn't come cheap either: According to the ABS, in 2013 and 2014 the average yearly household water bill was $584. The good news, however, is that many businesses and councils around the country have created new products and strategies to help us reduce our daily water consumption. "It's vitally important that we use water wisely all the time and not only during drought periods," says
Smart WaterMark's
CEO and sustainability expert, Chris Philpot, whose company is a certifier of water-efficient products and services to help people make informed choices. By reducing the amount of water you use, you can lower your water and power bills and be more environmentally friendly. Sounds good. Now how do you do it? [embed]https://www.youtube.com/watch?v=gLJUnLprcYw[/embed]
Look out for leaking pipes
While we need water to bathe, clean, wash, cook, keep our garden healthy and our swimming pools filled, by simply changing the way we do these things we can reduce the amount of water we use and waste. Changes in temperature, wear and tear, shifting foundations, and blockages can stress pipes and joints and cause leaks, which, if not fixed, can lead to damage, damp, mould and increased water bills. To avoid this, regularly check and fix your leaking pipes, in and outside your home including those connecting the hot water heater, washing machine, and dishwasher. A quick and easy way to determine whether you have a leak is to check your water meter. If the numbers turn while no taps are on or water-using appliances are in use, you could have a leak.
Hi-tech gadgets to reduce water use
To alert you of abnormal water consumption, particularly leaks,
before
you receive your next bill, try
WaterGroup's
Smart Meter Standalone Intelligent Meter (SIM) Logger which monitors water, electricity, solar and gas consumption.
Reduce your hot water temperature setting and your bills
Reducing the temperature setting on your hot water heater will reduce your energy bills, and also reduce the amount of cold water you use to adjust the temperature
-
 making it safer, particularly for children.
Make your home's plumbing water smart
You can also save water by installing
water diverters
. Smart WaterMark certified
Enviro Save Water System
and the
Redwater Diverter
both divert water that has cooled in your hot water pipes back into the cold water line, rainwater tank or other parts of the home, further reducing water wastage. [caption id="" align="alignnone" width="690"]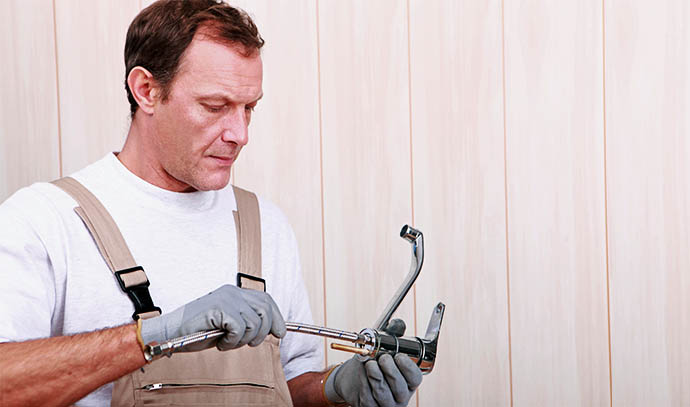 Smart WaterMark says a dripping tap can waste up to 20,000 litres of water a year.[/caption]
Check your taps and toilet for drips and leaks
A leaking toilet cistern (the tank that holds the flushing water) is often caused by a deteriorating rubber valve. To check it, add a few drops of food colouring into the cistern water. If coloured water appears in the bowl after 10 or so minutes (without flushing!) you have a leak. A leaking tap often goes unnoticed and many underestimate how much water it can waste. Smart WaterMark says a dripping tap can waste up to 20,000 litres of water a year. So you don't receive a surprise increase in future water bills, regularly check your taps in your home and garden. A common cause of leaking taps is a deteriorated washer, which is easy to replace.
Insulating your pipes
When you build or renovate, insulating pipes will reduce heat loss and therefore reduce the time it takes for hot water to reach your taps. This will save you money on both your water and heating bills.
Use rainwater in your bathroom
If you are building a new home or renovating, link your water tank to your bathroom plumbing so you can use rainwater to flush the loo.
Adopt water-saving bathing and grooming habits
Smart WaterMark
says we use 40 per cent of our total household water in the bathroom. Looking your best and saving water is possible by making some small changes to your bathing and grooming habits. With the fact that a running tap can use 16 litres of water a minute in mind, take shorter showers, run shallow baths, turn the tap off while brushing your teeth and shaving and, if you need water to wash or rinse anything, half fill the basin rather than use running water. It's just money down the drain! Would you like to use the water that usually goes straight down the drain while you wait for the hot water to come through to water your garden? Place a bucket under the shower head to collect this water and the water that splashes around you while you wash. And if you find it's easy to lose track of time in the shower – or someone at home likes to take excessively long showers – a water controller may help reduce your water usage. The Smart WaterMark certified
Shower Shortener
by Davinda Innovations is a shower head and temperature-triggered electronic controller system that lets you choose how long you want to shower – three, five or seven minutes – and keeps you posted on your remaining shower time. [embed]https://www.youtube.com/watch?list=PL7UjNvzOxplnq1msQHVt7CYO0RjOtf-Qu&v=HdXa3MluQXw[/embed]
Make your wet areas water efficient
To save water in the kitchen, laundry and bathroom, install water-efficient taps and showerheads with flow regulating aerators. According to Smart WaterMark, water-efficient showerheads use no more than nine litres of water per minute as opposed to traditional designs that use up to 20 litres per minute.
Preval
Australia has a range of flow regulators for taps and showers and the
Water Group
also install flow controls for taps and showers as well as low water usage toilets, water smart irrigation systems, electronic taps and kitchen spray guns. Now for the 'throne'. Top-rated dual flush toilets use much less water than single flush models: by simply pressing the half flush button you can save 1.5 litres each time you go. Smart WaterMark recommends toilets with four-star water efficiency ratings, which can save the average home up to 35,000 litres per year. Another water saving toilet is the Smart WaterMark certified
Jets Vacuum Toilet
, which flushes like an airplane toilet with just 800ml of water – that's a 90 per cent reduction in water use. The fast and efficient flush system uses advanced maritime technology and not only leaves the bowl clean but reduces odours and bacteria. [caption id="" align="alignnone" width="690"]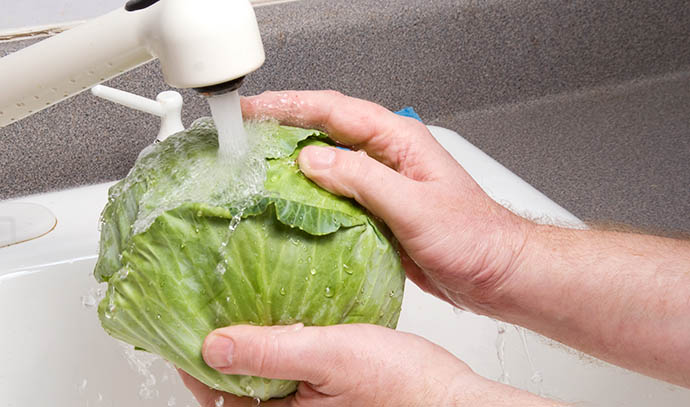 Save water by washing food in a bowl or sink half filled with water instead of under a running tap.[/caption]
Cook water clever
With daily cooking, food preparation and dishwashing, it's not surprising that most of us use around 10 per cent of our total household water in the hub of the home**. Just cooking pasta can use seven litres of water! By changing a few old habits, you can reduce the amount of water you use in the hub of the home. For example, thaw frozen food in the refrigerator or microwave rather than under running water, wash food in a bowl or sink instead of under a running tap, use the minimum amount of water when cooking and keep the lid on saucepans, particularly when boiling water, to reduce water loss through evaporation. Your food will cook sooner too, saving you on gas and electricity. And at clean up time, pop as much in your high water-rated dishwasher as possible, hand wash using less water and fill your second sink, if you have one, with fresh water to rinse (remember that running taps waste water quickly). And while you're waiting for the hot water to come through, collect the cool water in a bowl and use it to cook or in the garden.
Buy water smart appliances
Washing is unfortunately an inescapable chore that uses water. A lot of water. Smart WaterMark estimates that 15-20 per cent of all water consumed in the home is used in the laundry. To reduce this amount, buy a front-loading washing machine with at least 4.5 stars and a dishwasher with a 5-star rating, advises Sydney Water. Also, try to wait until you have a full load before starting and choose water-saving settings as often as possible. If you need to hand wash, use less water by rinsing clothes in a bucket or basin rather than under a running tap. And after rinsing, if you use biodegradable products, use the water in the garden. Clean clothes, healthy garden!
Back to top