woman-cleaning-outdoor-walls-using-pressure-washer
6 tips to get the best out of your pressure washer
Phyllis, August 2015
Images courtesy of Briggs & Stratton
Spring is just around the corner, and with it comes the countdown to outdoor living and entertaining. The cold and damp of winter can leave decks, paths and verandahs looking decidedly shabby, but a pressure can make getting ready for guests a blast – literally. Courtyards, driveways, verandahs and even exterior walls covered in moss, mould and general grottiness are not a good look when visitors arrive for the first barbecue of the season or pre-Christmas celebration. But a pressure washer can make quick, easy work of cleaning all outdoor surfaces. "There's something very satisfying about blasting your dirty surfaces clean with a powerful pressure washer," says
Joel Hawkins
from renowned engine manufacturer
Briggs & Stratton
. "It's quite satisfying watching the dirt and grime dissolve in seconds on your mossy, mouldy pavers, driveway, windows, exterior walls – you name it. The beauty of a pressure washer is that it has so many uses around the home – it can even be used to wash your car or boat and works a treat restoring wooden fences and decks." [Tweet "A pressure washer delivers up to 75x more power vs ordinary garden hose with <80% water"]
A pressure washer delivers up to 75 times more power than an ordinary garden hose
, while using up to 80 per cent less water. This makes it easy to blast away built-up mould, mildew, dirt and grime to restore surfaces to like-new condition in a fraction of the time it would take to clean by hand. "The trick is to adjust the spray according to what you need to clean," Joel says. "A wider spray is less intense, but for areas with stubborn stains, a cleaning detergent or a narrower spray will effectively blast it clean. You can also move the spray gun closer for stronger cleaning or stand back a bit to reduce the pressure." Durable materials such as concrete and masonry can withstand high pressure, but it can damage softer, more delicate surfaces such as timber and painted surfaces. Joel recommends adding a detergent and make multiple passes with a wider spray on these surfaces.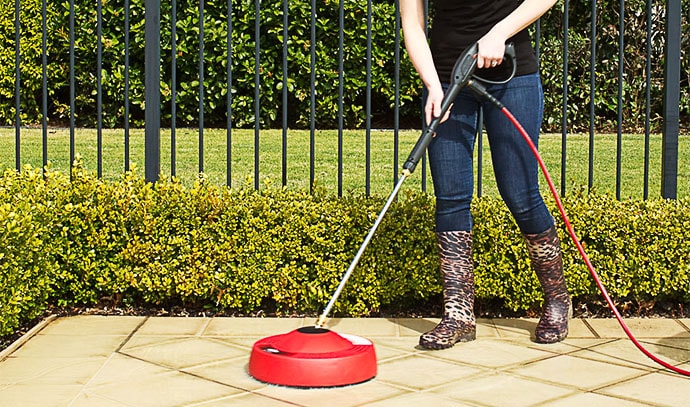 Pressure Washing Tips
Here are some useful tips for cleaning with a pressure washer that will save you valuable time.
Get close: Start with a wide spray pattern and hold the nozzle about a metre from the surface. Move closer until the desired effect is achieved
Keep it steady: Keep the nozzle in motion, spraying at a steady speed with long, even strokes

Avoid 'tiger' stripes

: Maintain a consistent distance between the nozzle and the cleaning surface

Make detergents work for you

: Spray pressure washer cleaning detergents when cleaning heavily soiled or stained surfaces; let it work its magic for a few minutes and then spray it down in high pressure mode and enjoy the results

For stubborn areas

: Try brush attachments or a turbo nozzle to help remove stubborn dirt, grime and stains
Release the tension: Remember to squeeze the trigger after turning off your machine. Leaving a machine under pressure after use is one of the most common causes of faults and breakdowns, so make sure you squeeze that trigger after you've finished and you'll be pressure washing for years to come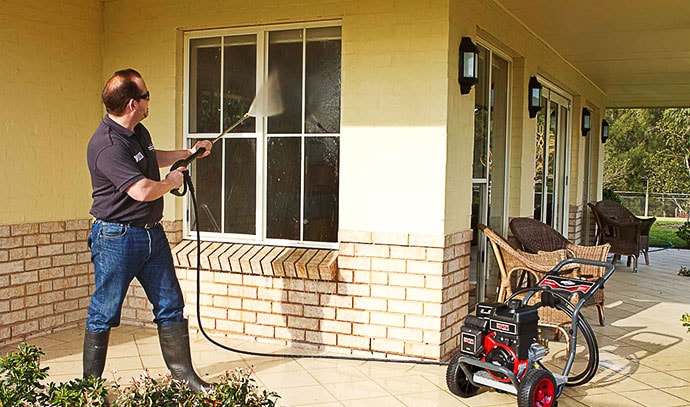 The engine behind the power
Joel says that the engine plays a pivotal role in the performance and user experience over the life of a pressure washer. "People don't often consider the engine when buying a pressure washer, but actually, as the key component, the quality of the engine will determine the life span, durability and reliability of the end product," he says. "Briggs & Stratton engines are easy to start, powerful and are backed by an experienced spare parts network worldwide for peace of mind." Briggs & Stratton's pressure washers also feature large wheels which are all-terrain and puncture free. "Plus you can pull the smaller pressure washer behind you quite easily, which ensures they're both practical and easy to use," Joel adds. Briggs & Stratton has a wide selection of petrol powered pressure washers with PSI ratings ranging from 2200 to 4000. Petrol power gives greater portability and freedom from power cords and electrical hazards. All models include a two year domestic warranty. Briggs & Stratton's petrol powered pressure washers are available from Bunnings and specialist dealers and retail from $399.
Images courtesy of Briggs & Stratton
Back to top